For those who love giving their cars a mirror-like showroom finish, finding the best car polish is crucial. The best polish for your car does more than just make it look better, it significantly extends the life of your paintwork while repelling dirt and dust.
With so many polishes on the market, it can be hard for car owners to find one that meets their requirements. Have you stumbled upon turtle wax and Nu finish in your quest to find the best car polish? And, can't seem to settle on either one of them?
In this Nu Finish vs Turtle Wax review, I am going to share with you the good and the bad of both car polishes. By the time you are done reading this, you will be able to make an informed purchase.
Let's Start with Nu Finish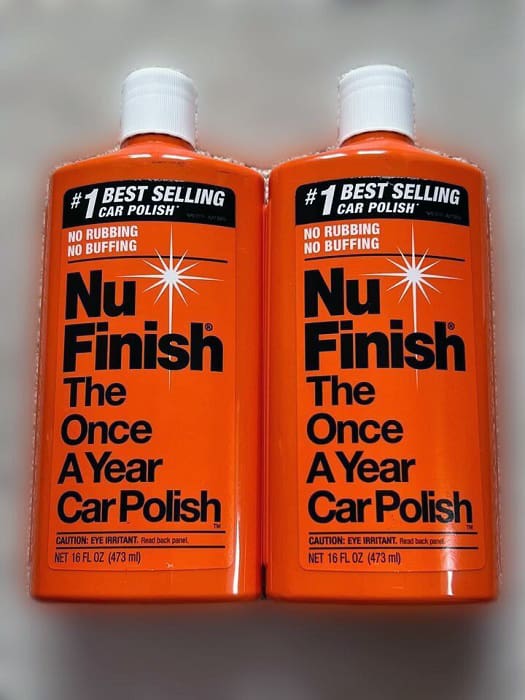 Nu Finish is a top-rated car polish that is a favorite product amongst both car owners and professional detailers. It's well-known for providing a durable shine, paint protection, improvement, and correction.
With Nu Finish, your arm won't need a massage after application because it requires minimal buffing.
Unlike other polishes, Nu Finish can be applied in direct sunlight and won't have negative effects such as splotching. It's also a versatile polish that you can use in your car, motorcycle, boat, and even airplane.
This car polish is wax-free and if this is a preference that you prefer, then it should be your number one pick.
The durable layer you will get from Nu Finish can last up to a year. Of course, this will depend on where you are living and the environment your car is exposed to.
Because no product is perfect. If you are considering Nu Finish, you ought to be aware of the following. If you don't buff it correctly, it may leave behind small spots. Though small, these spots are quite visible, especially on white finishes.
Turtle Wax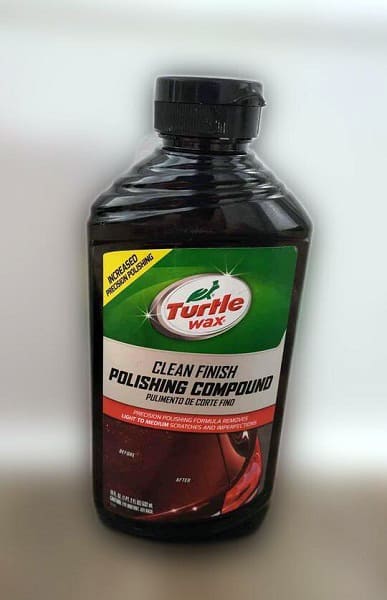 Out of all the car polishes on the market, Turtle Wax is the most popular. It is a favorite amongst car owners and professional detailers. It's very effective at polishing cars thanks to the advanced formulas used to make it.
Turtle wax features a rich blend of dyes and polishes that deepen the color of your car. It also incorporates black-tinted technology that ensures your car looks amazing always.
Turtle wax is designed to remove oxidation thus rejuvenating your faded finish into a newer one. There are some pigments found in Turtle Wax that seal light scratches.
Similar to Nu Finish, Turtle Wax does have some drawbacks. For instance, it leaves a hazy finish after application. You will therefore need to buff it with a microfiber cloth. It takes more effort to buff Turtle wax so you better be braced for that.
How Are They Different?
Nu Finish contains a no-wax formula, Unlike Turtle Wax
The main difference between the two is that Nu Finish contains no wax. This factor alone is responsible for many differences between the two.
Because it's not a wax polish, Nu Finish lasts longer and won't develop beads even after exposure to rain and regular washing.
Turtle wax does contain wax. And as a result, its formula is capable of preventing fading, oxidation, and discoloration. Wax is also better at bringing out your clear coat's shine and color.
Turtle Wax is Harder to Apply
Comparing the two, Nu Finish is easier to use. The application and buffing process takes minutes to apply and you won't have to work off your arm while still at it.
Turtle wax on the other hand has received lots of complaints regarding the buffing process. It takes longer to be buffed into the car's paint.
Turtle Wax Offers More Protection
With turtle wax, you can be assured of maximum protection from UV rays, grime, dirt, and water. The paste wax repels all foreign elements from your car surfaces. Nu Finish on the other hand offers a medium level of protection. It will do the same but won't be as effective.
Similarities
Offer a Moderate Level of Shine
Is shine a big deal for you? Then neither of the two is going to offer you that straight-out-of-the-showroom shine. The likes of Meguiars may help you with that.
That however doesn't mean that Turtle Wax and Nu Finish won't add a glossy shine to your car. The issue is that these polishes aren't the shiniest in the market.
Another area where these two polishes excel is in terms of durability. Both Turtle Wax and Nu Finish will offer protection and gloss to your car for a couple of months.
Turtle wax claims that it can last for a year. But from a realistic point of view, both these products can serve your car for more than 8 months.
It's also important to know that both Turtle Wax and Nu Finish can be used on other metallic surfaces. This includes boats, motorcycles, and airplanes.
With Nu Finish, however, keep it off plastic materials as it will leave unpleasant white marks.
What's Better about Nu Finish?
Nu Finish has been around since the 1930s. And over the years, this product has been of immense help in the car care industry. Available in the form of a paste and liquid formula, Nu Finish gives impressive results.
What makes it better than Turtle Wax is that it's made up of zinc cross-linking polymer emulsions. As a result, it's not wax. This unique formula allows it to give your car lasting protection and shine.
Also, another feature worth noting is how Nu Finish can be applied under sunlight. You don't have to wait till it's cool or confine yourself in a garage during application.
What's Better about Turtle Wax?
Turtle Wax ventured into the car care industry back in 1944. Ever since the company has achieved a great reputation for itself in this industry. Turtle Wax boasts of a plethora of benefits.
It adds shine and protection to your vehicle. And as if that's not enough, Turtle Wax is available in nearly all corners of the world. So, if you happen to fall in love with it after your first use, you can always get it anywhere.
Turtle wax is also affordable, and durable and it smells better than Nu Finish. It also dries up pretty quickly. The main drawback of this product is that it doesn't last as long as advertised. However, for the period that it will serve you, you will enjoy every benefit.
Who Should Get Nu Finish and Why?
Are you in constant fear of what the environment can do to your car? Nu Finish is the best product for you. There is no doubt that exposure to snow, dust, and rain can take a toll on your car's paint and surface.
And once your car paint is discolored or fades, your ride won't look so good and its resale value will decrease drastically.
Nu Finish will put all your worries at rest thanks to its strong formula that offers total protection to all these elements.
Other reasons why you should get Nu Finish include its ability to add shine to your car and rejuvenate an old paint job.
Even though it won't remove oxidized paint as Turtle Wax does, it will extend the life of your paint job significantly.
How to Use Nu Finish?
It comes in a 16-ounce bottle. The liquid formula is accompanied by a microfiber cloth to make application easier. Applying Nu Finish polish to your car is easy and fast. Kindly note that this usually is the last step after cleaning and drying your car.
Pour some Nu Finish on the microfiber cloth and start applying it on a small surface. Spread it out gently. And give it a minute so that it dries to a haze.
The moment it hazes, rub it with a fiber cloth and move to another part. When applying polish, you should always divide your car into portions as it makes it easier to apply.
Who Should Get Turtle wax and Why?
Turtle wax is the best polish for car enthusiasts and professional detailers. It is a favorite to many people because it has been around for longer.
Despite being so popular the advanced black tint technology gives your car enough gloss that will leave heads turning wherever you go. It's also versatile and has a pocket-friendly price tag.
Despite requiring a little more effort to apply, you will be pleased with the results. The fact that it dries quickly makes it a top choice for many expert detailers.
For car owners, it will serve you for a long and that is something you can't get from other polishes. It also contains wax which does a commendable job at shielding UV rays and other elements such as dirt and grease.
How to Use Turtle Wax?
The process is almost similar to that of Nu Finish. The car has to be clean and dry. Turtle wax often comes with a foam pad applicator that makes it easier to spread and apply to your car.
With its help, spread the wax on one section of your car. Let it dry for a minute before buffing it with a microfiber towel. If you are into polishing your car regularly, investing in an orbital polisher can make this easy for you.