When out to purchase a new car, people always consider some factors. Is the car a four-wheel drive, or is it a manual or automatic gear car? Is it new or used?
And many other questions that they may have depending on their personal preferences and choices.
While at it, you may want to know the design and materials used to make the interior of your preferred model.
Normally, the seats are made from cloth, leather, or leatherette materials. All of the mentioned types of seats have their advantages and disadvantages.
So, what are leather-trimmed seats? This article answers this question and helps you know more about this type of car interior seats and upholstery.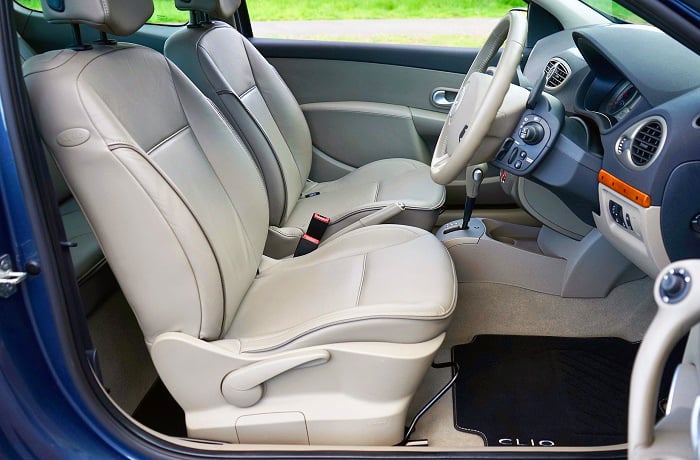 What Do Leather-Trimmed Seats Entail?
"Full leather interior" "leather trim," or "leather-appointed" are terms that car manufacturers use to describe a vehicle. They simply mean that the entire car interiors and the seats have a leather covering.
Leather-trimmed seats also mean that the seats are covered with genuine leather, not artificial leather or plastic parts. In some regions, leather-trimmed interiors are classified into two categories; they can be full or partial.
As its name suggests, a full leather-trimmed interior means that all the car seats and interiors are covered in real leather.
On the other hand, partial leather trim means that about 80% of the car's interior is covered with genuine leather.
What are Partial Leather-Trimmed Seats?
In most cases, the vehicles' seats aren't always fully covered with leather. Only the parts subjected to possible contact are covered with real leather.
The backs of the backrests, the backs of the headrests the side panels, and the armrests have some leather imitation.
Vehicles with such seats are described as ones with partial leather-trimmed seats. The parts that are not covered with leather are covered with fabric or artificial leather that looks like genuine leather.
Benefits of Leather-Trimmed Seats
Regardless of whether you opt for full or partial leather-trimmed seats, vehicles with leather seats come with the following advantages:
• Leather-trimmed seats are Very Comfortable
There is no denying that leather-trimmed seats are one of the most comfortable. The thick hide and softness that come with leather seats make them very comfortable to sit on. Enjoy perfect cushioning and support for your back.
These types of seats are suitable for drivers who like to drive over long distances. When on one of these trips, you will need as much support and cushioning as you can get.
• Hard to Stain
As compared to seats covered with cloth, leather-trimmed seats are harder to stain. While leather seats are not completely stain-free, they can resist common stains from liquids and dirt. If you have pets and kids, this type of seat is perfect for you.
• Easy to Clean and Maintain
The smooth and silky surfaces that come with leather-trimmed seats make them very easy to clean and maintain.
All you have to do is vacuum any dirt and garbage that may have formed on your seats then wipe them down and you are good to go.
• Leather-trimmed seats Have a Pleasant Smell
As opposed to seats made from fabric, leather-trimmed seats can absorb odor. This leaves your car smelling nice at all times. Additionally, leather seats have a distinct smell that most people refer to as "the smell of a new car."
• Perfect for Cars with Moonroofs
If you are looking for a car with a moonroof, its seats have to be covered with leather by all means. Leather-trimmed seats are perfect because they are water-resistant.
This means that even if you leave your vehicle's moonroof open and the interiors are rained on, the seats will not be damaged.
Seats made from cloth can absorb water thereby making your whole driving experience uncomfortable.
• Reduce Allergens in Your Car Using Leather-Trimmed Seats
Given that dust and dirt don't cling on leather-trimmed seats for long, there is little to no chance that you will have allergens in your car.
Seats made of cloth are prone to allergens because they collect lots of dust and dirt. They, therefore, require a lot of maintenance and cleaning as opposed to leather seats.
• Higher Resale Value
Cars with leather-trimmed seats have a higher resale value as compared to those with seats covered with cloth.
A well-maintained vehicle with leather seats is as good as new. The new owner doesn't have to do a lot of maintenance and remaking.
• Great for Colder Regions
If you reside in areas with cool climatic conditions, leather-trimmed seats are your perfect option. They blend with cool weather conditions perfectly thereby providing you with the best driving experiences that you can get.
The Disadvantage of Leather-Trimmed Car Seats
As usual, even with the best products, there is always a downside. Leather-trimmed seats are not an exception. The main cons of having these car seats include:
• They are Very Costly
Convenience, comfort, and style always come at a cost. Having leather-trimmed seats will always come at a higher cost as compared to the other available options.
For luxury cars, leather seats may be the norm. However, if you want to improve the seat covers of your standard vehicle, you might have to dig deep in your pockets.
• Can be Affected by Hot Temperature
As aforementioned, leather-trimmed seats are perfect for areas with cold climates. However, the seats tend to struggle under hot conditions.
They naturally absorb a lot of heat and can heat up to the extent of making your driving experience uncomfortable.
You can solve this problem by purchasing climate-controlled seats. But then again, that would mean spending more money.
• Its Color Options are Limited
When you opt for leather-trimmed seats, you won't have different color options to pick from as is the case with cloth seats.
In that case, customizing the interior of your car can prove to be a challenge. You can only pick leather-trimmed seats if you are satisfied with the basic black, grey, and beige colors.
• Can Be Hard to Maintain
While it is true that leather-trimmed seats are resistant to stains from dust and dirt, when they get dirty, eventually, cleaning them is a hard task. They can only remain resistant to dust and dirt for so long.
Also, when the leather seats wear and tear, repairing them is a hassle. They come with many maintenance and repair costs.
How to Pick the Best Leather-Trimmed Seats
It is possible to have the best yet affordable leather-trimmed seats. However, you must be very careful when making the call. Consider the factors below:
• The Brand
Knowing the right brand of leather car seat covers takes you one step closer to finding the right one. Right now, the top brands include Big Ant and Car Pass.
• Price
You do not have to break the bank to get your ideal leather-trimmed seats. Simply determine how much you are willing to spend on the same then find your preferred product.
There are quality leather seats that cost under $20 and there are others that cost well over $50.
• Durability
The leather-trimmed seats that you choose should be able to serve you for as long as it takes. They should be resistant to stains and dirt and their maintenance should not be as hard.
To determine the right product for you, consider the texture and thickness of its material. Thin and flimsy leather will end up with rips in no time.
• Consider the Straps
If you are going to pick a leather seat cover with straps, make sure that they are adjusted and cannot be twisted easily.
A cover that fits perfectly will last longer as opposed to one that is loosely hanging. Additionally, always ensure that the straps match the other parts of the covers.
• Size and Fit
This is one of the most important things to consider when looking for leather-trimmed seats. Not only does a good fit cover ensure a seamless look, but it also makes your driving experience comfortable.
Other factors to consider when looking for leather-trimmed seats include cushioning, water resistance, headrests, type, and warranty.
To Conclude
Leather-trimmed seats refer to seats that have leather covers. Today, car manufacturers describe a car's interior as either fully leather-trimmed or partially leather-trimmed. A seat with full leather trim means that it is covered in real leather.
Partial leather-trimmed seats are at least 80% covered with leather. The rest of the parts such as the headrests and the armrests are usually covered with leather imitations of the same color and texture.
The main advantages of having leather-trimmed seats include; guaranteed quality and durability, resistance to stains and dirt, being suitable for vehicles with moonroofs, and having a higher resale value.
When out to find leather-trimmed seats, consider factors such as the price, brand, durability, size and fit, and cushioning.
Was this article helpful?