BAK Industries is one of the leading manufacturers of hard-rolling covers. They recently released the Revolver X4s, an upgrade of the Revolver X4 that had several issues.
If you are a fan of BAK covers, you are interested in getting this upgrade. But before you do so, it's essential to familiarize yourself with some of the problems that have been reported against the X4s.
With the above being said, you should also know that the X4s has some decent qualities, which we will list later on.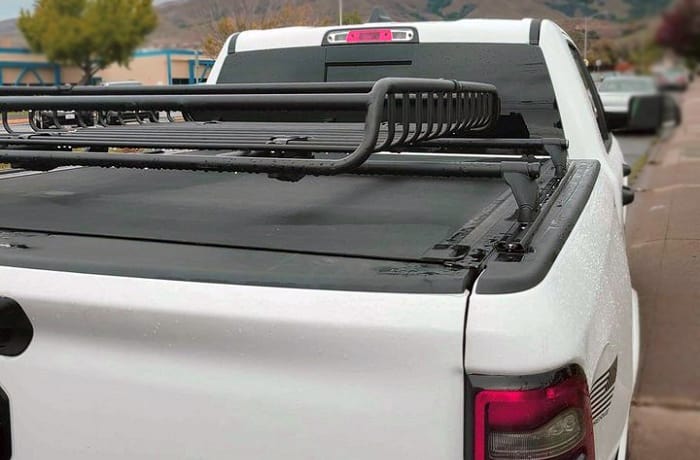 Common Issues with the BAK Revolver X4s
1. It's Not 100% Waterproof
In this new upgrade, BAK has done an excellent job weatherproofing the cover. However, it's not a hundred percent waterproof.
Even when installed by an expert, the BAK Revolver X4s will still leak, especially if there is a lot of rain. If you are getting this cover and want something completely waterproof, you should be aware of this drawback.
The good thing about this issue is that you can seal these holes with silicone. What you have to do is identify where the leaks are located. Then you can layer some silicone, and you will have dealt with any leaks.
After a while, you should always inspect for leaks. That will help you avoid the risks of water damaging your cargo.
2. The X4s Still Has Cheap Plastic Clips
The other problem with the X4s is that the manufacturer still uses cheap plastic clips on the end of the rails.
Once you are done with the installation, you will realize how fragile these clips are. After some time, they will fall off, and you should be prepared to replace the clips now and then.
There isn't much you can do regarding this issue except to replace them when they fall off. If you often drive on rough terrains, prepare to lose many of these clips.
They aren't expensive to replace, but it isn't very pleasant to keep doing this every time. You can get in touch with BAK and see if they will send you much stronger clips.
They have outstanding customer support. If you encounter any problem, never hesitate to contact BAK Industries.
3. It's Easy to Confuse the Weatherstrip Provided
When you buy the BAK Revolver X4s, you will find two weatherstripping pieces in the installation kit. One measures three-quarter inches, and the other measures a quarter inches.
If you are not careful, you may use the bigger weatherstripping piece and notice an incline or a bump towards the end of the cover on the side facing the cab.
This incline doesn't affect the operation of the X4s, but it looks hideous. If you are a driver who is really into aesthetics, it's advisable to use the small weatherstripping piece. This will ensure the cover is flat and looks decent.
4. In Some Cases, the Rails Sit Too Low
This is an interesting problem because it only affects some truck models. There have been reports that the rails of the X4s tend to sit very low, thus leading to the cover hitting the tailgate.
You should consult an expert installer if the rails in your BAK Revolver X4s sit very low. BAK has authorized installers located in various parts of the country.
These professionals can find out why the rails are sitting too low. They may also take apart the system and install it afresh. Some of these issues are usually due to incorrect installation.
5. It's Made of Metal and Gets Pretty Hot
When you examine the X4s, there are certain components made of metal. You are probably wondering how this is a problem. But the thing about metal is that it gets pretty hot.
If you live in areas that experience lots of sunny days, prepare to get burnt when you touch some parts of the cover after your car has been sitting outside for a very long.
This may not seem like a big problem but burning your fingers when you touch the covers is far from fun. This problem doesn't have a solution. You will have to avoid touching the metal parts when it's hot.
6. It Uses Up Some of the Bed Space
The reason why people buy rolling covers is to be able to utilize the truck bed space. When you roll the X4s, you will realize that it uses a significant amount of space. Assuming you have a big bike, it will not fit on the back of your bed. You will have to improvise.
7. The Tailgate Rubs on the End of the Rails
Another issue you will need to address with the X4s is that the tailgate rubs on the end of the rails. If you encounter this problem after installing your BAK Revolver X4s, you need to sand the sharp edges, and you can touch them up with some paint to ensure they look good.
These are some of the common problems associated with the BAK Revolver X4s. As you can see, most of these issues come with solutions. However, BAK should make an effort to address some of these problems.
What Were Some of the Issues with the Old X4?
Since the X4s is an upgrade of the X4, it's crucial that we also address some of the issues that the previous model had. These issues will help you know the changes BAK made with their new rolling cover.
The biggest problem with the X4 was the felt that used to fall off on its own after some time. In the X4s, BAK replaced that part with rubber.
Unlike felt, having rubber on the underside guarantees the longevity of the X4s. The X4s also features an improved design.
Undeniably, the X4s is better than the old X4. If you previously had an X4, you will appreciate the changes made by BAK in their newer cover. It's an upgrade worth considering.
Are There Some Good Things about the X4s?
It would be unfair only to list the problems of the X4s and not touch on the positives. Overall, the BAK Revolver X4s is a good cover with many exciting features. Many truck owners who have installed the X4s have plenty of good things to say about this cover.
The BAK X4s looks much better with its new sleek design. The matte black finish is impressive and blends well with various paint jobs. BAK has used more durable materials in its new cover.
That means it will sever you for longer. The straps are designed to buckle up pretty firmly. Therefore, the cover will remain closed even if you drive over a rough trail.
It's not 100% waterproof, but the X4s has been adequately weatherproofed. There are seals on the edges to ensure that no water leaks through.
The locking rails are pretty sturdy. You are therefore assured of maximum protection of cargo. This cover is designed to be used by one hand.
To top it all up, the cover comes with a five-year warranty. If something gets damaged, you can ask BAK for a replacement or take it to their dealers for repairs.
BAK claims its rolling cover can handle a weight of up to 400 lbs. It's best not to risk putting so much weight as that may damage the cover. It also fits a wide range of truck models.
Truck owners who have had these covers claim that the installation is pretty straightforward. The cover comes with instructions that guide you on how to install the cover.
You can do it yourself. But you can also ask for an extra set of hands if you want to get the job done much faster.
Should I Install the X4s or Seek Professional Help?
One of the key highlights of the BAK X4s is that it's relatively easy to install. The cover comes with a manual with detailed instructions on installing it.
Many truck owners have installed the X4s without any problems, and so can you. Several YouTube videos take you through a step-by-step guide on how to install the X4s. With so many online resources about how to install the X4s, you can do it yourself.
Understandably, not everyone is a DIY enthusiast. BAK works with authorized dealers who also double as installers. These guys can install the cover on your truck for free if you have bought it through them.
However, if you have purchased it online and taken it for professional installation, they can charge you an installation cost that isn't very expensive.
One of the perks of having this cover installed by an expert is that you are assured of the correct installation.
Is It Worth Spending Money on a BAK Revolver X4s?
As we have mentioned earlier, there isn't a single truck bed cover that is flawless. The BAK X4s may have some problems, but these are issues that can be remedied and some you can live with.
This cover has got lots of beneficial features, and it's way better than its predecessor, the X4. It looks good and does an excellent job of protecting cargo, it's therefore, a worthy investment.
Was this article helpful?