Investing in a quality fabric protector is very crucial for all car owners. You never know when you may accidentally spill something on your seats.
Therefore, instead of living a life of fear, you can get yourself a fabric protector that will ensure your car's upholstery retains its perfect shape and appeal for the longest time possible.
In your quest to find the best fabric protector, have you come across Scotchgard or 303 Fabric Guard? Both these two fabric protectors are effective at doing what they are formulated to.
As a matter of fact, the results offered are almost similar. However, because they do come from two brands, you can expect them to have some slight differences.
For instance, 303 Fabric Guard is easier to apply than Scotchgard. And on the other hand, Scotchgard is readily available in most shops.
With these two fabric protectors, it all depends on your preferences and the key features you are after. In this review, I am going to compare 303 fabric Guard versus Scotchgard and help you make an informed purchase.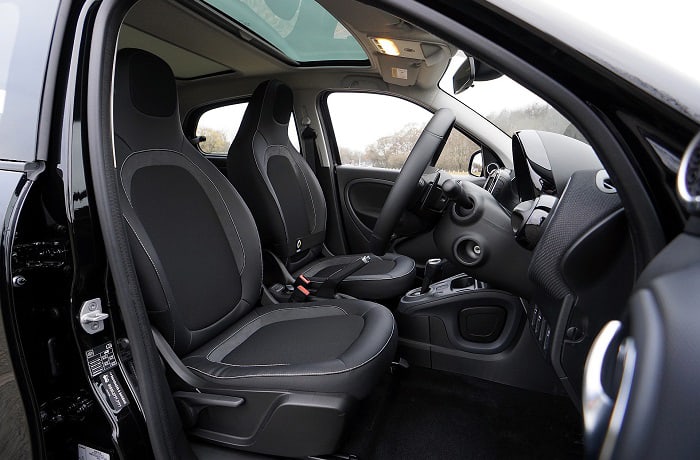 303 Fabric Guard
Before this product became popular amongst motorists, it was commonly used by homeowners to protect the fabric of outdoor furniture. If homeowners can trust a fabric protector with their outdoor furniture, imagine what it can do for your car seats?
303 Fabric Guard is an exceptional fabric protector that offers ultimate protection to your fabric from water and other types of spills such as soda and coffee.
Other than that, 3030 Fabric Guard ensures your upholstery surfaces remain crisp clean for the longest time.
If you have already done your fair share of research, then you can testify that this is one of the few fabric protectors that efficiently repels water and other liquids. It's safe to use on a wide range of fabrics and repels plenty of contaminants.
One of the key features that distinguish 303 from other fabric protectors is its versatility. Did you know that you can apply it on convertible tops, RV covers, and all types of fabrics? This feature alone makes it stand out amongst its competitors.
Scotchgard Auto Fabric Protector
This fabric protector was created for car owners that have kids. Before we go any further, allow me to catch you up to speed on a couple of things. I love kids, I honestly do.
But there are some things they do that drive me crazy. So your buy your kid his/her favorite drink? During your drive home, he spills the entire can on your seats?
You try to focus on the road, but your mind is thinking how am I going to get all this mess of my car seat.
Scotchgard auto fabric protector was formulated to prevent the above scenario and several others. This single product can help make all your seats and car mats water-repellent.
It is gentle on fabrics. And unlike other fabric protectors, it won't suffocate the materials it's used on. Your seats and carpet will remain as breathable as they were.
The thing about Scotchgard that makes it so popular is how it doesn't alter the look and feel of the surface it has been applied on.
So, you don't have to worry about thwarting the look of your stylish and luxurious car seat fabric. Also, it can be used on seat covers, carpets, mats, and even cushions.
How Are They Different?
303 Fabric Guard is More Durable
This is the main difference between these two products. 303 is a high-tech fabric guard that can offer protection for up to three years. Unlike Scotchgard which is a silicone fabric guard that offers protection for a couple of months.
Scotchgard is Easier to Apply
Scotchgard boasts of an easy one-time application. You need not possess any detailing skills for you to use Scotchgard. This fabric protector comes with a detailed guide on how to use the product. And from most reviews, Scotchgard is easier to apply.
How Are They Similar?
As mentioned earlier, the similarities between the two are more than the differences. Both the 303 Fabric Guard and Scotchgard;
Offer maximum protection to fabrics from liquids, soil, and contaminants.
Make it easier to clean spots and spills on your seat covers or fabrics.
Ensure that your upholstery retains its fresh and clean look for longer.
Shields your car seat fabric from all outdoor elements.
Are safe to be used on fabric and won't have any adverse effects on human beings, kids, and pets.
Make it easier for you to vacuum seats and carpets in your car.
It's also worth mentioning that Scotchgard and 303 Fabric Guard fall in the same price range. This is because they have similar features and benefits.
Both these products don't require numerous applications. Once you apply it correctly, you don't have to worry about reapplications after every week or month. You just have to wait till the product wears out.
You should also know that Scotchgard and 303 Fabric Guard are formulated not to change the appearance or feel of the areas it is applied to.
Be it on seat covers or carpets, they won't harden, and neither will they change color. It is crucial that you know how to apply these two fabric protectors correctly.
What's Better about 303 Fabric Guard?
303 Fabric Guard will repel water from my car fabric, but what else can it do? This is a good question.
With there being so many fabric protectors out there, consumers are after a product that is unique from the rest. If this is what you are after, then 303 Fabric Guard has got you covered.
Other than offering water repellency, the 303 protects your fabric from UV damage, dirt, disintegrating, and fading.
All these benefits come from that one tiny can. During the rainy season or winter, our car fabrics are often exposed to these elements whether directly or indirectly.
Without there being a form of protection, your fabric will wear out faster and lose its touch.
303 Fabric Guard guarantees three years of fabric protection. This is a very long time for you not to worry about coffee spills or dirt stains finding their way into your precious car fabric.
This fabric protector offers plenty of other advantages. For instance, it can be applied to a wide range of fabrics. It doesn't require reapplication and can be used on both old and new fabrics.
I know that some companies over-hype their products to increase sales. But, the 303 fabric Guard is excellent and doing its job.
There are so many reviews posted online that support this. This is the type of fabric protector that you apply once and forget about it while enjoying its benefits for the next three years.
With this product on your car fabric, spills will no longer be an issue. Whether you live in an area that experiences harsh weather such as heavy rain and winter, these elements will be repelled from your car's fabric.
What's Better about Scotchgard?
Being one of the oldest fabric protectors in the market, this 70-year-old fabric protector from 3M Corporation will prevent stains on your car seats and mats.
Acting as a surfactant, Scotchgard will keep substances from binding with the material it has been applied on. Therefore, you won't have to worry about permanent stains in the future.
It's a versatile product that can be used on plenty of surfaces including car seats, mats, seat covers, carpets, and any other type of upholstery.
Scotchgard works as an invisible barrier that keeps contaminants and dirt from your car's fabric. Anything that spills on it will glide away without you having to wash it off.
Scotchgard gives your car's upholstery the first line of defense against spills and other types of accidents.
Unlike its counterpart 303 Fabric Guard, Scotchgard dries up pretty quickly. So, you can apply it as soon as you get your hands on it.
Even if you were planning to head out right away. The 10oz container that Scotchgard comes in is enough to treat both rear and front car seats as well as mats or carpets.
Scotchgard also won't change the look or feel of the surfaces you apply it to. And it will start offering protection the minute you spray it on your car's fabric.
Kindly note that Scotchgard wears off easily more so on seat covers or fabric that is washed regularly. Ensure you reapply it after washing your seat covers.
Who Should Get 303 Fabric Guard and Why?
Do you live in areas that experience heavy rain or winter? Then 303 Fabric Guard is the best fabric protector for your car.
Thanks to its strong and durable formula, your car seats and mats will get up to 3 years of protection from water, stains, and contaminants. It's also the best fabric protector for those who regularly deal with products that spill easily.
Who Should Get Scotchgard and Why?
Scotchgard was formulated for the everyday driver who is afraid of coffee, soda, or tea spills ruining his/her car's fabric.
This fabric protector is ideal for parents that love both their children and their cars. It's easy to apply and therefore perfect for anyone with zero experience in such activities.