You need to consider several things when shopping for a new steering wheel. First, you must get the right size. Going a size too smaller or bigger will affect your driving experience.
Secondly, you should be mindful of the grip thickness. Unless you drive your car with racing gloves, you shouldn't go for thin steering wheels.
Bolt pattern and shape are also critical when choosing a steering wheel. Finally, you need to choose between flat or deep-dish steering wheel designs. Both designs have pros and cons. And each design suits drivers with certain needs.
If you have already figured out the above factors but are still stuck on choosing between deep-dish and flat steering wheels, here is a comparison.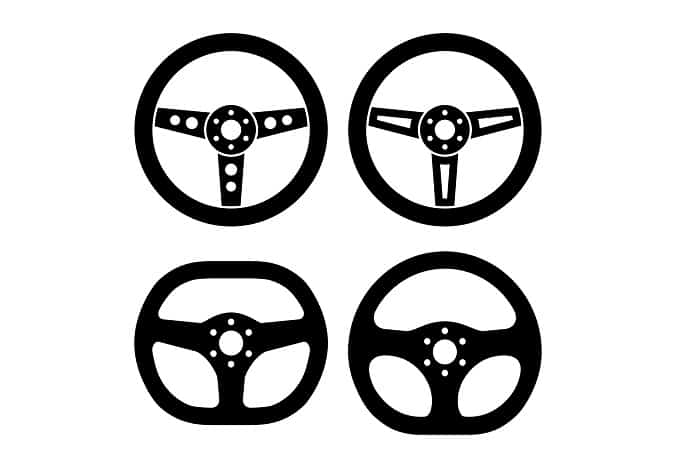 What is a Deep-Dish Steering Wheel?
To better understand what a deep-dish steering wheel is, we must first define the meaning of a dish. This is the distance from the centerline of a steering wheel grip to the mounting surface.
A deep-dish wheel has a longer dish distance. There is some distance between where you place your hands to where the steering has been mounted to the car.
Deep-dish steering wheels are unique. Rarely will you find auto manufacturers making cars with a deep-dish wheel. If you come across a car with such, it's probably an aftermarket accessory.
Besides that, deep-dish wheels look impressive. They give your car that's sports vibe that all motorists crave.
If you always struggle to reach the steering wheel, deep-dish brings the steering wheel closer to you. This benefit is a double-edged sword because if you are tall, a deep-dish wheel will bring the steering wheel much closer to you and put you in an uncomfortable position.
These wheels are very common in drift cars because it keeps the spokes further away from your fingers. As you drift and let go of the wheel, it won't hurt your fingers when it spins. If you are a passionate drifter, getting a set of deep-dish steering wheels has its perks.
Another perk of these wheels is that they let you sit further back. As you will see throughout this guide, the choice as to whether to choose deep-dish or flat steering wheels depends on personal preferences.
If you enjoy sitting further back in the car, deep-dish wheels will bring the steering closer, and you won't struggle to stretch your arms.
Finally, drivers who are always accidentally turning on the wipers or indicators as they turn the steering wheel can forget about such issues when they get a deep dish.
Since the grip is far from the mounting surface, which is usually the same height as the wipers and indicators controls, you will never turn on these features accidentally.
Overall, deep-dish wheels are an excellent upgrade from your custom and 'boring' steering wheel. As long as it's comfortable, this is a design worth having in your car.
What is a Flat Steering Wheel?
A flat steering wheel has a flat base. It has no dish, and the grip is almost the same height as the mounting. It's the most common type of steering wheel. And nearly all cars made by different brands have a flat steering wheel.
These days, car owners may lean more towards fancy accessories such as deep-dish steering wheels. But what you have to understand is that a steering wheel was designed to be functional and not to be fancy.
Therefore, the goal of a steering wheel design isn't to boost aesthetics but to offer practicality. And that's what a flat-bottom steering wheel is all about.
Flat steering wheels are common in race cars and regular cars. These types of wheels are so popular because of the many benefits they offer car owners. The first benefit of a flat steering wheel is that it provides adequate legroom.
The issue with customizing the design of a steering wheel is that it eats up the legroom. A typical flat steering wheel ensures decent space between the seat and the wheel.
Therefore, getting in and out of a car with a flat steering wheel will be a breeze if you are very tall or big. Secondly, when you are seated in the driver's seat, you should be able to move your legs comfortably without obstructions.
Even though some people may argue that a flat steering wheel looks basic, it's quite the opposite. This type of wheel design looks quite premium and elegant. It's the type of wheel that can benefit from extra features such as an aluminum or leather cover.
Aesthetics and practicality aside, a flat steering wheel lets you know which direction your wheels are facing. You can know whether the wheels are facing right or left with a flat base. This is a feature that most people may overlook, but it comes with its fair share of convenience.
You will find a flat steering wheel in luxurious car brands and the daily drives. Be it a Ferrari or a Toyota. You will see that the steering wheel is flat-based.
Whether you are in the market for a new car or steering wheel, it's important to explore the benefits you can get from a flat one. It may not look fancy or special, but a flat steering wheel is practical and comes in handy when operating a car.
How Are They Different?
• The Design
The design is the first and most obvious difference between these two steering wheels. A deep dish looks just like a dish. The center part is slightly submerged from the steering grip.
On the other hand, a flat steering wheel has a flat base. The grip and the center mounting are almost at the exact height.
• A Deep-dish Sits a Bit Closer to the Driver
Because of a deep-dish design, this wheel sits a little bit closer to the driver. If this is a personal preference, you can explore this benefit/advantage.
Since a flat steering wheel isn't raised from the mounting, it is often positioned at a standard height.
• A Deep-dish is More Conducive for Drifting
Deep-dish steering wheels are more common amongst drifters because they ensure the fingers won't get hurt when the wheel is left to spin on its own. A deep dish enhances safety in this scenario.
• A Flat Steering Wheel is More Common
You will find flat steering in more than 90% of the cars on the road. Even though a deep dish looks unique, there is a reason why auto manufacturers make cars with flat steering.
The steering wheel isn't fitted on your car for beauty purposes. It's an important part of the car.
How Are They Similar?
• Both Steering Wheels Help with Navigation
Whether you choose a flat or deep-dish steering wheel, you are assured of adequate handling. The designs may be different, but all wheels will do the job they are meant to, and that is to turn the wheels.
• Both Steering Wheels are Widely Available
Just because the deep-dish seems like a unique steering wheel, that doesn't mean it's hard to come by. These days you can find deep-dish steering wheels in auto shops near you.
One can also order it online. Whichever steering wheel you settle on, it shouldn't be hard to get it.
What's Better about Deep-dish Steering Wheel?
A couple of things make the Deep-dish stand out as a steering wheel design. The most obvious is its unique shape and layout. A deep-dish steering wheel will expose you to a new design that you are probably not accustomed to.
That will make driving your car more interesting. It looks good. This wheel is also great for drifting. We have already explained why.
Another benefit is that it positions the wheel closer to the driver. If you are tall or big, a deep-dish wheel can be suffocating and may make it harder to get in and out of the driver's seat. You need to take note of this.
What's Better about Flat Steering Wheel?
A flat steering wheel doesn't have an interesting design as the deep-dish. But it has got many perks. With a flat steering wheel, you are assured of adequate legroom.
The flat steering wheel won't be an obstruction on long drives or when boarding the car. Flat steering won't feel suffocating when you are a big or tall driver. This type of wheel gives you better control of your car's steering.
Who Should Get a Deep-dish Steering Wheel and Why?
A deep-dish steering wheel is perfect for drifters. Thanks to its design, a deep-dish wheel will keep your fingers safe as you perform drifting stunts on the track.
Also, if you are into unique car accessories, you will appreciate the rare design of this steering wheel.
Who Should Get a Flat Steering Wheel and Why?
A flat steering wheel is designed for all motorists irrespective of their body size and height. It's neither too close nor too far from the driver.
It doesn't obstruct your legs or interfere with your entry and exit into a car. It's the standard design. Therefore it's meant to be more efficient.