After a while, the factory floor mats on your car wear out and this can lower the aesthetics of your vehicle's interior.
Thanks to companies such as Diamond and Manicci, you can buy a set of aftermarket floor mats to replace the worn-out or old mats that came with your car.
These two companies are amongst the leading brands in the car mat industry. They make various designs of floor mats that fit nearly all types of vehicles.
If you are torn between shopping from either of these two companies, here is a review of Manicci vs. Diamond floor mats.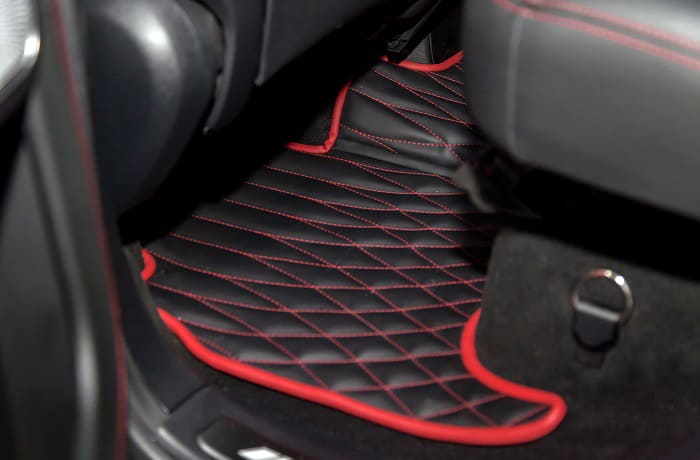 Let's Start with Manicci
Manicci was founded by Hardeep Singh Gill in 2014. The idea behind this brand crossed Gill's mind one evening when he was attending a BBQ party with his buddies.
As they were talking about car interiors, one thing they all agreed on is that car owners didn't have a wide selection when it comes to floor mats.
Most people had to endure the OEM floor mats which didn't have a useful or classy design.
It was at that moment that Gill developed an interest in floor mats for cars. He brought a team together and they began researching car mats.
From this research, Hardeep and his team picked up certain colors and designs that they thought most people would find interesting.
They were very keen on the quality of materials used and Manicci has been very consistent when it comes to durability.
This is what makes them stand out amongst the many floor mat companies that exist in the market. 7 years later, Manicci is ranked to be amongst the top luxury car mat companies.
The mats created by this company provide you with maximum floor coverage, they are built using quality materials and are very durable.
The mats are available in a wide range of colors and each mat is tested for performance before being shipped out to the clients.
They have a wide range of mat designs to choose from. This is evident when you go through their product category on their website.
What about Diamond Floor Mats?
Diamond floor mats are amongst Manicci's main competitors. With their presence both in the US and the UK, Diamond floor mats are the leading floor mat brand for lots of car owners.
As a result, this is a very popular brand with many positive reviews. Diamond is very keen on quality and fit. They happen to excel extremely well in the latter category.
If you look at most reviews, most of their customers praise these mats for how they fit well during installation.
When shopping for a floor mat from this company, the first thing they ask is the make and model of your vehicle. This is crucial as it ensures you get the right fit.
The ordering process is fairly easy and fast, especially when you have a design and color in mind.
Should you have any changes that you wish to make, Diamond allows the cancellation or amendment of orders. Just get in touch with them.
Installation of Diamond car mats is a fast and easy process that won't take you more than 5 minutes.
Anyone can install these floor mats. You don't need any special tools and neither do you require certain skills.
There is a video on their website that shows you how to install the mats, you can use that as a guide.
The mats from Diamond can be shipped to any country in the world. So, if you see something that you like, just give them a call and the mats will be delivered right to your doorstep.
One of the downsides of this company is that they don't provide extra stitching or special colors. Their mat designs are standard and designed to blend with most interiors.
If you are looking for something special, you may have to check elsewhere.
How Are They Different?
1. Diamond offers more designs and colors than its counterpart, Manicci floor mats. This is evident when you browse through their product page. If you happen to be very choosy with the design, we recommend giving Diamond car mats a try.
2. In matters related to durability, Manicci floor mats tend to last longer. The company, as mentioned earlier, tests each of the mats before they are shipped to clients. As a result, these mats tend to have a stronger build that can withstand wear and tear.
3. Manicci often has special offers on their products and they also give free worldwide shipping. This is something that Diamond car mats are still lagging on.
With Manicci, you have a chance of getting a great discount. For instance, at the moment, you can get 15% off using the code MN15.
How Are They Similar?
Both companies;
1. Make luxury mats. A luxury mat does more than just make your interior look amazing. It protects the floor of your vehicle.
The likes of snow, water, dirt, and spills can easily get absorbed on the floor of your car and cause rust. The luxury mats from Diamond and Manicci prevent that from happening.
2. Have great-looking designs and colors to choose from. Even though Diamond excels well in this sector, both companies try to give their clients the best of the best.
When you compare the mats from Diamond or Manicci to OEM floor mats, there is a huge difference.
3. Have mats that are easy to install and fit well. There are very few reviews that talk negatively about the fit of these two-floor mat brands. Whichever option you go with, you can be assured of getting some great mats that are going to fit well in your car.
After all, these two companies share the same ordering approach. You have to specify the make and model of your car when making an order.
What's Better about Manicci?
The first unique thing about Manicci is that they make quality luxury leather car mats. This is a reliable company that was formed strictly to help solve some of the issues associated with OEM floor mats.
Manicci is well-experienced in the floor mat industry. They have been around for seven years and as a result, they are well-versed with the dos and don'ts of car mats.
That aside Manicci makes luxurious and stylish floor mats for nearly all car models. The company is keen on customer satisfaction and that's why the brand is popular.
They have mats available in several colors. You also get 95% floor coverage from their mats. They are ideal for use in all weather.
Other than being easy to install, Manicci floor mats are easy to clean and maintain. These mats are scratch-proof and are quite durable, as well as waterproof.
Manicci works with several affiliates, so you are likely going to see their mats being advertised on social media platforms.
However, you need to be very careful because there are plenty of counterfeit Manicci mats in the market. This is even stated on their official website.
These imitations are cheap knock-offs that won't last long and have a mediocre design. To ensure you get the right Manicci floor mat, get one from a reliable vendor.
One of the areas that Manicci needs to improve on is their customer service department. From most reviews made by buyers, the team at Manicci has poor communication skills.
They rarely reply to messages and this can be a huge problem especially if you have got a complaint.
What's Better about Diamond Floor Mats?
The main feature that makes Diamond floor mats stand out from their competitors is how they perfectly fit in cars. If in the past, you have struggled with finding floor mats that fit in your car, these mats will fit better than you may expect.
Other than that, Diamond uses an impressive stitching design. This is why their floor mats look so unique. From this company, you can also get floor mats for your boot.
These mats also allow you to modify them so that they can fit in your vehicle better. This is a feature that is not present in most mat brands. Some users have also praised these mats for reducing road noise.
Unlike Manicci, diamond floor mats have active and friendly customer service. They respond very fast and are very professional at solving issues that buyers face when buying their mats.
The biggest downside of this company is that their mats don't often have a long lifespan. Many people have complained that these mats don't last long because they are made with cheap materials.
This is however debatable, especially if you consider how luxurious these mats look both online and in person.
Who Should Get Manicci Floor Mats and Why?
If you are a car owner who loves quality, luxury, and durability, then you should go for Manicci floor mats. You can be assured of getting the above features in Manicci floor mats.
Overall, this company makes good floor mats that can serve you for a long period.
Who Should Get Diamond Floor Mats and Why?
Do you have a taste for good-looking car interiors? Then you can't go wrong with Diamond floor mats. The first thing that will attract you to this brand is the impressive design and stitching.
Secondly, their floor mats are easy to install and fit perfectly.
Was this article helpful?