The Subaru Outback is not your ordinary station wagon. It boasts of an impressive rugged design and the all-wheel-drive feature makes it a very reliable vehicle.
That aside, the Outback gives drivers 8.7 inches of ground clearance. Meaning that it can easily conquer off-roads.
That's not all, the Subaru Outback comes with a sturdy roof rack that can carry bulky items like bikes, skis, kayaks, canoes, and any sort of big luggage that can't fit the trunk.
Out of the many great features that the Outback has, today we are going to focus on one, the roof rack. Similar to the roof rack in other car models, the one on a Subaru is also prone to some issues.
Below, we are going to look at the common Subaru Outback roof rack problems and how to handle such issues, should you run into them.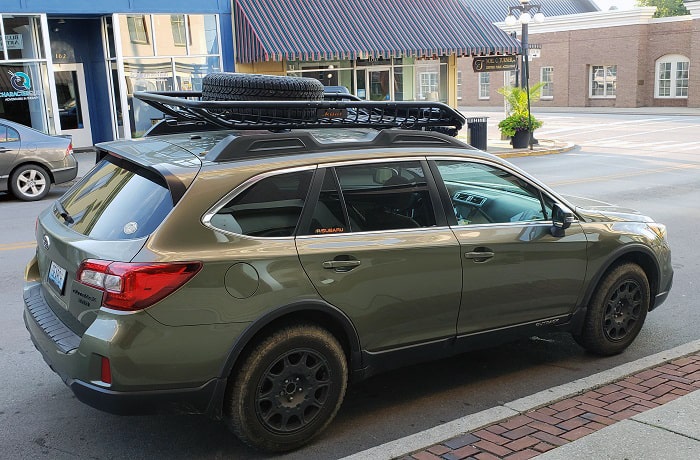 1. Lack of an Adequate Gap between the Top Roof and Roof Rack
If you are very observant, you should have realized that the roof rack design in recent models of the outback is very different from the one in the old models.
In an attempt to give newer Outbacks a sleeker and sportier look, Subaru has significantly eliminated the space between the top roof and the roof rack to minimize drag and airflow resistance.
You may be wondering, what's wrong if there is no space between the two?
For car owners who invest heavily in rack systems, the lack of space between the roof racks and the top roof is a big problem.
The closer the racks are to the roof, the easier it is for luggage to damage the roof of your car.
If you are carrying luggage that has several pointy parts such as a bike, you will have to improvise how to safely hold it on the roof racks so that pedals don't reach the top roof and scratch the paint.
This is was never the space with older models, as there was enough space between the top roof and roof rack.
2. Subaru Roof Rack Failure When Overloaded
Though the roof racks on Subaru are very sturdy, there have been complaints that these racks aren't strong enough to hold heavy luggage.
From a post on paddling.com, one of the users complained that he was carrying two 10-inch kayaks on his outback. When he was driving at a speed of 55 mph, the crossbars were pulled out by a cross-wind.
Over the years, Subaru has received a lot of praise for having strong roof racks. Unfortunately, their roof racks are becoming flimsy.
If you happen to own a Subaru and have the habit of carrying heavy loads such as kayaks, you need to decide whether you are going to stick to the factory rails, or you are going to install others that are stronger and secure.
Most Subaru owners prefer the latter as they claim it is steadier than what comes from the manufacturer.
However, for Subaru outback owners that only carry light luggage, the above shouldn't be a problem you may face anytime soon. This is because the factory rails are built and designed to carry light luggage.
3. The Roof Rack Not Clamping on the Rack System
If either the rack system or the roof racks get damaged, you may not be able to clamp one rack securely into another. Such issues with the Subaru Outback roof rack are very common, and the good news is, fixing such a problem is easy.
The first thing you need to know is that the roof racks in your Subaru are not going to last forever. They too get old and wear with time. Plus, the more you use it, the easier it can get damaged.
Always inspect the condition of the roof rails in your car before loading any luggage.
When you make a habit of doing this, you will never have to worry about running into surprises on the days you have planned to go kayaking.
Should you find out that roof racks are damaged, you can always install aftermarket roof rails. The main advantage of aftermarket roof rails is that you have the freedom of choice.
That is, you can choose sturdier roof rails that can accommodate heavy luggage and don't snap easily. You can find roof rails at your nearest auto store. If the rack system is damaged, assess the extent of the damage.
And if it is possible, see if you can fix the rack system without stripping it down.
Depending on how damaged the clamping mechanism is, you may be forced to remove the rack system and rebuild it from scratch. Kindly avoid driving with a rack system that is loose on one side.
This can damage your car and it's also risky because should the rack system snap, you may cause an accident. Ensure that your luggage is clamped securely on the roof racks.
4. Subaru Outback Roof Rack Noise
Another common problem that Subaru Outback owners experience with their roof racks is the noise they produce when you are driving.
This is an issue that affects both new racks and old ones. It is however more severe in the latter because old racks aren't as firm as they once were.
So, other than the noise coming from air resistance, they may squeak when luggage is mounted on them.
The noise that comes from roof racks can be very irritating especially if you prefer to drive in silence. When wind passes through or over objects, it creates Aeolian noise.
This is the source of the noise that comes from your roof racks especially when driving on a windy road.
This noise can vary depending on how fast you are driving, the design and size of the crossbar, and as mentioned above, the strength of the wind or airflow.
To eliminate the noise coming from your Subaru roof racks, there is only one thing you need to do, divert the airflow passing through the crossbar.
Tips on how to prevent Subaru roof rack noise;
Buy and install wind fairing
For those of you who may have never heard about wind fairings, these are plastic shields that are attached to the front of the roof rails.
They don't just reduce noise but also effectively eliminate drag. The only downside of wind fairing is that it can affect how you load or offload luggage on your roof rails.
Rubber is known to distribute airflow and that's why you will find textured rubber in some Subaru Outback.
When the crossbars are wrapped with rubber, the airflow is minimized and you, therefore, won't hear a whistling noise as your drive at high speeds.
If you have had enough with roof rack noise, you should consider buying a foil bar. These significantly eliminate Aeolian noise and you can enjoy silent rides.
Opt for edge bars instead of load bars
Even though load bars are the best choice when it comes to fitting objects on your roof racks, the added surface area contributes to more airflow restriction leading to noise.
You can avoid that by opting for edge bars, they have a lower surface area.
As we wait for Subaru to upgrade their roof rack design to eliminate noise coming from air resistance, you can use the above tips to ensure a pleasant ride.
Is a Roof Rack a Must have in My Subaru Outback?
Though not necessary, roof racks play an essential role in providing adequate storage. With a roof rack in place, you don't have to overuse the interior storage.
It comes in very handy amongst people with hobbies such as kayaking, skiing, or bike riding. The space on your roof can be used to carry canoes, kayaks, and any other gear that you would have had to transport separately.
This added level of convenience is what makes roof racks an essential accessory in Subaru Outback.
However, if you aren't a fan of activities that may require such a huge amount of storage space, then you can live without roof rack systems and forget about all the problems mentioned above.
After all, the outback has a huge trunk that can accommodate lots of luggage.
Are roof racks a mandatory accessory in your Subaru Outback, then brace yourself for the above problems. The likes of Subaru roof rack noise and damage of the crossbars are very common.
And may or may not happen to you. Irrespective of the problem you may face, it is important that you know how to deal with it as soon as possible.
The better you care for your roof rack, the longer it's going to serve you, and the fewer problems you are likely to face.
As you inspect the roof rack for damages, you should also ensure the space between the rack system and the roof is always clean.
When dust accumulates on the roof and you forget to clean, it will eat away the clear coat and leave your paint naked and more vulnerable to damage.
It is also advisable to invest in a strong and aggressive rack system that will hold firmly to the roof rails.