Despite being the most overlooked step in the detailing process, claying offers many benefits to cars and their owners.
Clay bar kits are designed to glide over car surfaces while removing impurities and anything else that might have bonded with the paint.
Claying not only does it prepare a car surface for polishing but also keeps your car free from impurities that can damage the clear coat as well as the paint.
Having understood how important claying a car is, the next step is to find the best clay bar kit to use on your vehicle. There are hundreds of clay bar kits made by different brands.
Very few of these kits are effective. Mothers and Meguiars clay bar kits belong to the latter category. If you are stuck between choosing Meguiars and Mother's clay bar kits, here is a head-to-head comparison of both.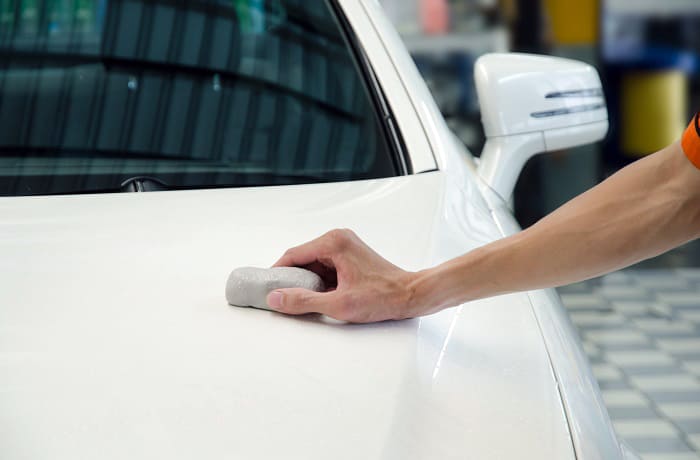 What is Meguiars Clay Bar Kit?
Meguiars is not a new name in the car detailing industry. As a matter of fact, if you often look up lists of the best-detailing products, this brand should be familiar.
Their clay bar kit is one of the best. On Amazon, it is rated as the number 1 clay bar kit with tons of positive reviews.
Officially known as the Meguiars Smooth Surface Clay Kit, this product comes packaged with two eighty-gram bars of detailing clay.
There is some quick detailer on the side which is the clay lubricant and Meguiars also adds some microfiber towels. This brand provides you with all you may need to detail your car.
The clay bar kit from Meguiars is very effective at removing contaminants from car surfaces. One of the key features of this product is that it is mildly aggressive.
Meaning that it is safe to use on car paint. Before we proceed, let's make one thing clear. Contrary to popular belief, the more aggressive a clay bar is the higher the risk of damaging paint.
If you are new to detailing, a very aggressive clay bar can wreak havoc on car paint. However, Meguiars clay bar kit can be used by professional detailers and beginners because it is safe.
Don't think that because it is gentle, the Meguiars clay bar is ineffective. It's the exact opposite, when used with some quick detailer to lubricate the clay, this product strips off all contaminants on your car surface.
Regarding Meguiars clay bar kits, you should know that they do make a couple of clay bar kits other than the smooth surface clay kit.
You can also choose from Quik Clay Detailing System, Meguiars Hybrid Ceramic Synthetic Clay Kit, Professional Detailing Clay (Mild or Aggressive), all made by Meguiars.
All of the above 4 clay bar kits have their pros and cons, however, the Meguiars Smooth Surface Clay Bar Kit remains to be the most popular choice.
What is Mothers Clay Bar Kit?
The Mothers Clay bar kit is Meguiar's top competitor. Not only is this clay bar as popular and effective as Meguiars but it has been around for longer and that's why it's the number one choice for many car owners.
Having been launched back in 2004, for the past 17 years, Mother's clay bar kit has been helping car owners remove impurities such as tree sap, paint overspray, and airborne deposits. The effect of this clay bar is fresh-looking paint.
In this kit, you will find two clay bars each weighing 100 grams. There is also a microfiber towel and a Mothers California Gold instant detailers.
On Amazon, Mothers Clay Bar Kit is one of the best sellers and this is because of the advantages this product offers.
The clay found in the Mothers kit is strong enough to remove all foreign elements while not damaging the paint. The formula has been designed to work on all paint types including the clear coat.
With this, you can be assured of a smooth and silky surface free of environmental deposits, metal stains, and any other impurities that can bond to the car paint.
What are the Differences?
1. Meguiars clay bar kit contains 2 eight gram clay bars, whereas Mothers contains 2 one hundred gram clay bars.
With the latter, you can clay more surfaces. This is a factor that should be heavily considered by truck owners or anyone looking to detail several cars such as professional detailers.
2. There have been reports of Meguiars detailing clay gumming up. We are yet to hear the same of Mother's clay bar kit. This can be avoided by being more generous with the clay lubricant provided by Meguiars.
Sometimes, you may have to run to the store for some more quick detailer. This is an opinion that has been expressed by many people who have used Meguiars.
3. Mothers is a top choice for many because it doesn't streak easily. Unfortunately, the same can't be said for Meguiars.
It is worth noting that all clay bar kits will leave streaks if not used correctly. You, therefore, need to be very keen when applying the clay bar. Stick to the instructions provided by manufacturers.
4. Meguiars, unlike Mothers, do offer professional detailers a wide range of clay products with different levels of aggressiveness. If you are into the detailing business, you have more clay types to choose from Meguiars.
What are the Similarities?
1. In both kits, you get a quick detailer which is the lubricant, and a microfiber towel. In summary, both brands bring you all the tools you may need to detail a car.
2. Both are popular clay bar kits. If you are the kind of car owner that considers brand reputation, then both of these clay bar kits should check all your boxes.
Meguiars and Mothers have been in the detailing industry for a while and that's why they are both very popular.
3. You can be assured of thorough removal of impurities from car surfaces with both clay brands. The Mothers as well as the Meguiars clay bar kit are formulated to trap every contaminant that has bonded on the surface of your car.
4. They are very gentle on car surfaces. If you are afraid of aggressive clay bars, please note that these two are very gentle on car surfaces.
What's Better about Meguiars Clay Bar Kit?
There are many great things about the Meguiars Clay bar kit. This is not your ordinary clay bar kit.
The first benefit it can offer you is the thorough removal of contaminants from the car's surface. Meguiars clay bar kit is the first product you should use before polishing the surface of your car.
Thanks to its robust impurity removal capabilities, it will leave your car with a fresh layer of paint or clear coat.
Another added advantage of this product is how fast it removes bonded surface contaminants. Whether you have got road tar, industrial fallout, tree sap, or overspray on your paint, this clay bar will strip these impurities off your car paint.
It is mildly aggressive and therefore won't hurt your car paint. Depending on the state of your car, if you want an aggressive clay bar, Meguiars has also got you covered.
When you buy this kit, you also get a microfiber towel that you can use to give your car a smooth and glossy finish.
You should also know that once you are done applying the clay bar kit, your car will benefit from better and longer-lasting wax protection.
What's Better about Mothers Clay Bar Kit?
The first and perhaps the most interesting feature about this Clay bar is that with the two clay bars packaged in this product, you can clay up to 6 regular-sized cars.
Very few clay bars can help you remove contaminants from such a high number of cars. For a product that has been around for almost two decades, its popularity shouldn't come as a surprise.
Mothers clay bar kit is exceptional when it comes to removing embedded contaminants from car surfaces.
Even the tiniest of particles such as brake dust, industrial fallout, and rail dust can be removed easily by this clay bar. With Mothers clay bar kit, you are assured of a deep and wet shine that is free of contaminants.
Who Should Get Meguiars Clay Bar Kit and Why?
Whether you are a professional detailer or you are new to the detailing industry, Meguiars clay bar kit has got you covered. Thanks to its gentle touch, you can use it to remove impurities on your car's surface.
It is very effective and Meguiars also makes aggressive clay bars for cars that have lots of impurities on the car surface.
Who Should Get Mothers Clay Bar Kit and Why?
Mothers Clay Bar Kit was created for all car owners that want to keep their vehicles clean and neat. Considering the many contaminants cars are exposed to, claying them regularly is a great way to prolong paint life.
Most of these contaminants bond with the clear coat and with time, they weaken it and this puts your paint at risk.
With an effective clay bar such as the one from Mothers, you don't have to worry about contaminants ruining your car paint.