If one of the main reasons why you bought a truck was to transport cargo or various items, then you should also consider getting either a Tonneau Cover or Topper.
These two will help prevent your belongings from flying off the truck bed and at the same time, enhance the security of your cargo.
For some truck owners, the decision to choose either a topper or Tonneau cover is usually easy mostly because of their past experiences.
However, for others, especially new truck owners, one can easily get confused on which amongst the two is better.
Our review below of Tonneau cover vs Toppers is dedicated to truck owners who are stuck between choosing either of the two.
We will be looking at the similarities and differences so that you can make the right choice for your vehicle and transportation needs.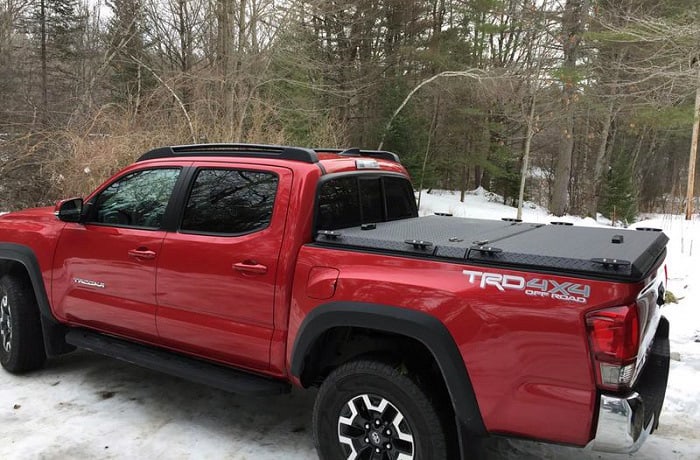 What is a Tonneau Cover?
A tonneau cover is a protective material that lays flat on top of the truck bed when installed and it is worth spending every penny on.
There are many reasons for that. The first thing it does is it keeps snow, rain and the sun from your truck bed thus protecting your cargo from harsh weather elements.
Secondly, when you are driving on the highway, with an open bed, your cargo can easily fall or get covered with dust and debris. A tonneau cover is going to protect your cargo from that as well.
And finally, with a tonneau cover on your truck bed, you can always feel confident when you leave your truck parked knowing your items are safe.
As you can see, a tonneau cover offers a wide range of benefits that you can't get when driving with an open bed.
And let's not even get started with how fast your truck bed is going to wear when you leave it exposed to the harsh weather elements.
A tonneau cover ensures your truck bed is clean and dry at all times. It also prevents rusting of the bed. Another perk of having a tonneau cover is that it also improves fuel economy.
If you have driven a truck with an exposed bed before then you are familiar with the resistance that is created when the wind gets into the open truck bed and gets barred at the tailgate.
This leads to more drag and as a result, you lose a lot of fuel in the process. Tonneau covers prevent wind from getting into the truck bed, you will therefore enjoy better gas mileage.
Some people claim that Tonneau covers do not offer hauling flexibility. Well, that only applies to soft tonneaus.
If you get the hard ones, you can carry cargo both beneath and on top of the cover. Hard tonneau is made using strong materials that can withstand the weight and rough equipment.
What is a Truck Topper?
The other option that truck owners often go for is a truck topper. Also known as a truck cap or camper shell, toppers were mostly very common back in the day.
And if your dad or granddad still drives an old school truck, there are high chances that it has got a topper or a cap.
Truck toppers are a rigid canopy or a small housing that is installed on top of the bed. It gives your truck an SUV look and because it's a small housing, it offers ultimate protection to your cargo.
Unlike tonneau covers, truck toppers often have enough headroom and you can even add windows as well as customize the bed area of your truck even more.
Similar to tonneau covers, truck toppers also have a wide range of benefits. One, they do an excellent job at protecting gear from both the elements ad theft.
A truck cap is designed to act as a small cabin and once you store your cargo inside there, no one can be able to reach them, not unless you leave the door open.
Truck toppers are the perfect camping accessory. You can always carry a mattress in the bed and provided it is covered by a weatherproofed truck topper, you can sleep soundly protected from bad weather.
The other benefit of a truck canopy or cap is that you can customize it as much as you want. With this option, you can always add doors on both sides and improve access.
There is always enough headroom to either climb or stand when inside the truck bed. If you also carry a lot of cargo, you can install roof rails on top of the topper.
And truck toppers often come in durable materials such as aluminum or steel. They can therefore last for years even when exposed to the toughest conditions.
Before we can look at the differences, you should know that initially, truck toppers came made of aluminum. This material doesn't look so good, especially on trucks and that's when plastic and fiberglass ones were introduced.
If you happen to be more interested in toppers, look into the individual benefits of each of these materials.
How Are They Different?
1) Truck toppers take longer to install and need a lot of manpower. Between the two, you have an easier chance of installing a tonneau cover more than a truck topper.
But we would advise you to have both installed by an expert who knows what they are doing.
2) A tonneau cover is more flexible when you intend to go back and forth from an open to an enclosed truck bed.
With a topper, once installed there is no going back not unless you decide to remove it permanently. Tonneau covers can be easily folded and rolled back thus exposing your truck bed whenever you need to.
3) There is a big difference in regards to the appearance of these two types of truck bed covers. A topper gives your truck the look of an SUV and tonneau covers help you retain the original look of your truck.
The only change is that the bed is covered. Here, you have to evaluate what appearance suits you best. And it's also important that you consider the colors and styles of both toppers and tonneau covers.
4) Toppers are perfect for campers whereas tonneau covers aren't. If you own a truck and you are a camping enthusiast, you will appreciate the functionality of a canopy.
The room to add a bed and other essentials to your truck is an added bonus when you choose a canopy over a tonneau cover.
5) Though it offers a lot of headroom, the size of a topper can be limiting in some ways. Tonneau covers can be easily rolled up and you can load a motorcycle on your truck bed. This is something that's going to be impossible with a canopy.
How Are They Similar?
1) For both to offer maximum protection, they must be installed by a certified expert. Most people usually think that just because tonneau covers have a minimalistic design, they are easy to install.
If you do it wrongly, then it may leak or you may not fit it correctly on the sides. Considering how both are a great investment for your truck, you should have them installed correctly.
2) Both offer protection from weather and theft. Irrespective of your choice, you can always be comfortable knowing that your cargo is safely tucked in your truck bed.
Truck toppers and tonneau covers are usually designed with security in mind, and they feature locking mechanisms that keep your items safe.
3) A tonneau cover and a topper will prevent your items from flying off all over the highway when you are driving at high speeds. This is something both these covers share.
What's Better about Tonneau Cover?
Nowadays, you are probably going to see more tonneau covers than toppers because of the level of flexibility these covers offer when it comes to transporting cargo.
Also, a tonneau cover allows you to retain the classic look of your pickup truck. And it gives you better fuel economy.
When shopping for tonneau covers, it's worth remembering that the hard and soft covers each have their pros and cons. You need to compare the pros and cons of the two before making a purchase.
What's Better about Truck Topper?
Truck caps on the other hand give you a lot of headroom, something which is very limited with tonneau covers.
Truck toppers or canopies offer you plenty of customization features. You can add doors, windows and convert your truck into an SUV if you so wish.
Who Should Get a Tonneau Cover and Why?
A tonneau cover is perfect for a truck owner who prefers a flexible storage system in their truck.
Unlike toppers that have a limit on what you can or can't carry, a tonneau cover can be opened or closed thus giving you more access to your truck bed without limiting height or space.
If you are keen on improving fuel economy as well as want to retain that elegant look of your truck, a tonneau cover can offer you that and much more.
Who Should Get a Truck Topper and Why?
Truck toppers were made for truck drivers that love camping and wouldn't mind converting their truck into an SUV.
With a truck topper, you just don't get the chance to keep your cargo protected from elements but it can also act as your home on those nights that you feel like being at one with nature.