If you have ever been or are planning to order a BMW or Mini-Cooper, then you may have come across the term Anthracite headliner.
This is a headliner like any other, only that it's black or dark grey. Anthracite is coal. Therefore this name is given to headliners that are darker in color. In most cars, you will find grey or tan roofing material.
However, of late, anthracite headliners have become quite popular. Is it your first time hearing or seeing an anthracite headliner? Here is everything you should know about it.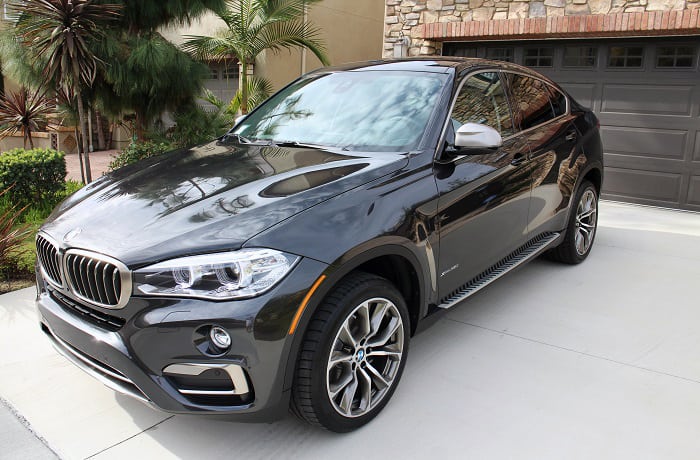 What's the Big Deal with Anthracite Headliner These Days?
As time goes by, car owners change their preferences. For instance, do you remember when all car owners painted their vehicles matte black?
With anthracite headliners, it's the same thing, only that this occurs in the interiors of cars. For years, the roofing material color was often gray.
In some other cars with leather upholstery, you would find a tan fabric headliner. To spice things up, car manufacturers such as Mini-Cooper and BMW introduced anthracite headliners.
Without a doubt, the anthracite headliner does make your car look different and unique. The headliner is a huge part of a vehicle's interior, the second somebody steps in, they should notice the difference.
If you are the kind of car owner who appreciates a dark-looking interior, you should try out the anthracite headliner.
As a new trend, there are a lot of mixed reactions regarding this new 'type' of headliners. Some like it so much, and others don't.
Do I Have to Order or Does It Comes as a Standard Package?
At BMW, the anthracite is part of the Sport Package. You should be able to see the anthracite headliner included when looking at the specifications of that package. In Mini-Coopers, some models come with the anthracite headliner.
You have to confirm this from your dealer or when ordering a certain car package. The anthracite headliner isn't available as a standard package in most cases because it's not yet an 'accepted' headliner color.
It will probably take some time before anthracite headliners become as popular as their grey or tan counterparts.
Is an Anthracite Headliner Worth It?
For those who have never had an anthracite headliner and are contemplating getting one, you must get the opinions of those who have had it in their vehicles.
We scoured the internet to bring you varying opinions of car owners who have had an anthracite headliner.
Starting with the negative comments, an anthracite headliner can make your cabin seem dark and smaller. This is expected more so if you intend on having it in a small car.
The color black gives the illusion that a certain space is smaller than it is. You need to be aware of this if you are planning on getting the anthracite headliner package.
Despite that drawback, this type of headliner is loved by many car owners. First, a lot of people find dark colors beautiful.
An anthracite headliner is unique, and people will immediately realize this the minute they look at the roof. If you have black seats and upholstery, it may look like the cabin feels closed in.
If you are unsure about this, the best thing to do is visit your dealer and look at a car with black upholstery and an anthracite headliner.
Confirm if it suits your preferences before buying it. An anthracite headliner blends well with a brown and gray interior.
Before we can wrap up the worthiness of an anthracite headliner, you should take note of the following. This type of headliner is known to give the cabin a warmer feeling.
It's also quite luxurious and has a soft, felt-like feeling when touched. Plus, because of its dark color, it doesn't easily show scuff marks. If you have a huge sunroof, the black color may not make the vehicle feel cramped.
An anthracite headliner, in some ways, gives a car a sportier feeling. In case you were having some second thoughts about ordering a car with an anthracite headliner.
Hopefully, the above has cleared any doubts. The main issue you need to be mindful of is how it can make the cabin look smaller. Other than that, an anthracite headliner is an excellent choice.
Does an Anthracite Headliner Make Much of a Difference?
Surprisingly, some people do not care about the color or material used in their car roofs. This is common in commercial vehicles. In personal cars, owners pay a lot of attention to every detail.
Therefore, if you are getting a car for your business or company, the material used in the roof may not make much of a difference.
However, if you are getting a vehicle for personal use, you must consider the design and material used on the headliner.
Back to the question above, an anthracite headliner does make a huge difference in a car's aesthetics. It can either improve or downgrade the look of your interiors.
Depending on your preference and taste, an anthracite headliner can make your car interior look more stunning. It may also make it look smaller in size.
You have to weigh the pros and cons of having such a headliner. If you plan on having it in an SUV, you don't have to worry about it impacting the illusion of space.
Compared to regular fabric, anthracite headliner does have some color differences. It also has a softer and felt-like touch.
Remember, not all anthracite headliners are created equally. In some, you may find the fabric to be the regular one used in headliners. The only difference is that the color isn't the same.
How Do I Know If Anthracite Headliner Is Right for Me?
As a smart buyer, you are aware of the importance of researching every car spect. Assuming that you have ticked all other specifications and what's remaining is the Anthracite headliner. How do you know if this type of headliner is right for you?
From a general point of view, anthracite headliners seem like a cool thing to have on your roof. However, they don't appeal to everyone.
Instead of buying a car with this feature and regretting it for the rest of your life, it would be best if you could research further.
In our article above, we have covered almost everything you have to know about anthracite headliners. The only missing bit is seeing it for yourself.
You can determine if this type of roof is right for you when you see a car with an anthracite headliner. Therefore, before ordering a vehicle with this specification, visit the dealerships near you and ask them for vehicles with this package.
In case they do not have some around, checking out a Mini-Cooper or BMW club in your area should allow you to see what these headliners look like and whether they are a great fit for you.
Do Car Manufacturers Charge Extra for Anthracite Headliners?
One thing you need to know about cars is that any feature that doesn't come as a standard option will attract more costs.
If you order the option where the vehicle comes with an anthracite headliner, the cost will go up by a couple of hundred dollars. You can always go for the usual roof if you don't want to pay more.
Nonetheless, an anthracite headliner is an excellent addition to your car's interior, more so if you get the Alcantara version.
The material is of high quality, looks better, and with proper insulation, the dark color shouldn't absorb a lot of heat, thus making the cabin too hot.
For the anthracite headliner, you should be charged anywhere from $100 to $500.
This depends on the car brand, make, and model. If this material meets your taste, having it on the sun visors and dash will make your interior look amazing.
What Does Anthracite Mean?
According to Wikipedia, anthracite is hard coal. It contains the least impurities and has the highest energy density. Synonyms for anthracite coal include black diamond, stone coal, and black coal, amongst others. The term anthracite headliner was borrowed from black coal.
Does an Anthracite Headliner Make a Car Interior Look Weird?
Of late, car owners are gravitating towards darker interiors. Looking at most cars nowadays, you will find dark seats, dashboards, carpets, and headliners. To some people, this may look creepy and weird.
Cars are all about taste. What may seem appealing to you may not be to another person. Therefore, if you want to go all black, nobody should stop you.
However, a word of caution is that going all black on your interior can give the illusion of smaller cabin space.
And it can make your car look like a dungeon. Blend your anthracite headliner with brighter upholstery. This way, the car won't look too dark, and during summer, you won't have to deal with a lot of interior heat.
In case you decide to go all black, do so in a car with a sunroof. The sunroof opens up your vehicle and lets more light in.
Was this article helpful?