'I want a car with a leather interior'. This is a common statement the guys at the dealership hear almost every day. We can all agree that leather is an impressive material, especially when used in car upholstery.
Not only does it make your seats comfortable but it gives your vehicle a luxurious touch. Despite leather being such an excellent material to have in our cars, it's unfortunate that most people don't know how to maintain a leather interior.
Unlike other materials that are used in vehicle interiors such as cloth fabric, leather is high maintenance. Did you know that leather begins to lose its beauty days after purchase?
Yes, it is very sensitive to dirt, heat, dust, and friction. Because of how vulnerable leather is to the listed elements, it is crucial that you learn how to take care of it.
One of the best ways on how you can prolong the life of leather is by cleaning and conditioning it regularly. And that brings us to our topic today on Leatherique vs Lexol.
These two are popular leather conditioning products that will ensure your leather doesn't lose its elegance nor its soft touch.
If you had already done your research then you already know that these two are ranked as the best leather conditioners in the auto industry.
As a car owner, if you were stuck wondering which of these two leather conditioning products is the best, here is a head-to-head comparison of Leatherique vs Lexol.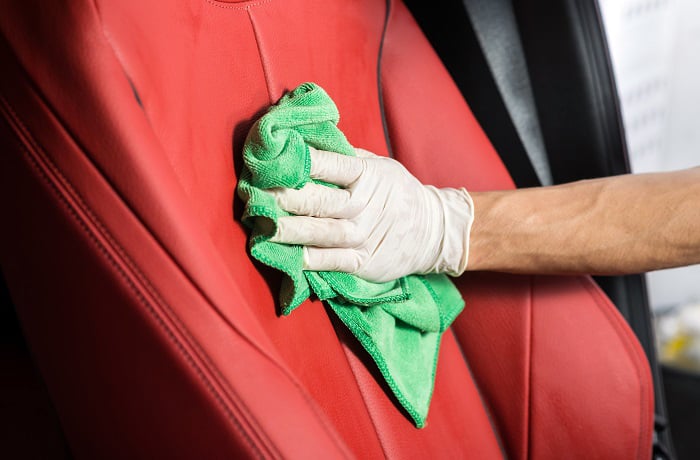 What is Lexol?
There is a reason why Lexol is the number one choice for many car owners. It was made to condition leather that was regularly exposed to the worst of conditions.
Lexol was founded back in 1933. Its main purpose then was to maintain the look and feel of leather that was used in halters and saddles in horses. Horses in the 1930s experienced their fair share of tough environmental conditions.
The leather used in horses couldn't withstand these conditions and it would end up drying and cracking sooner than most people anticipated. To counter these effects, Lexol was invented.
The Lexol formula contains oils commonly used in tanning and that's what makes this product excellent at making leather resistant to drying or cracking when exposed to dirt or sun.
This product doesn't just condition leather but it also cleans it. Regular cleaning products can be too harsh on the leather.
However, the formula found in Lexol is gentle but very effective at removing grime and dirt off your leather seats.
With Lexol leather conditioners, you can rely on their formula to restore the look of leather to as good as new.
This is thanks to the conditioner's tiny oil droplets that penetrate and bond with the leather making it resistant to cracking and rejuvenating its look and touch.
This conditioner is also very easy to use. And this is one of the features that makes it the number one choice when shopping for your car's regular leather care routine products.
Inside Lexol, you will mostly find leather preservatives, water, mild detergents, and glycerin. Lexol doesn't use any chemicals because leather is sensitive and certain chemicals can be too harsh.
For a company that has been around for nearly a century, you can rely on their knowledge and expertise in leather care. Lexol is a high-quality leather cleaner and conditioner.
It is effective, very easy to use, and comprises chemical-free ingredients that will restore worn-out leather. With this product by your side, your leather interior will always look as good as new.
What is Leatherique?
Leatherique is not your ordinary leather cleaner and conditioner, that's why it's a favorite amongst detailers. It comes in two; a rejuvenator oil and a pristine clean.
Made by the same company, these two products play different roles when it comes to the cleaning and restoration of leather.
The rejuvenator oil made by Leatherique is so strong that it can soften cardboard leather.
Made using animal collagen and proteins, the rejuvenator oil is very effective at softening leather. It is free from any chemicals that may eat through leather. And you can also be assured that it won't stain nor discolor the leather.
Leatherique rejuvenator oil is very easy to use. Apply some on your leather upholstery and rub it in so that the ingredients can be absorbed into the fibers.
This oil does more than just restoring leather, but it keeps the dirt out. When using Leatherique oil, always massage it gently into your seats to avoid scratching the leather in case there is debris loosely hanging around.
There is also the pristine clean whose role is to remove dirt, dust, and all impurities from your leather seats. From the many reviews posted online, most car owners love how effective pristine clean is at cleansing leather.
It cleans and conditions leather but it's not very effective with the latter and that's why you have to complement with the rejuvenator oil.
How Are They Different?
Lexol is ideal for regular use whereas Leatherique works better as a once or twice-in-a-year conditioner. With Lexol, you can carry it with you so that you can use it whenever your leather upholstery picks up a dirt mark. For a thorough leather conditioning, Leatherique can give you more pleasant results.
Leatherique has more applications and can be used to correct flaws as well as revive dying leather. Lexol on the other hand is best for standard and regular detailing. With Lexol, you can retain the classic look of leather whereas Leatherique can be used to bring back worn-out leather to life.
When it comes to softening leather on the door panels, you have more chances of success when using Lexol more than Leatherique. The latter seems to be more effective on seats and not other areas.
Leatherique is more expensive than Lexol. Even though most detailers say that price isn't a key factor to consider and they are right. It is crucial that you know which conditioner and cleaner suit your budget.
How Are They Similar?
Both come with a conditioner and cleaner.
The process of cleaning leather isn't the same as with other fabrics. You will need to clean the leather and remove dirt and debris.
Also, you will have to condition it. Both steps are important and that's why reputable companies such as Lexol and Leatherique provide you with both a cleaner and a conditioner.
Both will ensure your leather seats look elegant for the longest time.
From user reviews, we have come to the conclusion that whether you use Leatherique or Lexol, your leather upholstery will look amazing.
What's Better about Lexol?
The best thing about Lexol is that it's perfect for regular leather care and maintenance. Getting yourself the Lexol leather care kit comes with many benefits.
For one, it is a natural product that effectively cleans and maintains leather's look and appeal. Free of harsh chemicals, your leather won't crack, and neither will it be stripped of its natural oils.
Lexol possesses superior leather cleaning abilities. Very few cleaners can provide the level of dirt removal as Lexol.
The formula used to make this leather cleaner and conditioner is also pH balanced to ensure you get the best performance.
The conditioner leaves behind no residue and you will love the calming and natural scent that will be left on your leather seats.
Despite having so many benefits, there is one main drawback of using it. You must use both the cleaner and conditioner. If you only use the cleaner and ignore the conditioner, the results won't be very pleasant.
What's Better About Leatherique?
The feature most people love about Leatherique is how its rejuvenator oil evenly penetrates the fabric and can restore even the most neglected leather upholstery.
Leatherique is known to be the best leather conditioner and unlike Lexol, you don't have to use it regularly to get pleasant results. With Leatherique, you can use it once and give your leather deep conditioning.
Other than being the best leather conditioner in the market, Leatherique pristine clean is very effective at getting rid of dirt and grime on the leather seats. This brand also has plenty of positive reviews and it's a favorite to many car owners.
Who Should Get Lexol and Why?
Are you an interior detailing fanatic? Do you hate seeing scuff marks on your leather seats? Then you should have Lexol in your trunk always. Lexol is the ideal leather conditioner and cleaner for regular use.
It is affordable, effective, and very easy to use. Whether you are a detailing guru or you have just bought your first car, using Lexol should be a breeze.
Who Should get Leatherique and Why?
Is your car's leather upholstery in terrible condition? Or, are you a professional interior car detailer and you often get clients that want deep conditioning for their leather seats?
Leatherique can help you restore old leather seats faster than any other conditioner on the market.
Though it costs more than the average cleaner, Leatherique is a quality and premium cleaner as well as a conditioner.
Its rejuvenator oil is packed with essential oils that are used during tanning and help with the restoration of leather.