Door panels, also known as door cards are the inserts of a vehicle that are used to cover the internal components of the door.
Door panels are usually designed by auto manufacturers to blend with the interior décor and design. Therefore, if you have leather, vinyl, or plastic on the surface of your dashboard that is exactly what will be on top of your door panels.
Beneath the layering of cloth, leather, or vinyl, lies a certain material that holds the above layers. Initially, the material that was used on door panels was cardboard.
Fast forward to the 21st century, the material used is plastic which can be incorporated with other decorative materials such as vinyl.
The ideal material for a door panel should both offer functionality as well as enhance the overall design. This is why plastic is such a popular choice nowadays.
Using this type of material can serve its purpose of protecting the components and at the same time, it can be molded or layered with other materials to make it look better.
Door panels are often fitted into the door frame using glue and screws so that they can hold their place.
In most cars, irrespective of the material used, the door panels often last for at least 120,000 miles. The type and level of conditions the door panels are exposed to can either make them last longer or shorter.
A car whose door panel is banged or pushed with a lot of force is more likely to get damaged than one where the occupants are mindful of the impact they subject the door panels to.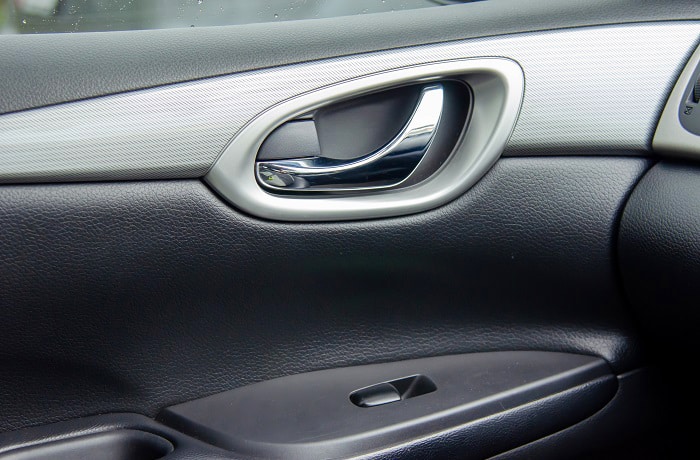 Light vs. Heavy-Duty Door Panel Materials
Heavy-duty materials such as aluminum and other metals will always last longer than their counterpart. However, heavy-duty materials add more weight to your car and this can affect fuel economy.
You, therefore, have to evaluate what matters most to you. Do you crave durability or efficiency?
There is a reason why plastic is more popular than other materials because it creates a balance between both.
It is neither too heavy nor light and even though it isn't very durable, it can serve you for several thousand miles before you can replace it.
The other factor you need to consider when choosing between heavy or light-duty materials to use on a door panel is the level of care you give to this part of your vehicle.
Some people are very rough on the door panel. Some even go to the extent of pushing the panels with their toes.
If you belong in this category, we recommend you opt for heavy-duty material. But if you always opt for a light touch then a lighter material can serve you for longer.
While we are still looking at the materials used on car door panels, the material that is used on top of the plastic, aluminum, or cardboard also matters.
Leather is very durable and if taken care of can last for years. Cheap vinyl on the other hand won't last for very long and will show signs of wear after a couple of years.
A foam backing can also make the door panels thicker and enhance the interior aesthetics.
Irrespective of the materials used, upholstery material that is fitted on door panels doesn't wear easily. This is because it isn't heavily exposed to UV rays.
And rarely does the door panel rub against either the human body or other things that can accelerate wear.
Which Car Door Panel Material Should I Choose?
This will depend on your preferences as well as the benefits you are interested in. Above we have listed the three most common types of materials used on door panels and that includes metals such as aluminum, cardboard, or plastic.
The latter is the most popular choice nowadays. Out of these three, materials made out of metal such as aluminum last longer. Plastic on the other hand is lightweight and so is cardboard.
Moving on to the materials that are used to improve the outer finish of car door panels, we have leather, fabric, plastic, Alcantara, carbon fiber, vinyl, and others.
Out of these materials, leather gives your door panels a more luxurious look. Carbon fiber, Alcantara, and vinyl come in second place in matters related to looks.
Fabric and plastic on the other hand don't look so luxurious but they require minimal maintenance.
Therefore, all types of materials for car door panels have their advantages and disadvantages. It is up to you to find out which material suits your interests better.
If you prefer luxury over durability, go with leather and not plastic with the covers.
And if you want a door panel that will withstand the test of time, instead of cardboard, opt for aluminum or steel.
What are the Most Common Materials Used on Car Door Panels?
Without a doubt, plastic is the most frequently used material on car door panels. Later on, we will explain why auto manufacturers love plastic so much.
However, if you look closely at your car door panels, you will find out that the material used is plastic.
Certain car manufacturers have however upgraded to metal pieces, molded plastic, cardboard, wood, and even fiberglass. These are however not as common as plastic.
Can I Replace a Car Door Panel?
Sure you can. Most parts of your car are replaceable, the door panel included. After a while, it is normal for the door panels to wear out. If they are made of plastic or cardboard, they can break easily.
And if they are made of metal, they can also start to rust. In such instances, you will have to replace the car door panels.
There are two ways you can go about this; either pay a professional to do it for you. Or replace it by yourself.
The average cost of replacing a car door panel can be as low as $200 and as high as $1,500. This is inclusive of the parts that you will use and labor costs.
You can however replace a car door panel by yourself and not have to pay these huge amounts of money. Below, we are going to take you through a quick guide on how to restore a car door panel by yourself.
Tools Needed; vinyl, fabric, or any other material that you need to use as a layer for the door panel. You will also need some foam to increase the thickness of your panel and an adhesive to secure the material in place.
Depending on how worn out your car door panels are, you may have to replace the entire panel with cardboard, plastic, or metal.
Cardboard is more ideal for DIY door panel replacement as it is easier to cut and make holes that will fit the components on your door. Don't forget to get a pair of sharp scissors that will be used to cut the material and a saw.
Here is a step-by-step guide on how to replace door panels;
• Unclip the panel from the door.
If it's your first time you may face some challenges going about this step. Look for clips that will be holding the panel to the door and unclip them using a screwdriver.
• After removing the panel, you should assess the condition it's in.
If it's in terrible shape, it will need to be replaced. However, if it's okay, you can clean and retain it.
For those who prefer to replace the whole door panel, use a piece of cardboard, trace it on the door panel, and cut it into that exact shape.
You should also cut the foam, vinyl, or material that you intend to use as a layer as well.
• Spray the foam and layering material with adhesive and stick it on the door panels.
Other people use staples but these don't hold firmly. Let the adhesive dry and also do the same for the vinyl or fabric.
• Reattach the door panel back to the car door using the old clips.
Or you can get new ones instead.
Why are Most Car Door Panels Made of Plastic?
As mentioned earlier, most car door panels are usually made of plastic. If you are wondering why it's like that then here are some reasons.
Unlike other materials, plastic is;
• More affordable. When you compare it to aluminum and steel, plastic costs way less and is very easy to replace.
• Thanks to technology, plastic can be molded into various textures and shapes. This allows manufacturers to explore a wide range of designs.
• Plastic door panels are very flexible and respond better to impact. Though not as strong as metal, plastic door panels don't break easily. They bounce upon impact and that's why plastic is a popular interior material.
• It's light. Out of all the materials that can be used on car door panels, plastic is the lightest. If you want to get better gas mileage, you can achieve that with a car that has plastic door panels.
• Unlike metal, plastic doesn't rust. Even though car manufacturers nowadays use rust-resistant metal, it can't be compared to rust-proof plastic.
Was this article helpful?