The modern car enthusiast pays keen attention to both the car's interior and exterior. A few years back, car lovers were only obsessed with the exterior looks of their vehicles. And that's why you would find a car looking so fly on the outside but with a very crappy interior.
Today, car manufacturers have to ensure their vehicles look great both on the inside and outside if they want to survive in the competitive market.
Upholstery is a crucial part of the car's interior. This is because it covers more than three-quarters of the space.
You will find it in steering wheels, dashboards, seats, and several other places. Being such an integral part of the car's interior, the material used to make it needs to be chosen carefully.
Cloth and leather have for years dominated car interiors. However, of late, there is a new material in the industry, and it's bringing stiff competition.
Alcantara, which looks like suede leather is gaining a lot of popularity as a material used to cover the car's interiors.
It looks great, has a soft touch, and is breathable. But, can Alcantara really replace the good old-fashioned leather? Keep on reading to find out.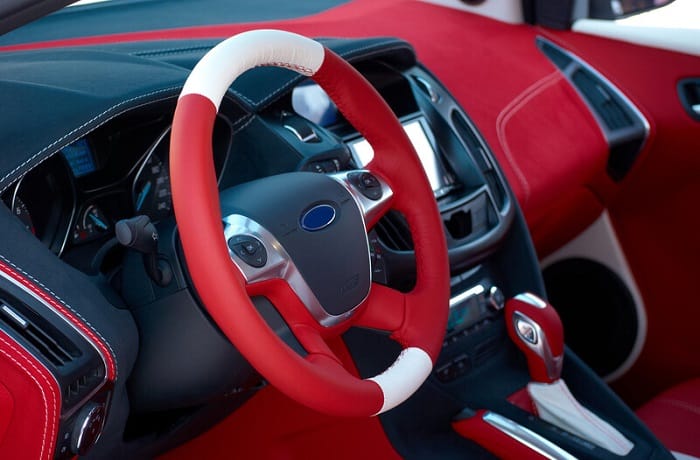 What is Alcantara?
Though often confused with suede leather, Alcantara is a brand name of a textile material that was registered as a trademark.
It is commonly used in automotive interiors because of its durability, soft touch, and suede-like appearance. Alcantara is an excellent substitute for leather because it has some features that leather lacks.
Comprising of a microfiber pile and surface full of bristles, Alcantara looks amazing when used on a car's upholstery.
After being invented by an Italian known as Alcantara, carmakers were drawn into this material because of its appealing physique.
It was first used in cars back in the 1970's and 40 years later, it has become one of the most commonly used materials in a car's interior.
Alcantara is available in many colors and this gives car owners a wide range of choices when buying vehicles fitted with this material.
It is durable and can withstand years of use. This is a perfect material to be used on the steering wheel as this part experiences a lot of friction. Alcantara is also easy to maintain as it is resistant to dirt and liquids.
As great as Alcantara is, it does have some drawbacks. This material is expensive than leather. So, if you buy a car fitted with such an interior, when it wears out, you will have to pay more for a replacement.
It is not as durable as leather. And while we are still on this topic, you should know, Alcantara is unrepairable.
What is Leather?
Leather upholstery has been used on car interiors for decades. To date, it remains the number one choice for both car owners and manufacturers. Though expensive than cloth interiors, leather interiors speak luxury. It looks and feels great.
Even though it requires high maintenance, leather can serve you for years when taken proper care of.
With the invention of eco-friendly leather, you can be assured of seeing more of this material on your car's interior.
Leather is a popular car interior material mainly because it looks superb. It can be customized to suit any design and comes in different colors.
Leather also has a nice touch and friendly price tag. It costs more than cloth but it is cheaper than Alcantara. It is also easy to clean.
And nowadays, there are many leather cleaning and conditioning products in the market. All of which ensure your leather's interior looks better.
Leather is also impermeable and liquids cat penetrate it as easily as they would with cloth material.
This material also has its fair share of cons. For one, it requires a lot of maintenance. And even though it is durable, leather wears off fast when exposed to the sun's UV rays.
Leather, if neglected, looks terrible and starts to crack. Fortunately, leather can be replaced easily.
How Are They Different?
Leather is more durable than Alcantara
If you are looking for a material for your car's interior that will withstand the test of time then you are better off going with leather.
Alcantara is a strong material, however, when exposed to lots of friction, it wears out faster than leather and you really won't love how it looks when it's worn out.
Leather has a soft touch and this is why it is such a desirable material in car interiors
There is a reason why all luxurious car brands use leather. It's not just the looks but the touch when one's skin gets into contact with it.
When seated on leather upholstery or driving using a steering wheel covered in leather, you will experience a certain unique feeling which can't be compared to that of Alcantara.
Alcantara looks better than leather
A lot of people may argue on this but when it comes to looks Alcantara is more appealing than leather. Alcantara when used on your upholstery, it gives your interior an exotic finish.
Because it is available in more colors compared to leather, this material allows car manufacturers to get very creative when decorating interiors.
Alcantara has a high friction coefficient and that's why it is used in most race cars
As an ordinary driver, you may not see the benefit of the above but racers do. Unlike leather which slips easily especially if it's oily, Alcantara's high friction gives drivers more grip.
Whether you are seated or driving a steering wheel covered in Alcantara, you will have more control.
How Are They Similar?
Whether you choose Alcantara or leather, brace yourself for high maintenance
These two materials need a lot of care for them to serve you for longer. This is why these two materials are commonly used in luxurious and high-end vehicles.
Compared to cloth that wears out after a couple of months, Alcantara and leather will last for years.
They are all more expensive than vinyl and cloth
If you have ever wondered why nearly all cars have their interior made of vinyl and cloth then here is your answer. These two materials are costly and that's why they are only available in expensive cars.
What's Better about Alcantara?
Alcantara is considered a premium material and there is a good reason for this. Its design gives it a high friction coefficient and that gives the user more grip on the steering wheel and seats. This highly benefits racers as they are more stable when driving.
Secondly, unlike leather, Alcantara doesn't get soggy after you seat on it for long hours. For those who sweat a lot, Alcantara is the best material to have in your car's interior.
When used on your dashboard, Alcantara does not reflect the sun rays from the windscreen. This promotes better visibility when driving.
It looks amazing when fitted in a car's interior and will serve you for years before it starts wearing out. Kindly note that when Alcantara wears out, it looks shiny and doesn't crack like leather.
Because of all the above reasons, Alcantara is mostly used in performance cars. Though not that regularly, Alcantara is also used on mainstream vehicles.
What's Better about Leather?
Everything about leather makes it perfect for car interiors and no wonder it is such a popular material in the auto industry. Leather looks and feels luxurious. It lasts longer than cloth and is very easy to clean.
Unlike Alcantara, leather has a higher resale value because customers appreciate this material and associate it with luxury. When used on the seats, leather can be quite comfortable and ensures you have a pleasant driving experience.
Who Should Opt for an Alcantara Interior and Why?
Are you a speed junkie who has a unique taste in upholstery? Then you should go with an Alcantara interior.
Thanks to this material's high friction coefficient, you will have a steadier grip on the steering wheel and you will always be stable even when driving at high speeds.
That aside Alcantara looks amazing. It will make your interior look sophisticated and expensive. It doesn't require a lot of maintenance and it is quite durable.
Also, if you sweat a lot, Alcantara is highly breathable and you won't always leave a soggy seat behind as is the case with leather.
The thing about an Alcantara interior is that it may not be standard in all car models. However, you can always pay extra for an Alcantara package. This may cost you at least $1000.
Who Should Opt for a Leather Interior and Why?
Ever heard of the saying that old is gold, it is quite unfortunate that there isn't another that rhymes with leather. There are many reasons why leather remains to be the most sought-after car interior material. It looks and feels amazing.
Leather gives car owners a driving experience like no other. The soft touch improves comfort and the quality gives your car an elegant look. If you love luxury and comfort, then leather is what you should have in your car's interior.
Unlike Alcantara, leather isn't that expensive and comes as a standard package in most high-end car brands like Rolls Royce.