We have all been victims of the sun's scorching effect on our car's interior. You enter your car and because you left it out in the hot sun, the interior feels like an oven.
The seats are burning hot, the steering is untouchable, and the dense humid air makes it almost impossible to breathe. You turn on the AC but it's taking ages for the car to cool down, so your only option is to roll down the windows.
What if I told you there is a tool that can help you avoid this from happening? Sunshades do a commendable job of shielding the windshield from sun rays thus preventing heat rays from reaching your car's interior.
Sunshades ensure that your dashboard, console, and front seats aren't damaged by heat rays. Plus, they also put an end to hot suffer fests every time you leave your car under the sun for long.
In today's article, we are going to look at the two most popular sun shades for cars; Heatshield vs Covercraft. Both these windshield sunshade brands will ensure your car remains cool even when the temperatures outside are extremely high.
Despite offering the same services, they are unique in their own ways. That's why anyone considering buying a sunshade can find themselves torn in between the two.
Are you finding it hard to choose between Covercraft and Heatshield? Here is everything you need to know about these two sunshades.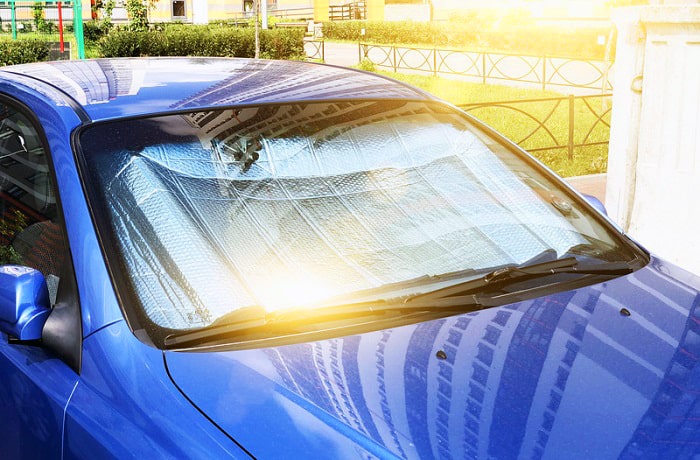 Heatshield
This sunshade comprises shiny large shapes that are placed against the glass. Often, most heatshield packages include 4 shades. One for the windshield, another for the rear hatch window, and two for the front row seat windows.
On arrival, Heatshield sunshades for your car come in a well-packaged cloth container bag. This is the same bag you will use to store your sunshades when not in use.
One of the key features that stand out with the Heatshield is its easy installation. All you have to do is unroll the heat rays reflector and position it on the glass. Depending on your car model, they fit perfectly.
Heatshield also includes sun visors to hold the reflector in place.
Once installed, Heatshield sunshades keep your car interior cool by blocking heat rays from the sun. They offer the ultimate protection to your car's upholstery and the dashboard.
With Heatshield sunshades installed on your car, you won't always have to use a lot of battery juice on the AC to cool down your car interior.
Before we head over to its counterpart, it's worth mentioning; Heatshield sunshades are easily removable. All you have to do is roll it up.
Covercraft
Though not as popular as Heatshield, Covercraft is a reputable sunshade brand that makes custom sunscreens that will keep your car's interior safe from the sun's UV rays.
These affordable sunshades don't just make it possible for you to enjoy a cool and comfortable ride when it's extremely hot outside but they also protect your car's radio, GPS, and other electronic devices from being damaged by excess heat from the sun.
The silver sunscreen repels heat rays from the sun and can be customized to fit your car's windshield perfectly. Unlike Heatshield, it is not a roll-up shade.
This feature makes it ideal for car owners that prefer a sunshade that is easier to install and remove. Covercraft sunshades can be folded when not in use and stored inside the car.
How Are They Different?
Installation and Removal Mechanism
Covercraft is a foldable windshield sunshade whereas Heatshield is a roll-up sunshade. This is a very big difference and is the key determiner on which sunshade you should consider.
Depending on your preferences, you can choose to either roll your sunshade during installation or fold it. The choice is entirely up to you. In my opinion, I prefer folding to rolling.
Covercraft Covers the Windshield Only, Whereas Heatshield Covers the Front and Rear Windows
Another key difference between these two is the areas that the two sunshades can cover. If you decide to go with Covercraft, you will only be shielding the windshield.
However, Heatshield shields the windshield, the two windows on the front seats, and the rear window. The latter offers ultimate protection from sun rays and it's ideal for car owners that are serious about protecting their car's interior from sun rays.
How Are They Similar?
Both Require a Significant Amount of Storage Space
If your car has limited space then brace yourself for some cumbersome storage. The Covercraft and Heatshield are a bit bulky and make it harder for car owners to store. The odds of the two fitting beneath your seat are relatively low.
Both Offer Protection from Heat Rays
If you have had enough of the sun's scorching effect on your car's interior then either of these products will ensure your car retains its cool at all times.
The material at the top reflects the sun's heat rays whereas the other material on the inside retains the temperature on the inside.
What's Better about Heatshield?
The first feature that caught my eye when I looked into Heatshield sunshades was the availability of custom-made options. Most car owners are used to the basic sunshades that have a one-size-fits-all type of measurement.
The problem with these is that they often leave space for sun rays to penetrate through the windshield. However, with Heatshield, that is not the case. You get a size that fits your car type.
Another impressive feature of Heatshield is how they offer sunshades for the windshield, front seat windows, and rear window. That is an added advantage because your entire car will be shielded from sun rays.
It's not always when the sun penetrates through the windshield. Depending on where you have parked your car, the sun's rays could penetrate through door windows. That can be avoided when you use Heatshield.
Heatshield uses a special metalized polyester film that does an excellent job at shielding sun rays from getting through your car interior.
Other than preventing heat build-up in your car interior, Heatshield sunshades can also be used to provide privacy. This is an added advantage for RV owners and all car owners in general.
Because shielding what is inside your car enhances the safety of your belongings. More so, if your car is not tinted.
Heatshield sunshades are easy to install and remove. They also stay in place with or without sun visors. The only disadvantage of Heatshield sunshades is when it comes to storage.
They are quite bulky and can use up a big amount of space in your car. All in all, they keep the temperature down and are a favorite amongst car owners.
Heatshield is amongst the most popular sunshade brands. And if more people are buying it, that means that it does offer a lot of advantages.
What's Better about Covercraft?
When you hear people say that not all sunshades are created equally, they are probably hinting at the likes of Covercraft.
This is an overall great product that is designed for hard-to-fit cars. Recommended by top detailers and mechanics, Covercraft offers 100% protection from heat rays.
It is a windshield-only sunshade but is very capable of keeping off the harmful UV rays. Most of the time, the sun rays penetrate your car's interior through the windshield.
A very small percentage goes through the windows. During manufacture, Covercraft was aware of this fact and that's why they created a very easy-to-install sunshade that would keep the car's interior cool and free from UV damage.
Other than being very easy to install, Covercraft holds onto your windshield firmly. The high-quality sun ray repelling material blocks all sun rays from entering your car.
So, if you are worried about your dashboard losing its elegance, get yourself some Covercraft and enjoy maximum protection.
Who Should Get Heatshield?
Judging from its features, Heatshield is ideal for cars that don't move around frequently. Are you going on a business trip to another country?
Or do you only take your car for a drive once a week? Get the Heatshield sunshades and protect your car from harmful UV damage.
The reason why I am recommending Heatshield to the following group of car owners is because of these reasons. Heatshield comes with shades for nearly all windows.
Therefore, if you don't regularly use your car, once installed, it ensures the sun rays can't find their way into your car no matter where the sun is positioned in the sky. Secondly, it also increases privacy and security.
Who Should Get Covercraft?
On the other hand, Covercraft is perfect for cars that are used regularly. Are you heading to work and your parking lot is exposed to the sun? Carry the Covercraft with you. Install it in less than a minute and go about your duties.
Covercraft being a windshield-only sunshade is a fast solution to preventing the sun's heat rays from damaging your car's upholstery, seat covers, and electrical components found on the dashboard. This brand also sells custom sunshades, so you are assured of finding a perfect fit.