By now all car owners are familiar with the benefits of tinting their windows. The problem usually comes when it's time to choose which brand you should have installed on your vehicle.
LLumar and SunTek are both reputable brands and it is not easy to choose between these two.
However, despite both offering the same benefits, some differences make it easier to narrow down to the brand that meets your auto window tinting needs and budgets.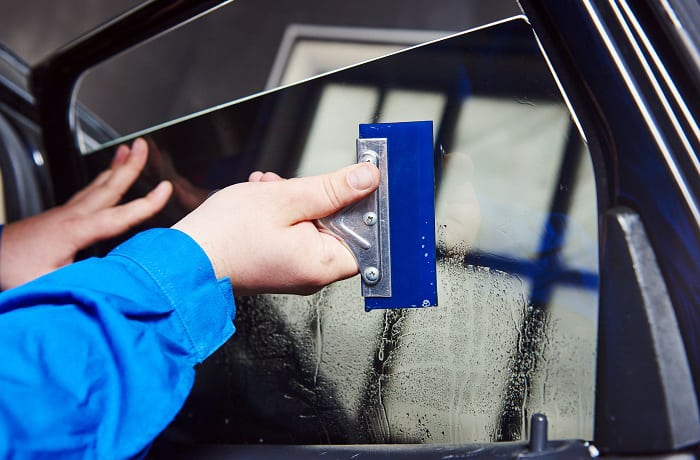 What are SunTek Window Films?
This brand makes window films that are packed with tons of useful features. First, with SunTek window films, you don't have to worry about glare and heat from the sun.
Secondly, their films are designed to offer an excellent optical warranty, and to sweeten the deal, SunTek gives you a warranty.
SunTek makes various window films ranging from the Carbon XP, standard, high performance, infinity OP, and carbon.
Out of these various window films, Carbon XP is the best because it is made using premium carbon films. The CXP film performs better in reducing the heat that enters the cabin and it looks amazing.
This is one of the few reputable window tinting brands that make quality films and sell them at pocket-friendly prices.
With SunTek's engineered film technology on your windows, the micro-thin layer of film will give your vehicle a more sophisticated look while reducing the negative effects of the sun and ensuring natural light penetrates the interior.
This brand's window films are great if you want to protect your car from both natural and human elements. We have already seen how these films protect the interior from heat and glare from the sun.
Regarding the human elements, SunTek's films hinder visibility from outside the car, therefore thieves won't have a clue on what has been left inside your vehicle.
This company makes window films for commercial and residential properties as well as for automotive.
In the latter category, you will find dyed, carbon, metal, and ceramic films. With such a broad selection of films to choose from, you will be able to find the ideal window tint that will look good on your car as well as offer other benefits such as reduced glare and heat.
Before we look at the films made by LLumar, there is one last feature you need to know about this brand.
Their films are designed not to interfere with the phone, satellite radio, and GPS signals thus ensuring communication can flow seamlessly from your vehicle to other places.
What are LLumar Window Films?
If this was a popularity contest, LLumar would be already crowned as the winner. This premium brand is known as the world's largest window film manufacturer.
Currently, their films are categorized into two, those that focus on UV and heat rejection (metallized tint) and ceramic tint which uses advanced tech to prevent interference with satellite, radio, and GPS signals.
LLumar window films offer many benefits. They have a wide range of films.
Their film blocks up to 99% of UV rays, as a result, your vehicle's upholstery won't fade easily. You also enjoy solar heat rejection by 63% and 90% glare.
Their films are easily customizable and blend smoothly with the finish of almost all cars. And a unique feature that you can only get from a reputable brand like LLumar is shattered glass protection. This comes in very handy when your windows break.
One of the downsides that this film has is that some car owners find it darker than those made by other brands. That aside, LLumar promises to enhance the security of your car by improving privacy.
The brand's patented adhesive system ensures the tint bonds firmly to the glass. LLumar has a lifetime warranty on its tint and it is honored by the thousands of LLumar dealers.
How Are They Different?
LLumar offers a lifetime warranty, unlike SunTek which is limited to a certain duration
The length of the warranty plays a key role in determining how reliable the window film is. With LLumar, you are assured of a lifetime warranty.
However, if you opt for SunTek, you only enjoy a warranty of up to 10 years. Both companies offer a warranty against adhesive failure, peeling, or cracking. The warranty is only applicable if it was installed by a certified dealer.
LLumar has got minimal radio interference
Both window films offer some form of radio interference, this is despite the brands claiming that their films don't. Be as it may, the level of interference with LLumar films is minimal.
SunTek isn't as popular as LLumar
Even though both are reputable brands, SunTek isn't as popular as LLumar. It's surprising how this is possible considering the fact that SunTek was established in 1920 and LLumar was launched in 1977.
It probably has got more to do with the quality of their films and the number of benefits the brand offers to its clients.
From different user reports, SunTek is more resistant to scratching
In matters related to scratching, SunTek is more resistant than its counterpart. This is according to different reviews posted by car owners who have had both SunTek and LLumar.
How Are They Similar?
Both LLumar and SunTek;
Offer high-performance protection
Even though these two aren't bulletproof, you can be assured of one thing and that is the ultimate protection from heat, scratching, and glare.
SunTek and LLumar window films are known to have been in the market for years. During that period their products have been refined to work exceptionally well.
From the inside, these window films guarantee optical clarity so that you can drive safely. For those that prefer a darker tint, you can still be assured of similar results irrespective of which brand you decide to install.
To ensure the window tint holds up, have it installed by an expert
Not unless you have a lot of experience with window films, let the professionals, dealers in this case perform the installation.
Both company warranties are applicable if the tint is installed by an expert. Therefore doing it yourself will only result in you not enjoying the perks of the warranty.
Because they are all made by reputable brands, the tints will last for a considerably long duration. And fortunately, both LLumar offers a lengthy warranty duration, you can take advantage of that.
What is Better about SunTek?
Being a high-performance window tint brand, you can expect to enjoy a lot of benefits with this film on your auto windows. First, you enjoy an added level of comfort.
Do you hate it when you enter a car and feel suffocated by excess heat? SunTek window films reduce the amount of solar heat that enters your car thus keeping it cool. SunTek window films also significantly reduce glare ensuring that you drive safely.
Their ceramic tint though strong doesn't interfere with GPS and radio signals from being transmitted outside the car. There have been complaints that adhesive isn't very strong and if your windows aren't clean then it may not stick properly.
To avoid that, clean the window thoroughly, or let a professional perform the installation so that you can enjoy the warranty as well.
What's Better about LLumar?
The fact that LLumar is popular isn't enough for you to decide to go with this option. There are plenty of reasons why you should love this brand. Their micro-thin film has a strong adhesive that bonds perfectly with the window.
This tint brand uses the latest tech to cut window films that perfectly fit your car. This feature is known as LLumar precision Cut.
Another reason why you should consider getting LLumar window films is because of the added level of UV protection.
The sun's harmful rays do a lot of damage to our skin. You can avoid that by using LLumar window films that offer 99.9% UV protection.
The heat reduction capabilities keep your car cool even when you leave it parked for hours in the open sun. These films also improve the appearance of the vehicle and are scratch-resistant.
LLumar window films rarely lose their rich color even after years of use. Similar to SunTek, if you want to enjoy the warranty, it should be installed by a professional.
Who Should Get SunTek and Why?
If heat rejection is what you are after then this is the ideal film to have on your windows.
Preventing the highest percentage of UV rays from penetrating your car, SunTek window films are a great choice for car owners who drive in areas that experience hot climates.
Their films are designed to protect UV rays from damaging your skin as well as your car interior.
Who Should Get LLumar and Why?
Out of the many window film brands that exist, LLumar is definitely at the top of this list. Their films have got tons of pleasant features.
The first thing that attracts most car owners to LLumar is the warranty.
Very few auto accessory brands offer lifetime warranties to their products. They also have a wide selection of products to choose from.
And finally, LLumar automotive window films will prevent sun rays from damaging your skin and the car's interior whilst reducing glare.