If you are the kind of car owner that is keen on your vehicle's aesthetics, then these two names should be very familiar to you.
Gyeon and Gtechniq are leading brands in the car care industry. They make some of the best paint protection products in the world.
Both these brands make easy-to-use car care products which make them the ideal go-to brand for professional and novice detailers.
However, despite both being reputable car care manufacturers, these companies have their differences and that's why you will find some car owners leaning towards one brand more.
If you happen to be stuck wondering which brand is better in terms of quality, effectiveness, and ease of use, here is a comparison of Gtechniq versus Gyeon.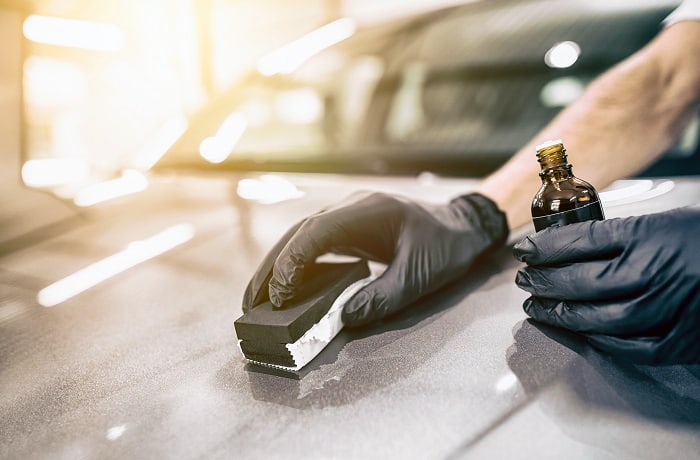 What is Gtechniq?
Founded in 2001, Gtechniq was bred out of pure science. That's why it shouldn't come as a surprise how effective their products are.
Gtechniq was the invention of a quantum physicist known as Drew Gill. His main reason for entering the car care market was his dissatisfaction with paint protection products during that time.
For those of you who were lucky enough to have owned cars during that time, you can testify that not many waxes or paint protection products offered durability nor aesthetic improvement. And for that reason, Gtechniq was formed.
Thanks to Drew's background, he could do more than just complain about how inferior car care products are.
His dissatisfaction brought him the idea to create perfectly finished surfaces that would also protect the paint.
That was not all, because of Drew's knowledge, he knew that it was possible to create an intelligent surface that would provide long-term gloss, stain, and UV resistance, repel dirt and make the vehicle easy to wash.
Fast forward to 2021, Gtechniq uses the latest technology in nano-chemistry, to create paint protection products for car surfaces. It is also through this science that their products are very easy to apply to car surfaces.
For the past 20 years, Gtechniq has created a name for itself. Their products outshine many of their competitors and this is evident by looking not only at reviews but also at their history.
To prove how popular and reputable this brand is, 5 years after being in the market, Gtechniq landed a gig to polish and detail the largest fleet of Rolls Royce owned by the Peninsula Hotel in Hong Kong.
During that period, they only had 7 products. Two years later which is in 2008, Gtechniq had 20 products and that's when they decided to venture online.
In 2012, they launched the EXO Ultra Durable Hybrid Coating that awed car owners with its impressive hydrophobic performance. To date, this has remained one of Gtechniq's best sellers.
Their popular Crystal Serum was created in 2014. We hope you can see how long Gtechniq products have been in the industry, this goes to show you how experienced they are in car care.
This is a brand whose products are solely based on innovation and science. Having been invented by a person who had been dissatisfied with how paint protection products worked at that moment, you can be assured of nothing but the best car care products from this company.
What is Gyeon?
On the other hand, Gyeon is your one-stop shop for everything related to vehicle coatings as well as the tools you may need to maintain a treated car finish.
Their formulas boast of advanced technology and can be applied easily by anyone no matter your level of detailing skills.
Their products are a top choice for professional detailers as well as hobbyists. The scents and coloring provided by Gyeon are durable and effective enough to have heads turning wherever you drive to.
With Gyeon car care products, you can expect them to last for months and not weeks as is the case with other car care brands.
This has enabled the brand to gain worldwide recognition for having the longest-lasting surface protection products. Gyeon offers car owners innovative solutions that provide high-quality surface protection.
According to the Gyeon way, this company's mission has always been the desire to create new and better solutions for the car market.
Their products are made and designed at their lab in South Korea, where a team of scientists and detailing experts use their knowledge to create the best car care products.
All products made by Gyeon are created after thorough research and months of intensive testing.
For a company that has been around for more than 10 years, Gyeon has established a name for itself in the car care world.
Their products are available in more than 90 countries and 6 continents. This brand has not just partnered with distributors, but they also work hand in hand with detailers to help provide them with quality accessories and products for their vehicles.
Car owners who may be wondering why they should use Gyeon products should know that this is one of the few brands that provide exceptional car care products.
They also have a fast and friendly customer care service that is always around to answer your questions and concerns.
How Are They Different?
When it comes to interiors, Gyeon has an excellent fabric coat that will deliver impressive results.
Regarding sealants, you better go with the Gtechniq liquid technic.
On matters related to foam guns and soaps, Gyeon has also some of the best in the market that are popular for their appealing scent.
The Gyeon Rim is more hydrophobic than the Gtechniq C5 wheel armor.
Gtechniq has stronger panel wipes than those from Gyeon.
If experience matters to you, Gtechniq has been around for much longer than Gyeon.
From most reviews, Gtechniq coatings seem to last longer than those from Gyeon. However, Gyeon makes up for that with its strong hydrophobic properties.
How Are They Similar?
Even though the formulas used are different, these two brands all make car care products. If it's coatings that you want, you can be assured of finding several options from either brand.
There is one key feature that these two brands share, they all make car care products that are very easy to use. Very few detailing products are easy to use. And this has made many detailing hobbyists feel left out. Gyeon and Gtechniq are aware of that and that's why they formulate easy-to-use products.
Whether you decide to go with Gyeon or Gtechniq, their products are easily available. Not only can you place an order online, but there is a huge chance of finding your Gyeon or Gtechniq product at your nearest auto store.
Car care products from Gyeon and Gtechniq are very effective. Even though some products from either brand have received a couple of complaints regarding effectiveness. These two companies are known for making coatings that are durable and enhance the look of your paint or wheels.
What's Better About Gtechniq?
There are many reasons why you should go with Gtechniq if you are looking for a provider of car care products.
When it comes to Gtechniq, their products have been around for longer than Gyeon.
As a result, the company has been able to make more corrections to its formulas and no wonder Gtechniq car care products provide impressive results.
With their paint protectants, not only is the paint safeguarded from elements such as UV rays, bird droppings, tree sap, and dust.
But the shine is glossier. And surprisingly, the application process is very easy and the protection provided can last for a very long period.
However, if there is one thing you need to know about Gtechniq products is that they require a clean surface before application.
What's Better About Gyeon?
If you look at what people are saying about both these brands, you may be mistaken to think that they are the same. Gyeon is a reputable car care brand whose products are also very popular.
Their products are known for having the best quality and providing long-lasting results.
Their products are very easy to use and you can be assured of great results provided you follow the instructions.
One of the reasons why people love Gyeon is that their products are well researched and formulated before being released to the market. And that's why it's very rare for you to come across negative remarks regarding the brand.
Who Should Get Gtechniq (And Why)?
If you want long-lasting paint protection from a car care company that has been around for more than two decades, Gtechniq should be your number one choice.
For the years that Gtechniq has been around, their paint protection products have been made using advanced technology and offer long-lasting results.
This can be very useful for car owners that hate applying surface protection products every now and then.
Who Should Get Gyeon (And Why)?
Gyeon products are very easy to use and this makes them ideal for both novice and professional detailers.
As mentioned earlier, most Gyeon products feature strong hydrophobic properties and if this is something that you are looking for in a car care product, Gyeon has got you covered.
Despite not having been around for longer, Gyeon is a popular and reputable brand with its products available in more than 90 countries.