If you are in the market for new shocks, Koni and Bilstein are some of the popular brands you will find. Both are reputable and reliable brands that make decent shocks for a wide range of cars.
However, they do have their differences, which makes them appealing to different drivers and cars. Here is a comparison article of both for those who are stuck between choosing Koni and Bilstein.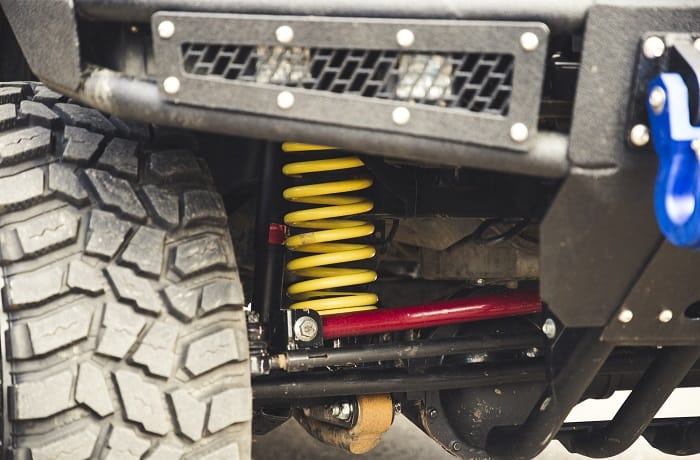 Who is Koni?
Koni is a Dutch company that makes shock absorbers. It was founded in 1857 in Oud-Beijerland by an individual known as A. de Koning, hence the name Koni.
Funny enough, Koni didn't start as a shock absorber manufacturer. They made leather gear for horses. They switched into shock absorbers before the onset of World War II.
This switch-up has worked very well for them because a century later, Koni is one of the biggest names in the auto world.
This brand makes different types of shocks and you will take note of that when you check out their catalog.
One of the key characteristics of Koni is that this brand has invested significantly in different types of shock absorbers. Let's briefly go over them;
• Sport (Yellow Koni)
This is the go-to shock absorber for street performance. The Koni Sport can be adjusted to provide proper handling and regulate ride quality. It comes with an adjustable knob that you can keep in your glove box.
Whenever you want to adjust the vehicle's handling, all you need to do is turn the knob. The Koni Sport can work efficiently alongside other suspension upgrades.
• STR.T
Orange Koni is a shock absorber brand that understands the needs of all motorists. The STR.T line is made specifically for drivers who are shopping for shocks on a budget.
Even though they are not on the same level as the Koni Sport, these shock absorbers are much stiffer and perform better than your factory shocks. Despite being in the low-price range, Koni STR.T shocks are backed by a lifetime warranty.
• Special Active with Frequency Selective Damping
Refers to a line of dampers that offer performance handling without sacrificing ride comfort. In the past, car owners would have to choose only one.
But with the development of Special Active with Frequency Selective Damping, your car can adapt to perfect handling and ride.
• Heavy Track and RAID
Koni also hasn't forgotten about SUV and Truck owners. The Heavy Track and RAID Koni shocks will help you conquer both the tarmac and off-roads with ease.
These, too, are adjustable. The Heavy Track is meant to handle both trail and street use. The RAID, however, is designed mostly for extreme off-road use.
• Special D and Classic Line
Even if you own a vintage, you can still get a specialized shock absorber from Koni.
The Special D and Classic Line shocks are meant to integrate even with vintage suspensions and should give your car proper handling capabilities on twisty roads and racetracks.
The reason behind the above list is to give you an overview of what to expect from the Koni brand. They make shocks for all types of cars.
Who is Bilstein?
On the other hand, Bilstein is a German manufacturer of shock absorbers. They, too, make high-quality shock absorbers. Bilstein was voted the best shock absorber brand in 2019 by the German Car Magazine.
They achieved this award because of their brilliant suspension technology. This doesn't come as a surprise because Bilstein has always received worldwide recognition for the years it has been in operation.
There are many reasons why Bilstein is at the top of the list for best shock absorbers in the market. This company was the first to introduce the patented gas pressure principle in regulating car ride characteristics.
This was also the first company to develop the first monotube gas pressure shock absorber. Bilstein has made a name for itself that their strut-style suspensions are used on Toyota Tacoma and Toyota Tundra.
Quite often, when you prioritize ride handling, you compromise comfort. Bilstein's patented performance aims to eliminate the need for compromise.
The high-pressure nitrogen gas and valving combination offer necessary damping to ensure the vehicle's ride quality is not affected.
Both Bilstein monotube and twin-tube struts are designed to offer robust stability and durability. These shocks can handle heavy loads.
If you have an in-depth understanding of how struts work, you understand that heat can affect durability and performance. With Bilstein shock absorbers, that doesn't have to be a cause for concern.
These shocks are designed to dissipate heat. Another feature contributing to effective heat dissipation is the superior monotube fabrication and design.
The Bilstein shock absorbers are better built to withstand tough conditions. For instance, the piston assembly features a digressive design.
Also, the bodies of Bilstein shocks are made from a seamless extrusion process which promotes overall strength.
How Are They Different?
• Koni is Dutch, and Bilstein is German
The first and most obvious difference is the country of origin of these two manufacturers.
Even though the Germans are more popular when it comes to cars and parts, the Netherlands, through Koni, has proved itself to be reliable when it comes to manufacturing efficient car components.
• Koni Shocks are Adjustable
From the above description of Koni shocks, it's clear that they are adjustable. This feature gives you more room to adjust ride comfort and handling depending on the current situation.
For many car owners, the adjustability of Koni is an additional benefit. With Bilstein shocks, they auto-adjust themselves to suit the current conditions.
• Koni Shocks Ride Better Whereas Bilstein Excel in Performance
With Koni shocks installed, you will enjoy a better ride than Bilstein. Also, the dampening is impressive.
However, on the other hand, the Bilstein are valved much more aggressively and provide better performance. As a car owner stuck between choosing the two, you need to evaluate which is more ideal for your car.
• Bilstein Tends to Outlive Koni's
This was drawn from user experiences with both Koni and Bilstein. The latter happens to be more durable than Koni. That is mostly because of the rugged build of the Bilstein shocks.
Not to defend Koni, but this brand makes a wide range of shock absorbers. You can't use the Koni sport for off-road.
As much as Bilstein shocks may be stronger, car owners need to choose the right Koni shocks applicable to their driving habits and situation.
How Are They Similar?
• Both are Excellent Quality and Reliable
Whether you decide to go with Koni or Bilstein, you are assured of installing quality shocks on your vehicle to promote better handling and ride quality.
• Can Be Used Together
Because both aim to improve handling and ride quality, certain experts recommend they be used together. That's still a topic of discussion for another day.
However, by bringing together Koni and Bilstein shocks, using one in the front and the other in the rear, that way you can enjoy the benefits of both.
• Both are Rebuildable
Car owners interested in rebuilding their suspension shouldn't run into any issues irrespective of the option you choose.
What's Better about Koni?
There are plenty of reasons that make Koni the better shock absorber brand. The first is the wide range of shocks that they make. You can choose from the sports version to the RAID, which is strictly made for off-roading.
This wide availability of options makes Koni the ideal choice for a wide range of car owners. Also, their shocks are adjustable. That means you can enjoy better ride comfort.
What's Better about Bilstein?
On the other hand, Bilstein wheels provide better performance on the roads and have a much more durable design than Konis.
Even though these shocks adjust themselves automatically, they aim not to compromise ride quality for performance. You get to enjoy a balance of both ride comfort and performance.
Who Should Get Koni Shocks and Why?
Before discussing who should get Koni shocks and why it's worth mentioning that these shock absorbers are great options.
When you check the opinions of different car owners on various forums, you will see that both are favorites. Therefore, the shock brand you should lean to will depend on your personal preferences.
When comparing Koni vs Bilstein, you should be guided by the features of each shock absorber and not opinions. With that being said, here is an explanation of who will best benefit from Koni shocks.
Considering the features, benefits, and types of Koni shocks on the market, any car owner can benefit from this brand.
Whether you own an SUV or a sports car, you can get a pair of shocks specifically made for your car from Koni. This is one of the sectors Koni excels at.
There is also the option to adjust the shocks to get your desired ride comfort. These are features that won't make you miss your factory shock absorbers.
Who Should Get Bilstein Shocks and Why?
Bilstein shocks are ideal for car owners that want performance on the road. Boasting a durable design, the shock absorbers from Bilstein can handle anything that is thrown at them.
They are built for performance and are quite hardy. Bilstein as a brand has been awarded numerously for being the best shock absorber manufacturer in the market.