Though often overlooked, car floor mats offer plenty of benefits. They protect the carpet beneath from hazards such as mud, sand, salt, and coffee spills.
They also ensure the carpet isn't damaged and significantly enhances the aesthetics of your car's interior.
As beneficial as car mats are, it isn't always easy to get your hands on quality and durable floor mats. The reason being, there are hundreds of floor mat manufacturers out there and it can be difficult for you to narrow down to a specific brand.
WeatherTech and Tuxmat are amongst the most popular floor mat manufacturers in the world. Both these brands are known to make quality and functional mats that will serve you for years.
If you were weighing which brand to go with, below is a detailed comparison of Tuxmat and WeatherTech.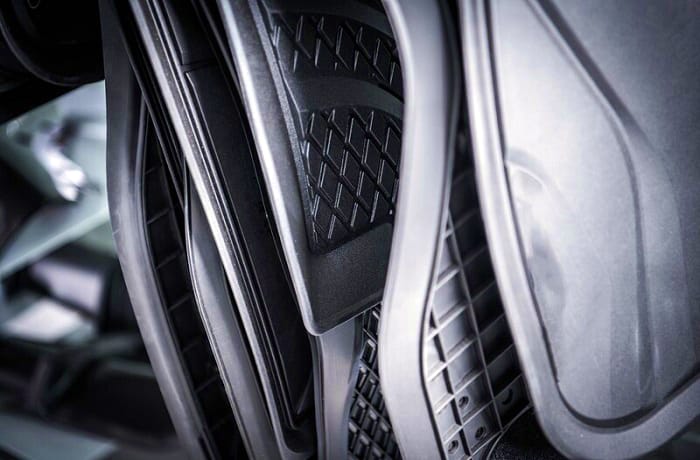 Tuxmat or WeatherTech?
Before we get deeper into our review, you are probably interested in knowing which brand is better. Well, if you are on the hunt for a floor mat that will keep sand and dust from your car carpet, then either option will work just fine.
But, when it comes to functionality and availability, WeatherTech is the more popular option. Made in the US, WeatherTech is a renowned floor mat company that makes functional mats that fit well in nearly all car models.
If you are a motorist who is keen on aesthetics, then you should go with Tuxmat. Other than these mats offering full coverage, Tuxmat looks amazing and has various color options that can blend with almost any car interior. They are made from durable materials and don't slip easily.
On a head-to-head analysis, both these two-floor mat brands are winners. It just depends on what features suit you more.
For you to decide which brand is better, let's look at each floor mat manufacturer specifically and then head to the differences and similarities.
Tuxmat
Based in Ontario, Canada, Tuxmat is a floor mat manufacturing company whose objective is to create a luxurious floor mat that offers full coverage and a luxurious finish.
Unlike other manufacturers, Tuxmat is surrounded by lots of positive feedback and their reputation precedes them.
One of the key things that make their floor mats exceptional is their development process. They begin by using laser technology to scan the floor space of your vehicle.
From that data, a prototype is created and tested on the actual car. This is done to make corrections and adjustments so that the final product fits snugly and covers the entire foot space.
Orders placed at Tuxmat are fulfilled from their headquarters in Canada, packaged, and sent to the respective clients.
The materials and technologies used in the manufacture of their floor mats are advanced and that's why these mats are effective at serving cars as well as their owners.
Later on, I will share with you some of the features that make Tuxmat stand out from its competitors.
WeatherTech
If you have never used WeatherTech mats on your car, then you have probably seen their commercials on TV or billboards.
This brand has a robust marketing strategy that has made them very popular. It's not just marketing WeatherTech are good at, their car floor mats are quite exceptional.
WeatherTech was amongst the first few companies that brought into the market modern custom floor mats. Initially, car owners had to endure low-quality floor mats that come from car manufacturers.
When WeatherTech came into the picture, car owners were introduced to a whole new world of advanced car mats that offer maximum protection to the carpet beneath and are easy to wash.
With WeatherTech mats on your floor, whether you live in areas that experience terrible weather or those that don't, these mats will save your carpets from dirt, dust, mud, and unwanted spills.
Similar to Tuxmat, WeatherTech also uses a laser-beam fitment process that ensures your car fits perfectly. The advantage of a perfect fit is that nothing will be able to get past its protection.
How Are They Different?
Despite both brands offering an excellent fit, there are some notable differences. WeatherTech mats, specifically the front ones have snap-on fittings that ensure the mats hold their ground and don't slip easily.
Tuxmat on the other hand doesn't have snap-on fittings. Instead, the front mats have a retention hook that has to be attached to the carpet.
This hook locks the mat in place. This difference is related to technique however the results remain the same (both mats don't slip easily).
Tuxmat is obviously the clear winner in this category because they feature fancy stitch-finished edges and the texture is quite pleasant. WeatherTech is designed to be more functional and not to look fancy.
In terms of coverage, Tuxmat is a bit taller. The extra material is designed to be tucked under the seat.
This is quite advantageous because the more area is covered the lower the odds of dirt and spills getting to your carpet are.
Depending on your car floor space, that extra material may be a bit extraneous and can interfere with your pedals. In this case, you are better of going with WeatherTech instead.
WeatherTech has a single-layer design that is quite rigid and sufficient for protecting your car carpet. Tuxmat has a three-layer construction.
The upper part is made of PVC, the middle one comprises ethylene-vinyl acetate and the lower layer contains anti-skid cloth. In terms of functionality, these two mats are almost equal.
However, Tuxmat's anti-skid cloth contributes more to the mat's ability to retain its position and not skid when the feet move.
How Are They Similar?
Both brands use a laser beam fitment process. This guarantees that the two mats will fit perfectly on your car floor space.
Both mats are easy to install. Whether you decide to go with Tuxmat or WeatherTech, you can be assured of a fast and smooth installation process. There is no need to drill or make any cuts because the mats fit perfectly.
Your car carpet can enjoy maximum protection from either of these two mat brands. The likes of spills, water, snow, or salt won't easily find their way into the carpet with Tuxmat and WeatherTech mats installed in your car.
Both brands can be sourced directly from the company, e-commerce stores, or auto shops near you.
What's Better about Tuxmat?
There are plenty of things to love about Tuxmat. For example, they offer full coverage and look better than WeatherTech mats.
For motorists that appreciate beauty and elegance, this is the mat you should go with. But, when you look closely at Tuxmat construction, you will realize that it's more complex than other car mats.
At the top layer, you will find plasticized Polyvinyl Chloride. It's a thermostatic polymer that molds easily to the vehicle floor when it gets hot or cold.
You should also know that it is water-resistant and can be customized to a color that blends with the car's interior. The middle layer comprises Ethylene-vinyl acetate that acts as a foam rubber that gives the mat extra cushioning.
So, if you go for long rides, you could benefit from the extra cushion provided by Tuxmat. The lower layer, as mentioned earlier, offers more grip on the carpet and prevents slipping.
Considering all the above features and benefits of Tuxmat, this is a brand that is worth trying. Compared to the factory mats that come with cars, Tuxmat is an upgrade that will cater to all your vehicle flooring needs.
What's better about WeatherTech?
WeatherTech mats equally have a considerable number of features and benefits that make them unique from other brands.
What's better about WeatherTech is that it is made from custom-blended TPO material. Unlike any mat you have ever come across, this material is water-resistant and quite durable. It is also flexible and can mold into different shapes depending on the current temperatures.
Manufactured and made in the US, WeatherTech mats are available not only within but in stores all over the world. It is hard for you to walk into an auto shop and not find WeatherTech mats.
This wide availability makes it perfect for anyone interested in buying the mats right away. Before I forget, these mats come with a lifetime warranty.
That shows you how dedicated WeatherTech is towards serving motorists. Mats from WeatherTech are made to be heavy-duty, and you can be assured that they will serve you and your car for the longest time possible.
Who Should Get Tuxmat and Why?
Tuxmat is made for personal and luxurious vehicles. As a car owner who wants to prolong the life of their carpet and their car interior to look great, then this is the ideal mat for you.
Also, for those in the luxury car hire business, Tuxmat will blend with your luxurious interior finish. And while these mats are protecting your carpet from spills, your riders will enjoy extra cushion provided by the three-layer mat design.
Who Should Get WeatherTech and Why?
WeatherTech mats are made for vehicles that serve commercial purposes and those who drive in extreme weather. Mats from WeatherTech are heavy-duty and are designed to offer unrivaled functionality.
Therefore, if you own a commercial vehicle or live in areas that experience harsh weather, these mats are strong enough to keep mud, water, snow, and salt from your carpet. And are very easy to clean.