Car detailing products are just like relationships. At times, for you to get the perfect detailing supply, you must kiss many frogs.
The industry is today packed with hundreds of auto detailing products. All claim to give your car the perfect finish but both you and I know, this isn't always what happens.
Griots and Adams are some of the most renowned detailing product companies. There are car enthusiasts who love products from Adams and so is the case with Griots.
For a vehicle owner who has never used either, choosing between these two brands can seem like an impossible task. Especially because the products they manufacture are almost the same.
However, no matter the case, there are key differences between these two car detailing companies. And that's what this review is going to look at.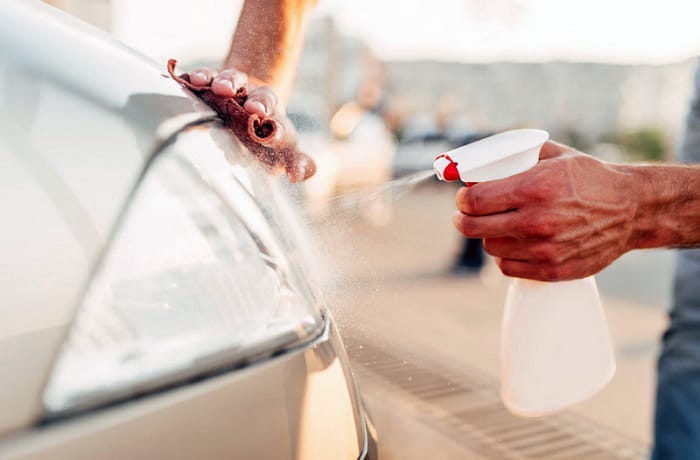 Who is Adams?
Whether you are a pro or a newbie to detailing, you will have a pleasant experience with Adams polishes. This brand doesn't compromise on effectiveness and quality when making its products.
From a personal level, I love how user-friendly their detailing products are. And this is coming from a guy who is averagely skilled at auto-detailing.
Another sector that Adams excels at is customer care. Should you run into any problems when using or ordering their products, their support team will offer you their undivided assistance 24/7.
Even though their products cost a little bit more than those from other brands, every detailing product from Adams is worth every penny.
Other than making simple yet effective auto care products, Adams makes a single product for every detailing task. Although this effort often goes unappreciated, buyers don't have to struggle so hard in choosing which product to buy.
As a beginner, you will obviously feel overwhelmed when presented with different products from the same company.
Detailing products from Adams are irreplaceable. Unlike other detailing companies where you immediately notice faults or ineffectiveness with their products, you will rarely have anything to complain about Adams polishes and auto care products.
Though they don't release new products frequently, when they do, you can be assured of robust formulas that will leave your car looking amazing.
Are you tired of your average car wash shampoo that doesn't remove stubborn stains or dirt? Adams has a foam cannon that sprays soap all over your car.
For those who don't find foam guns interesting, you can use their 5-gallon bucket with a grit guard. Their sponges and shampoos are very gentle on car paint. They also have a wash and wax that will leave your car sparkling clean.
Car washing products aside, Adams has invested heavily in detailing formulas. They sell detailing sprays and waxes. They also have a set of useful products that you can use on your wheels and tires.
Their wheel cleaner can remove any stubborn dirt or brake dust. They also have glass cleaners and cleaning gels.
Who is Griots?
This is an international car care product brand that makes garage accessories and detailing products. Of late, Griots Garage Kit has received a lot of attention from auto detailers as well as car enthusiasts.
Unlike other car brands, Griots makes a wide range of car care supplies and equipment. Be it cleaning towels, applicators, or buffers, you can find them all at Griots.
Griots motto is, 'Have Fun at Your Garage'. And this is exactly what their products allow you to do. They have been in this industry for three decades, you can therefore fully trust in their product's effectiveness.
You don't have to be a pro for you to use Griots detailing supplies. Their products are user-friendly and come with a manual that guides you from beginning to end.
They manufacture detailing products for both the car's interior and exterior. Other than supplies, you also get the tools to help you apply these products to your car.
Griots was founded by Richard Griot, a garage owner in California. Growing up, Richard had a passion for cars. After all, why wouldn't he yet he was raised in the epicenter of automobiles.
Because of this passion, Griot decided to begin manufacturing detailing tools, car care products, and garage accessories.
Thirty years later, Griots is a renowned detailing company with an international presence. Their products aren't just good enough.
They help solve modern car care issues and make detailing simple. Griots supplies are available countrywide in all auto shops.
How Are They Different?
Even though both brands make the same products, there is a significant difference in the price tags. Adams car care and detailing products cost way more than Griots.
Even though expert detailers say that price shouldn't be a deciding factor when choosing a car care brand. The ordinary car owner might not have such a huge budget for detailing products.
As a buyer, you need to weigh which features of a product appeal more to you and whether your budget can meet the price.
Griots Make More Products
There are two types of detailers, those who go in-depth when researching which products to use. And beginners who buy the first thing they get their hands on.
Griots suits the first category. The reason being they make a wide range of products. So you need to research thoroughly before buying.
Adams on the other hand, make one product for a specific task. Therefore, making it easier for their buyers to make a purchase.
Out of the two brands, Adams has more reliable customer support. They are always online and will give you solutions regarding their supplies.
This doesn't mean that the support offered by Griots is whack. You will still get access to customer support but it may take longer to reach them.
How Are They Similar?
Make the same types of products
If it's a polish that you want for your car, you can easily get it from either company.
Don't compromise on quality
All their detailing supplies get the job done effectively.
Their products are available countrywide
Whether you need a supply from Griots or Adams, you can source it from your nearest auto shop. Or even better, you can get it from popular e-commerce sites such as Amazon.
What's Better about Adams?
There are many reasons why you should go with Adams as your main detailing brand. The first thing is how popular this detailing company is.
Everyone is always talking positively about Adam. Be it polishes, waxes, or car accessories, you will hear only appraisals. And we aren't talking about hype.
People really like their products. And if there is one thing I have learned that in the auto world is that when people appreciate a certain product or brand, then it means they are good at what they do.
Even though Adams detailing supplies cost more, they are worth every penny. Their products are labeled as superior and will give your car the look it deserves.
Adams customer support is exceptionally fast and helpful. No matter what problem you are facing, the Adams customer care team will help you sort it out.
What's Better about Griots?
Griots are a renowned car care manufacturer whose products are well-known for their quality performance and quality. The company has been in this industry for three decades. This means that they are well-versed with what car care is and their products won't let you down.
Detailers and polishers from Griots have been tested and approved for professional use. These products are usually manufactured by a team of skilled car enthusiasts that strive to detail and preserve cars for the longest time possible.
Manufactured and formulated locally, Griots products are available all over the country.
They make a wide range of products ranging from detailers, polishers, waxes, sealants, and wheel care supplies. All these products are designed to be perfect and offer flawless services to car owners.
They have plenty of detailing and car care supplies for you to choose from. So, you can be assured of finding a car care product that meets your detailing needs. Also, their prices are quite pocket-friendly.
Who Should Get Car Care Products from Adams and Why?
If you crave premium car care products then look no further than Adams. This brand makes high-quality car care supplies that will clean, polish, and enhance the aesthetic appeal of your car for years.
Their products aren't only effective but are very gentle on car paint. You can use their car care products on both your car's interior and exterior.
Adams was made for car enthusiasts that appreciate beauty and elegance on the insides and outsides of a vehicle. Even though they cost more than Griots supplies, they will ensure your vehicle looks perfect.
Who Should Get Car Care Products from Griots and Why?
Are you the kind of car owner or detailer who prefers to choose from a wide range of products? Griots has got you covered. They have a wide range of car care products for buyers to choose from.
Their products cost significantly less than Adams and this makes it an excellent choice for detailers on a budget.