After buying a car, most dealers will recommend that you get the auto armor package. This is a service where your car receives rust, interior, paint, sound protection, and several other options that ensure it looks as good as new even with years of use.
The good thing about auto armor is that it can offer you all these benefits that will keep your car in perfect condition and increase its resale value.
But the problem with auto armor is the cost. And this is why most people usually question whether auto armor is worth it?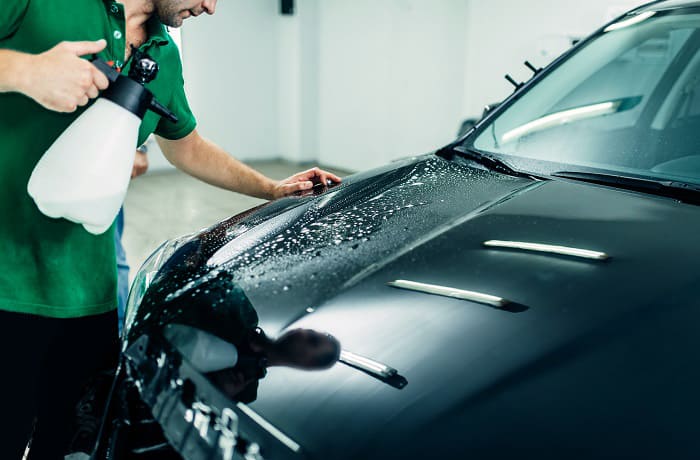 What is Auto Armor?
Auto armor offers a diversified line of products that claim to protect your car's exterior and interior from damage that can be caused by the sun, food stains, stone chips, debris, and other impurities you may think of.
Cars are exposed to a lot of elements. And these affect both the interior and exterior. Auto armor is formulated to provide your vehicle with ultimate protection.
With this product in your car, you can drive comfortably knowing your car is safe and isn't being degraded by conditions that you can't control or prevent from coming into contact with your car's surface.
However, despite the many benefits that auto armor offers cars, it often comes at a great price.
Even though the charges vary from one dealer to another, to get auto armor protection, you should brace yourself to part with several hundreds of dollars.
Being asked to pay such a huge amount of money especially after spending lots of money buying a car, you definitely have to think twice about the worth of auto armor.
Features of Auto Armor
To fully understand whether auto armor is worth spending your money on, you must familiarize yourself with the features. Before listing the features, there is something car owners need to know.
A vehicle is a big investment and you should always strive to protect your investment by all means possible. Even if that means paying more for a service such as auto armor application.
With auto armor, you get the following;
You get a warranty that covers your vehicle's interior and exterior for up to 10 years. The duration of the warranty will vary depending on your dealer.
Secondly, you get environmentally friendly products applied to your car.
Auto armor protects your car from insect damage, fading of paint, loss of gloss, chalking, accidental road paint overspray, and several other things that can hurt your car paint.
Regarding the interior, auto armor safeguards the seats from tear and wear, food stains, cracking and fading of leather interior, bleaching, and growth of mold.
Car owners can also opt for the windshield coverage that will cater for repairs and replacement of your windscreen.
How Good is Auto Armor?
If you have been in the car detailing industry for a while now, then you must be familiar with auto armor. This is a brand that has been around for years and they have built a great reputation for themselves.
Auto armor is very popular especially for protecting the exterior of vehicles from debris and UV damage.
Auto armor is an excellent product to have on your car. It indeed does offer the vehicle maximum protection against the elements. And with it on your car surfaces, you can be assured that it will always look as good as new.
Other than paint correction auto armor also provides a wide range of quality services such as window tinting and ceramic coating all of which help enhance the aesthetics of your vehicle and protect the paint and windows from damage.
But, Is It Really Worth It?
Before making any purchase, you must always evaluate the worth of a product. In this case, are the above features worth spending a couple of hundreds of dollars on an exterior and interior paint protection service?
Well, there are pros and cons of auto armor. The pros include that it is a very effective mode of protecting your car from wear.
It also increases the resale value which you can transfer to the new buyer provided the coverage period hasn't ended. The main con is that it is expensive, and most of these things, you can do by yourself and spend less.
As you can see from the above, from the pros and cons, none can outweigh the other. So the choice is entirely yours.
If you are going to drive your car under harsh conditions, it may be good to protect it from these elements.
However, if you live in a car-friendly environment, then you may skip the auto armor and protect the vehicles by yourself through methods such as waxing and conditioning of interiors.
The advantage of DIY car protection is that the products are cheap and you don't have to pay for the labor.
From a professional point of view, the rust protection provided by auto armor is very essential. And you should consider it if you intend to drive on snow and salty roads.
Also, paint protection can benefit you immensely in the future. What most car owners forget when buying a new car is that it will get old eventually.
Even though this may not happen right away, it is bound to happen. At the moment, you may think that your car paint is bulletproof, but you won't say the same 3 years later.
Another reason why we think that auto armor is worth it is the coverage you get from the dealership when their product fails to provide the protection it promised.
For example, should stone chips bypass the auto armor and hurt your car paint, you can take it to the dealer and they will be reliable for the repairs.
Even though auto armor is expensive, one thing is for sure, it gives you an added level of confidence wherever you drive to. And other than that, it safeguards your vehicle from the harsh environments you drive it through.
Is Auto Armor a Good Deal or a Rip Off?
It is commendable how most car buyers use a smart approach in the process of purchasing vehicles from dealers. For years, dealers have duped many car buyers into getting the wrong vehicles or useless after-sales services.
Because of these reasons, a lot of car buyers are always reluctant towards believing what most dealers tell them, and in this case, is auto armor a great deal or a rip-off?
If you are buying a car and the guy at the dealership is trying to convince you into getting the auto armor package as well, you need to evaluate if it's a great deal or not.
Obviously, when the price might set you off, but it pays to listen to what more they have to say about the benefits of the package.
Auto armor should be a great deal if the dealer gives you a warranty of the various forms of protection they claim you will get from the package.
Be it rust protection, paint, or interior protection, getting a warranty that is longer than 5 years sounds like an excellent deal. Most people like to dismiss the auto armor package just because it is expensive.
But little do they know that in the long run, you end up saving more on repairs. And your car retains its showroom look and finish.
For car buyers that don't plan on owning that vehicle for long, you may pass on this offer. Because as long as you clean and wax your car regularly, you don't have to worry about paint damage.
Regarding the interiors, if you can maintain cleanliness, then you don't have to worry about stains.
Also, for those who drive on snow, if you plan on not taking the auto armor package, ensure that you wash the undercarriage with a pressure washer. This prevents rusting.
There is another reason why we are saying the auto armor package is an excellent deal. When it's time to sell your car, the damages caused by the lack of a protection mechanism may rake thousands of dollars from your pockets.
Or, the resale value may have decreased significantly. If the package seems a bit convenient, you should consider taking it.
However, never spend money on a product you are not comfortable with. If the deal looks like a rip-off, please keep off it. And practice other car protection options.
What Do Other Car Owners Think of Auto Armor?
Frankly, many car owners think of auto armor as a rip-off. If you go through the many reviews posted online, you will realize that most people think very negatively of auto armor.
If you ask an expert detailer, they would recommend that you get auto armor, and enjoy the protection benefits as well as the warranties.
Even though it is possible to drive a car for more than 5 years and the paint will still look good, auto armor exists for those who live near the ocean or areas that experience lots of winters.
These conditions are not very friendly to cars, and it will be worth getting that extra protection from auto armor.