Rubber fades with time. And no matter how much you clean your tires, they will always lose their dark appearance. Fortunately, there is a quick and easy fix for faded tires.
As a car owner, obviously you have come across plenty of products that can enhance the aesthetics of both your car's interior and exterior.
Well, there is one that can help give your tires a deeper and richer gloss, and such formulas are referred to as tire dressings. Similar to other detailing products, there are many tire-dressing products in the market.
Today, we are going to narrow down on Chemical Guys and compare their two most popular tire dressing products which are Silk Shine and VRP.
Despite coming from the same company, these two tire dressing formulas are very different and each has its benefits.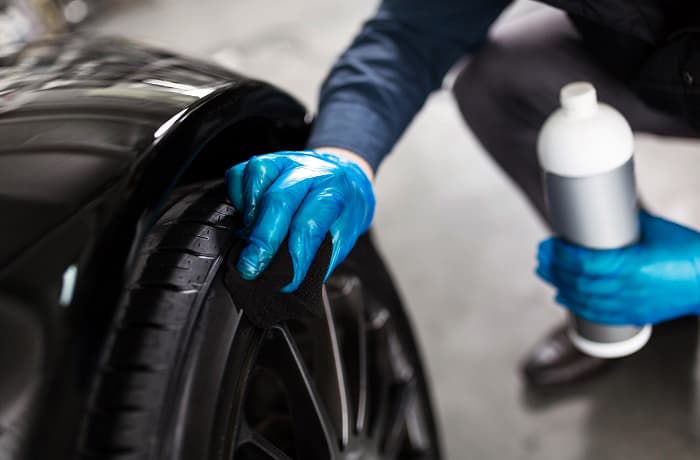 What is Chemical Guys VRP?
Before we can look at what VRP Dressing for Tires is, we need to catch you up to speed on these two products. Chemical Guys always make it hard for their customers to choose their products.
Unlike other companies that only make one product for a specific purpose. Chemical Guys make several products that all serve the same purpose.
This often leaves many buyers confused wondering which of their products you should buy. This is the same case with VRP and Silk Shine. If you were confused wondering which to get between these two, we have got you covered.
Chemical Guys VRP is a dressing formula that can be applied on vinyl, rubber, and plastic. That's where it gets the initials VRP.
This is a non-greasy formula that dries immediately it is applied and leaves a glossy and lasting shine on either of the surfaces mentioned above.
If your tires are faded, VRP penetrates deeper into the rubber to restore the shine your tires once had when they were new.
The refined cream found in VRP works wonders on faded tires, dashboards, side mirrors, rubber tire sidewalls, bumper trim, and anything else on your car as long as it is made of vinyl, rubber, and plastic.
VRP has lots of great features that make it a top choice for car owners.
For one, it doesn't just restore the shine in your car tires, it creates a layer that protects these surfaces from UV damage. It is practically the sunscreen for your cars rubber or plastic.
The non-greasy water-based formula is very easy to apply and it doesn't sling, so that means there is no mess you have to worry about after application.
This feature is the one that is responsible for giving your tires and plastic or vinyl dashboard that deep wet look.
Also, if you are a car owner who is very keen on the brand they buy products from, please note that Chemical Guys have a great reputation.
They make the best products that are effective and very easy to use, this VRP is an excellent example. Plus, it is available worldwide.
What is Silk Shine?
From the above review of VRP dressing for tires, you are already familiar with what kind of a brand Chemical Guys are. They need no introduction.
Jumping straight into Silk Shine, this is a tire dressing formula that can also be applied on vinyl and plastic. Unlike the VPR, Silk Shine comes in a spray-able can and this makes its application very easy.
Despite not being as popular as its counterpart, Silk Shine is a hidden gem, and those who are familiar with its durable and high shine finish can't replace it with any other product.
Silk Shine can be used on your car's interior or exterior provided the surface is made of plastic, vinyl, or rubber.
And other than the shine, it comprises of a Weather Tek formula that penetrates and bonds with these surfaces to provide protection from fading that is accelerated by UV rays.
One of the main features that make it stand out from its competitors is the mode of application it offers users. Silk Shine is available in a spray can.
So, you just have to wash your tires and the surfaces you intend to use it on. Shake the can and spray onto the applicator pad then rub it on the surfaces. Yes, some people spray it directly.
But considering the surfaces around the tires, the effects of direct spraying can be messy.
Forcing you to rewash the areas Silk Shine has splashed on. Direct spraying may be easier, but if you are not precise, you may end up creating a mess.
That aside, Silk Shine boasts of a non-greasy water-based formula that leaves a great finish on your tires, dashboard, and other surfaces in your car. If it's the satisfaction that you are after, look no further than Silk shine.
What are the Differences?
If you prefer to lean to the most popular products then you should go with VRP. If you compare the sales of these two products, VRP is the outright winner.
This however does not mean that it's better than Silk Shine. The latter is loved by a good number of car owners and that wouldn't be the case if it was substandard.
Silk Shine is available in a spray can, whereas VRP is in a regular container where you have to pour the formula into an applicator pad for application.
Even though products in sprays are easier to apply, with tire dressing you may end up creating a mess because it is usually applied after the car has been cleaned. When you spray it, you may end up spilling tire dressing on paint.
Silk Shine comprises of Weather Tek formula that's great at protecting your tires from weather elements such as the sun and rain. With VRP, Chemical Guys don't mention such. However, VRP also protects from UV rays.
What are the Similarities?
Both;
Are made by Chemical Guys.
The VRP and Silk Shine are the fruits of a company that is dedicated to customer satisfaction. Therefore, whether you go with VRP or Silk Shine, you can be assured of a deep rich gloss on your tires.
Are very effective at giving your tires and interior a rich glossy shine.
Despite the formulas being different, if there is one thing you can expect from either Silk Shine or VRP is a better-looking finish on your wheels.
Can restore the shine on vinyl, rubber, and plastic.
After a while, surfaces on your car that are made from the following materials tend to fade. These two dressings can restore and maintain the shine for a long period.
Are made from a non-greasy formula that dries fast when applied to the surfaces.
Fall under the same price range.
What's Better about VRP?
The first thing that makes VRP a unique product is how great it works on rubber as well as vinyl and plastic. Most tire dressings you will find on the market are formulated to work best on tires.
However, VRP is different, it gives 100% shine on all the surfaces that is designed to work on. This is very advantageous to many car owners because you can use it to restore the shine on other parts of your car.
Secondly, VRP is exceptional at blocking UV rays. If you watch keenly the effects of UV rays on your dashboard, tires, and other surfaces made of rubber, vinyl, or plastic, you will realize how harmful the sun can be.
Fortunately, VRP restores and maintains shine while protecting your vehicle from harmful UV rays and other elements.
Other benefits of VRP include; it's a water-based product that penetrates surfaces to restore shine and create a protective barrier. The shine and protection are durable and can last for months.
What's Better about Silk Shine?
Just by judging from its name, Silk Shine is an excellent product that will give your tires the brand new shine they deserve.
Though often overlooked, the appearance of your tires affects the overall look of your car.
Silk Shine exists solely to give your tires and other parts made of vinyl and plastic a brand new look.
What's better about this product is that it comes in a spray-able bottle and is 100% dry to the touch. It offers long-lasting shine and protection.
It is very easy to apply and, Silk Shine is made by Chemical Guys. This is one of the leading brands in the detailing world, you can be assured of nothing but the best.
Who Should Get VRP and Why?
VRP is formulated for both amateur and professional detailers. Therefore, your level of expertise has got nothing to do with whether you should get VRP or its counterpart.
However, if you want a good formula for dressing tires as well as other parts in your car made of rubber and vinyl, VRP should be your number one pick.
Who Should Get Silk Shine and Why?
On the other hand, Silk Shine was also created for everyone, irrespective of their detailing experience. It is also very effective at dressing tires. The main difference is the packaging.
Silk Shine is available in a spray can. If you find applying tire dressing from a spray can be easier than the ordinary bottles, please go for the Silk Shine.