You are shopping for a set of wheels for your car. And if you are researching whether to go with matte black or gloss black, chances are, you have already settled on a certain type of wheels, size, brand, and other factors.
When it comes to choosing the ideal color for your wheels, especially if you are stuck between colors that look almost identical, it can be hard to narrow down on which suits you the most.
In this case, matte black and gloss black are both great colors you can have on a set of wheels. Depending on the color of your vehicle, either of these two can enhance the looks of your car and have heads turning wherever you drive.
However, if you are stuck between choosing the two, at the end of the day you must settle on one. The review below on matte black vs. gloss black wheels is going to help you make the right choice.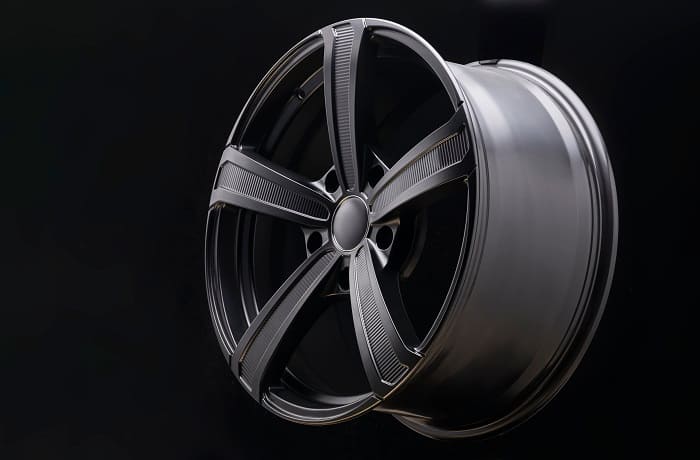 What are Matte Black Wheels?
The use of matte black popped out of nowhere in the auto industry. It was never a go-to color in the auto world but out of the blues, it arrived and is now more popular than ever.
Matte black wheels are the new age look. This color choice seems to be more popular amongst the younger generation.
Matte black undeniably is a bold color, and we are surprised at how popular it is nowadays. Let alone wheels, you have probably seen cars with matte black wraps. What's your take on such?
If the flat look of matte black car wraps interests you, then you would enjoy having matte black on the wheels.
The history of matte black being used on cars started with Queen Elizabeth's uncle, Prince Henry.
Though most people think the origin of matte black started with hip-hop artists, the Duke of Gloucester was the first to have his Phantom V in matte black.
At that time, this color seemed strange however years later, it became so phenomenal that popular wrappers gave some of their most expensive cars a matte black finish.
Thanks to the efforts of the above, the royalties, and hip-hop artists, matte black is now a popular color choice.
And not just on car paint, but even on the wheels. Matte black wheels are quite alluring and if it's a color that you love and appreciate, don't let people mislead you into thinking that it looks odd.
Lots of people crave matte black wheels but they often get cold feet when they think about other people's opinions.
Colors are a personal choice, and if you perceive this color as interesting and unique, what's holding you back?
The flat look of ate black directs more focus on the curves and design of your wheels. And if it's the attention you want to draw to your vehicle, matte black can help you with that.
Unlike its counterpart, gloss black, matte black is not common and nothing beats driving a set of wheels with a unique color.
What are Gloss Black Wheels?
These are wheels that feature the black paint finish we are all used to, only that it's shinier and reflects light very well. Gloss black wheels are the exact opposite of matte black wheels.
The latter are dull and gloss black wheels that feature a dark but shiny finish. For decades, detailers and vehicle owners have been drawn toward making their cars look shiny irrespective of the color of the paint.
This is why polishes are one of the most frequently bought car care products.
Gloss black wheels were there even before matte black wheels gained popularity. The biggest advantage of gloss black wheels is that a majority of the world's population finds this finish to be better looking than its counterpart.
In a room of 10 people, 1 or 2 people will choose matte black wheels over glossy wheels.
With these wheels, the color can blend with any color of car paint you have on your car. Secondly, shiny black wheels are attractive and will be noticed wherever you drive.
Due to their ability to reflect more light, everyone is going to notice and appreciate your beautiful gloss black wheels.
This color is however the most popular choice and that means that it's not rare. If you settle on this color, you can be assured of seeing other car owners with the same gloss black wheels. No matter how hard you clean and polish them, you won't be unique.
How Are They Different?
• Matte black wheels look better with gloss car paint. The same can't be said for gloss black wheels with gloss paint. Therefore, depending on the type of paint you have on your car, gloss black may or may not be such a great choice.
• The other key difference is that matte black wheels dull a lot more than their counterpart. When brake dust and dirt settle on matte black wheels, the result is an extremely dull finish. With gloss black, however, even if the wheels get dirty, there will still be some visible shine.
• Gloss black wheels are more popular than matte black wheels. This plays a key role when choosing between the two. Are you the kind of person who prefers what is rare or do you opt for popular colors?
• The gloss doesn't look so great with brake dust on it. However, when brake dust settles on matte black wheels, you won't even realize that it's there.
• Matte black is duller than gloss black.
• Matte black wheels last longer in between cleaning than gloss black wheels.
How Are They Similar?
Both;
• Are easier to clean.
Most people think that gloss black wheels are easier to clean but that's not true. It's the material that is responsible for the ease of cleaning the wheels.
The difference is that with gloss black wheels, you will see more reflection of light when the wheels are clean. However, matte black has little light reflection and this makes it hard to even know if the wheels are clean or not.
• Are still black wheels.
The difference is the amount of light gloss reflects than matte. If you love black, you won't go wrong with either color.
What's Better about Matte Black Wheels?
The first advantage that you will get from matte black wheels is a great-looking car. Though the finish is flat and it doesn't reflect light, matte will automatically turn heads wherever you go.
It's also easy to maintain because it doesn't get dirty easily as is the case with gloss black wheels. When you decide to wash it, matte black wheels won't leave swirl marks behind.
This is something that you will always get when cleaning gloss black wheels. As great as matte black wheels are, they have their disadvantages.
The first is that scratches on a matte finish look terrible.
Wheels are prone to get scratched or damaged because of their proximity to the ground. A matte finish isn't ideal for hiding blemishes. This is something you need to prepare for.
And because of that, matte black wheels require more attention to paint care. Before we can look at the benefits of gloss black wheels, you need to be very gentle when cleaning matte black wheels.
Because of the dull car, one may end up over-scrubbing the wheels thinking that they are not clean only for you to damage the finish.
What's Better about Gloss Black Wheels?
The ability of glossy black to reflect light makes your wheels look shiny and this helps you make a statement wherever you are.
Considering how much people love shiny objects, you can't go wrong with a set of gloss black wheels. When clean, the mirror finish blends well with nearly all car paints.
And this contributes to the overall beauty of your car. Gloss black wheels look great in metallic paints.
Glossy black wheels are more popular than matte black wheels and even though they get dirty easily, you will love how they look when they are clean. This color adds an element of spice.
And before you get too excited consider it. You should know that gloss black requires more maintenance to retain the shiny look. It also shows paint flaws and scratches easily.
Who Should Get Matte Black Wheels and Why?
Matte black wheels were created for sophisticated motorists who have an eye for the rarest things in life. This is a unique color that will look great on your wheels.
You should however understand that it requires some special attention and it is easy for you to get bored with it because of the dull finish. You must weigh out your options on whether matte black wheels are right for you.
Who Should Get Gloss Black Wheels and Why?
This is the safest choice for most car owners. After all, who doesn't love shiny things? Gloss black wheels look impressive especially if they are cleaned and taken proper care of.
This color blends easily with most car paints and it enhances the curves and designs of the wheels. It's a simple color that speaks elegance and taste. Gloss black wheels require regular cleaning and maintenance for them to retain their shine.
Was this article helpful?