When it's time to detail your car, you are better off sourcing car care products from reputable companies such as Meguiar's and Chemical Guys.
These two car care product manufacturers have been in this industry for a while and they formulate some of the best products that will ensure your car looks fantastic.
The problem is, Meguiar's and Chemical Guys make the same things. That is, if you need some polish or car wash soap, both these brands have got you covered.
Only that each company formulates its products differently. And that's why you may find a certain product from Meguiar's is more popular than a similar one from Chemical Guys and vice versa.
If you are on the search for a reliable car care product manufacturer and can't choose between Chemical Guys and Meguiar's, here is a review of both and why you should consider one over another.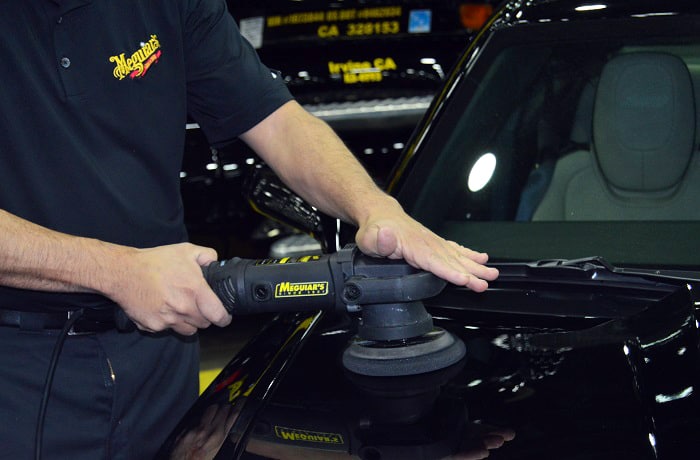 Meguiar's
Meguiar's has been around for over 120 years. No wonder it is so popular and widely available on nearly all corners of this planet. As I write this article, Meguiar's is one of the world's leading car care products companies.
This company started as a small lab in Frank Meguiar Jr garage. The aim was to create a substance that would polish his car and make it look better. Little did Meguiar know that his small company would be passed on to four generations.
After passing away in 1950, his three sons took over the company. Kenneth, Malcolm, and Maurice steered the company to success by formulating effective products. And through their efforts, products such as Meguiar's Cleaner Wax gained worldwide recognition.
This California-based car care products company makes hundreds of sales. Their products are popular not only amongst car owners but professional detailers as well.
Chemical Guys
Founded in 1968, Chemical Guys also started as a small company and has grown to become a worldwide manufacturer and distributor of car care products.
Their passion for detailing, dedication to formulating quality products, and making them available at affordable prices are some of the reasons why they are so popular.
Having started in the US, Chemical Guys later expanded their market to Europe and Asia. Their products are available in more than 50 countries.
Founded by Paul Schneider, David Schneider, and Dan Schneider, these three brilliant minds came up with the name Chemical Guys. And their objective was to create a brand that would make life easier and better for car enthusiasts.
Chemical Guys have a wide range of products ranging from sealants, wax, shampoos, polishes, polish machines, pads, and many more. They are one of the few car care brands that make hundreds of car care products.
Currently, their headquarters are in Los Angeles. They have two websites; one for the American market and the other for the European market.
Difference between Chemical Guys and Meguiar's
Meguiar's have Been in the Game Longer than Chemical Guys
You can't compare 120 years' worth of experience to 50. Because they have been in the game for longer, they have a more loyal fan base.
Ask any car enthusiast who was around in the '50s, they will tell you that there is no better polish than Meguiar's.
However, just because they are an older company doesn't mean their products are better than Chemical Guys. Both these companies strive hard to bring their best formulas to the market.
Chemical Guys have a Wider Selection of Car Care Products than Meguiar's
Though they entered the market later, Chemical Guys have done a commendable job at manufacturing and distributing more car care products than their counterparts.
Recently, Meguiar's received a lot of complaints about the failure of innovating newer products and relying on their past success. If you prefer to have a wider selection, then go with Chemical Guys.
Meguiar's are More Popular and Their Products are Available in Many Countries
Despite both being based in the US, global expansion is a critical factor used to gauge company growth. Meguiar's has performed far much better than Chemical Guys in this sector.
Chemical Guys car care products are available in only 50 countries, whereas Meguiar's can be bought in almost 100+ countries. This contributes heavily to Meguiar's popularity.
Before I share some similarities, you should be aware of what people are saying out there. In most forums, Meguiar's receives more positive comments than Chemical Guys.
For the couple of forums that I went through, Chemical Guys were referred to as a hit and miss. Nonetheless, people have different opinions and experiences with brands.
Before buying a certain product make sure you know what you want from it and go through its reviews.
Meguiar's vs Chemical Guys – Similarities
Both are Reliable Car Care Product Companies
You can rely on either Chemical Guys or Meguiar's for car care products. None of these companies have been associated with creating low-quality car care products.
Both Can be Sourced Easily
With sites that serve both the European and American markets, anyone within these areas can easily get their hands on Meguiar's and Chemical Guys products.
The two companies also distribute their products into many other countries, so you shouldn't struggle to get your hands on some.
They Make the Same the Products
Though the formula is different, Meguiar's and Chemical Guys make the same products. Be it polishes or car wash soaps, you can find them all from either company.
However, you need to know that their products do perform differently. For instance, I do find Chemical Guys signature series wheel cleaner better than that from Meguiar's.
On the other hand, I prefer using Meguiar's Carnauba Wax to Chemical Buys Butter Wax. It's a matter of preference and choice.
What's Better about Meguiar's?
Thousands of high-end detailers wouldn't stick to Meguiar's car care products if they weren't any good. This brand, ever since it came into the market back in the early 1900s, it has been manufacturing high-quality car care products, year after year.
And even though their packaging might not be the most entertaining and physically appealing, they are efficient, effective, and affordable.
Meguiar's products outperform their competitors such as Chemical Guys and Turtle Wax. And their prices are quite pocket-friendly. Most of their products offer long-term performance.
Unlike Chemical Guys that heavily rely on marketing, Meguiar's car care products deliver on their intended purpose or application.
Some of their products such as polishes are easy to use, last longer, and give your vehicle protection from UV rays and other harmful elements.
What's Better about Chemical Guys?
According to Chemical Guys, they refer to themselves as a lifestyle and not just a brand. There are a lot of things about Chemical Guys that make them a better choice.
They are heavily dedicated to manufacturing and formulating car detail products that would meet the expectations of their users.
With so many products to choose from, Chemical Guys make it easy for their customers to find the best product for their cars. Other than that, their products offer lasting effects.
They are quite affordable and relatively easy to use. Though not as popular as Meguiar's Chemical Guys products do a commendable job at taking care of your car.
Who Should Get Meguiar's?
Meguiar's is known to have two product lines; one for consumers and the other for professionals.
The consumer's line is for car owners who want their cars to look better but they do not breathe, sleep or eat detailing. The professional line on the other hand is for those of us who pay keen attention to detailing.
The consumers' line will feature fancy packaging but the formulas won't be as powerful as those in the professional line.
Also, about the consumer line, you8 should know that there is nothing wrong with these products. The results they offer are satisfactory. The only difference is that they aren't as vigorous.
Be as it may if you are the kind of person who prefers to have the detailing done by an expert, the consumer line Meguiar's products should be sufficient to keep your car going.
However, if car care is a hobby or you offer detailing services, then you may want to get to the most complicated stuff.
The professional line of Meguiar's car care products is formulated strictly for professionals. They give you a mirror glaze finish. And even though their packaging isn't as fancy as that of the consumer line, the formula inside is more advanced.
Depending on where you fall in between the two categories, provided you are looking for an experienced car care company, Meguiar's should be your number one go-to choice.
Who Should Get Chemical Guys?
Chemical Guys car care products are manufactured for car enthusiasts and professional detailers. Do you love pampering your car?
Then Chemical Guys have got just the right products for you. With so many options to choose from, you can be assured that your car will always be in perfect shape.
And despite not being as aged and popular as Meguiar's, Chemical Guys is among the most effective car care products on the market.