Car wash shampoo is a must-have product for all car owners. If you are still using dish soap or any other type of soap to wash your car, then you are slowly ruining your car paint.
And at the same time, your car isn't getting the cleansing that it deserves. Have you made up your mind to get some car wash soap?
These two products are some of the most popular car wash shampoos on the market. They are both manufactured by chemical guys, which is a leading auto-detailing brand in the industry.
Honeydew and Mr Pink both guarantee to clean dirt, grease, and grime from your car. The formulas used to make both products are engineered to be gentle on car paint whilst loosening dirt and contaminants off your car.
Even though these two products are designed to do the same job, they do have their differences. In this article, we are going to compare Honeydew against Mr Pink. Let's start with a quick overview of both.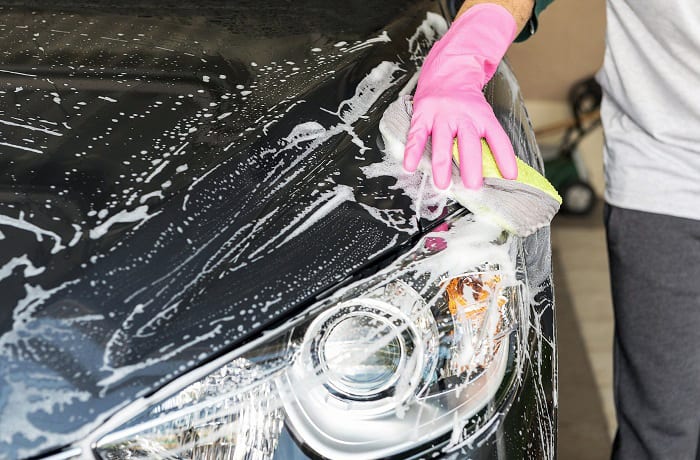 What is Mr Pink?
Mr Pink is a suds car wash soap and shampoo manufactured by Chemical Guys. It can be used on a two-bucket wash system or a foam gun.
One of the key features of this product is how it doesn't leave any residue on the car's surface. This car wash shampoo has a balanced and neutral pH that minimizes the risk of scratching your car during washing.
The gentle suds found in Mr Pink's formula do commendable at binding to dirt or contaminants on your car paint. As this happens, Mr Pink loosens dirt and grime for you.
As a result, all particles on your car surface slide off easily when you wipe or rinse it with a pressure washer.
Whether you use a washer or squeegee, Mr Pink will thoroughly clean your car without leaving any spots behind. If you crave a decent gloss on your car, this is the best car wash shampoo for you.
Compared to other car shampoos, Mr Pink is a bit more expensive but you will get total value for your money.
What is Honeydew?
On the other hand, we have Honeydew which is another car wash shampoo from Chemical Guys. It also has a neutral pH that makes it easier for car owners to clean their cars.
Unlike other car wash shampoos, honeydew offers intense and thorough cleaning. It is ideal for use on all types of sealant coatings and wax.
It is also a gloss-enhancing soap that can be used on all types of surfaces on your car like plastic, rubber, vinyl, and glass.
What you need to know about honeydew is that it often comes concentrated. So, you will need to dilute it before you can use it to wash your car.
How Are They Different?
There isn't much of a difference between these two products, mostly because they are manufactured by the same company. Nonetheless, some key features differentiate the two. Some of the key differences include;
Honeydew works better with a foam cannon compared to Mr Pink. If you want to generate thick suds with a foam cannon, you have a better chance with honeydew.
Mr pink compared to Honeydew, leaves behind a more decent gloss.
Some user reviews claim that Mr Pink leaves behind some spots even after rinsing your car.
How Are They Similar?
Both being car wash shampoos made from the same company, you can expect there to be plenty of similarities.
Whether you decide to go with Mr Pink or Honeydew, you can be assured of a thorough cleaning. Both these car wash shampoos are the best in the market. Listed on several sites as the top 10 best car wash shampoos, you can be assured of driving around in a spotless sparkling clean car always.
Both these products have a neutral pH. Therefore, when used to clean cars it is very gentle on paint and surfaces.
Mr Pink and honeydew will leave behind a glossy finish that will make your car look as good as new.
What's Better about Mr Pink?
One of the things that makes Mr Pink stand out from its competitors is how tough it is on dirt and yet so gentle on vehicle surfaces.
For those who love driving around in spotless cars, Mr Pink will offer you this and much more. This product is the ideal car maintenance shampoo that will easily remove dirt and grime from your car.
With Mr pink, you will enjoy scratch-free washes every time you use it. It restores gloss on your car paint. And no matter how stubborn the dirt and grime on your car is, it won't be a match for Mr Pink.
If you have been a victim of harsh car wash shampoos, then you will have a better experience with this product. Many detailing car shampoos out there are not so gentle on car paint.
As a matter of fact, they strip away all the wax on your car's surface. Mr Pink is not only a safer alternative but it's better in so many ways.
You can use it on nearly all surfaces both inside and outside your car. It leaves behind no residue. And thanks to its unique formula your paintwork will always be its best and you can forget about swirl marks.
Mr Pink's formula also captures, lubricates, and lifts debris from your car's surface. And, no matter how many times you use this product on your car, your paint will always look its best.
What's Better about Honeydew?
This is a hi-tech shampoo that was formulated to clean the toughest stain on your car paint. Honeydew works best when used with a foam gun or cannon.
There are a lot of things to love about this product. For one, every car wash with honeydew turns into a foam party. This foam lubricates dirt and removes it easily from the surface of your car.
Honeydew helps you maintain your car's shine for the longest time possible by foaming billions of bubbles on your car. The foam is usually thick and slicker.
Therefore, during scrubbing, you have an easier task wiping dirt off your car. Other than dirt, Honeydew removes hard water spots from your vehicle's surface.
If you have been struggling with car wash shampoos that dull your paint, then this product will completely change your experiences.
The advanced technology of Honeydew will create the sturdiest formula you will ever see. As a high-performing car wash shampoo this is a product that will help maintain your car even if you live in the dirtiest environments.
Who Should Get Mr Pink and Why?
Are you the kind of motorist that appreciates driving a spotless car? Well, you will love this car wash shampoo. Mr Pink is a superior product that boasts of advanced foaming technology.
Being a superior surface cleanser, no matter how dirty your car is, this car wash shampoo will leave your car sparkling clean and with a glossy finish.
It is gentle on car surfaces and it's perfect for weekly washes. Other than being gentle on car paint, Mr Pink is safe for sealant and waxes.
This is the perfect detailing shampoo for any situation. It doesn't matter whether you are an off-roader or just drive around the city, this shampoo is strong enough for cars that drive in any environment.
Mr Pink's advanced formula makes it perfect for both DIY and professional car washes. We have to hand it down to Chemical Guys for creating such an advanced detailing shampoo with a balanced pH.
Another reason why you should get Mr Pink is because of its ability to help remove scratches and swirl marks.
Who Should Get Honeydew and Why?
Do you often find yourself driving on muddy roads? Then you should be using this shampoo to clean your car. Honeydew works wonders when used as a car wash shampoo. It smells great, leaves a glossy finish behind and it is gentle on car paint.
One of the features that make honeydew such a great shampoo is its clinging ability. It doesn't just create foam on car paint but it also binds with dirt.
During this process, any dirt particles or contaminants are loosened. When you rinse or scrub, they come off easily, leaving behind a glossy and sparkling finish.
Honeydew has a thick foam quality and can be used on all surfaces. It won't leave swirl marks on your car paint and you don't have to worry about harsh chemicals eating through your car's clear coat.
It has lots of positive reviews online. And with such a great reputation, you can't expect a product that is below standard. If you are on the hunt for a premium car wash shampoo then this is the product for you.
If you are stuck between choosing these two products, here is the bottom line. Mr Pink and Honeydew are nearly identical products except for the packaging.
Not unless you have a preference for either of these two products, there isn't really much of a big difference between the two.
Honeydew smells great and clings pretty well with your car's surface. Mr Pink on the other hand has a very strong formula and will ensure your car is sparkling clean.