A jeep hardtop has many benefits, such as better insulation, durability, and added security, and you can conveniently install a roof rack on top of it.
However, it may not be in a color that you like. For instance, it may be black, and your Jeep could be in another color such as red or blue, which is very common.
A vinyl wrap can help you match the color of your hardtop with that of the body. Also, it will add protection against sand, dirt, and other elements. But will vinyl wrap stick to a Jeep hardtop?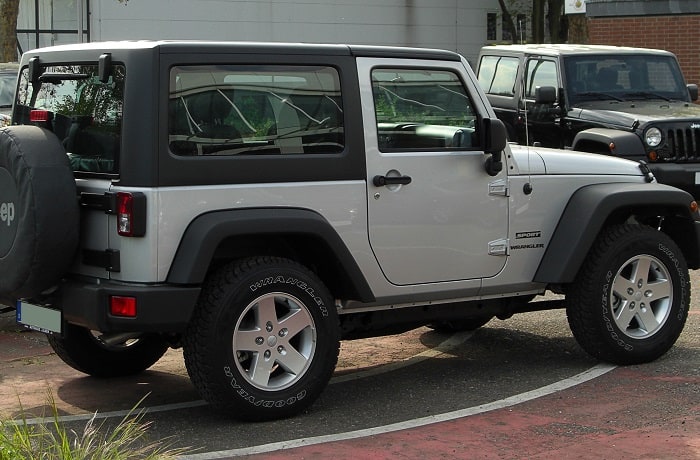 Will Vinyl Wrap Adhere to a Jeep Hardtop?
That will depend on one main factor. There are two main types of Jeep hardtops. There is the smooth one which resembles the finish of other parts of the body.
And we have the textured one, which is a bit rough to the touch. The latter is the most common type of hardtops found in most Jeeps. Unfortunately, a vinyl wrap will not work if you have a textured hardtop.
When it comes to vinyl wrap installation, it can only work on a slick, smooth surface. Vinyl wrap will not adhere to the textured Jeep hardtop because the surface is too rough for the vinyl wrap to stick to.
Whether you attempt to vinyl wrap a textured Jeep hardtop by yourself or take the car to an expert mechanic, the wrap will not stick.
So, even before you start comparing vinyl wrap costs, it's important to first determine the finish on the hardtop. If it's smooth like other parts of the body, then you can go ahead. But if you have a textured hardtop, it's best to consider vinyl wrap alternatives.
Can I Sand the Rough Textured Surface and Vinyl Wrap?
If you are more of a DIY jeep owner, you may consider sanding the rough textured surface to reveal a smoother finish. To eliminate the textured surface, you will need a power sander, a lot of elbow grease, and an hour or two to get the job done.
A good number of people have sanded the rough texture off the jeep hardtop. But it's a pretty tedious job. If you intend to take the hardtop to a wrapping shop, the technicians will charge you a lot of money for this project because, as you can see, it's pretty hectic.
Vinyl Wrap Jeep Hardtop Alternatives
As much as you may be interested in vinyl wrapping your Jeep hardtop, it's crucial to understand the limitations that revolve around this project. The adhesion problems pose a big challenge, making vinyl wrap unsuitable for jeep hardtops with a textured finish.
If you have already made up your mind to change the color of the hardtop, there are other options that you can explore. Here are some alternatives you can consider.
1. Paint
The best alternative to vinyl wrapping a jeep hardtop is to paint it. Painting has always been the go-to method for changing the finish of a hardtop to another color.
Painting is affordable if you do it yourself. However, to get a decent paint job, you must have a particular skill set and some experience.
When painting a jeep hardtop, you should invest in quality paint. Remember that prep work is necessary. Otherwise, the paint will not hold. The finish won't look great if you go for cheap aerosol spray cans. Make sure you use quality stuff.
On the other hand, if you lack basic painting skills, a nearby auto shop can paint the hardtop for you. It may cost more than $100, depending on where you live. Do a lot of research and request/compare quotes from different auto shops.
Quality paint should give your hardtop a decent finish and a color that matches your car. A professional paint job may seem costly, but your finish will be worth the money.
2. Bedliner
A few years ago, bedliners were mainly used on truck beds. However, as time passed, people realized how beneficial the bedliner is as a protective coating.
If you are interested in changing aesthetics and improving the protection of the hardtop, you can go for a bedliner. Many bedliner brands exist in the market, such as Raptor, Line-X, and Rhino liner.
All these options can change the color of the hardtop while protecting it from the elements. The finish of the bedliner isn't as aesthetically pleasing as that of vinyl wrap. But it will adhere and last for years.
3. Plasti Dip
The other suitable alternative to vinyl wrapping a Jeep hardtop is to spray plasti dip. Out of the many coatings that exist on the market, plasti dip is the most experimented on. That's because it's easy to apply and comes off quickly.
All you have to do is peel it off. Plasti dip may not be as durable as a bedliner, but it is available in plenty of colors. That means you have a better shot of matching the hardtop with your Jeep's paint job.
Spraying several coats of plasti dip on a textured hardtop can help you achieve the same benefits as vinyl wrapping it. Another perk of plasti dip is that it can be touched up from time to time.
Should You Change the Color of Your Jeep Hardtop?
Many Jeep owners interested in vinyl wrapping their hardtops is because they want to change the color. If you see most Jeeps, you will realize that the hardtops usually have a different color. That's how it has always been. So, should you change the color of your Jeep hardtop? Yes, you should.
One of the perks of owning a car is that you get to decide whether to make changes. If the black textured hardtop doesn't look good on your red or white Jeep, you can change the color by painting, spraying a bedliner, or plasti dip.
Changing the color of your hardtop is a personal preference. If you think having a different color will make it look better, you should go for it.
Unfortunately, vinyl wrap won't adhere to the textured hardtop. If it would, it would have done an excellent job of helping you match colors.
What about Selling Your Textured Hardtop and Buying a Smooth Top?
Now that you know vinyl wrap will not work on textured hardtops, the above is a brilliant idea. But it will depend on the condition of your textured hardtop.
Instead of wasting money and resources on sanding, painting, spraying bedliner, or even plasti dip on the hardtop, you can always sell it and get a body-color top.
Even if there will be a price difference, it will be pretty minimal. First, you will have to determine the condition of your textured hardtop. If it is in great shape, you can check the rates of used hardtops and come up with a price. You shouldn't be too expensive as that will scare away customers. You can then post it online for sale.
With the money that you get, you can buy a body hardtop in the color that matches your Jeep's paint job. This is a practical approach to getting a hardtop that fits your car.
Will a Durable Vinyl Wrap Stick to Jeep Hardtop?
It would be best if you didn't get mixed up with marketing terminologies. All manufacturers of vinyl wraps claim that their products are durable. That doesn't mean it will stick to a textured Jeep hardtop.
As mentioned earlier, because of the rough textured finish, any vinyl wrap will find it hard to stick to such a surface. Therefore, do not be misled by sellers claiming that a particular vinyl wrap will stick to a textured Jeep hardtop.
Will Vinyl Wrap Fix a Faded Jeep Hardtop?
If it would have been able to stick, then a vinyl wrap can be a temporary fix for a faded jeep hardtop. Your hardtop is bound to get worn out due to UV damage and the usual wear and tear. When that happens, it's crucial to restore the initial look.
A wrap is more of a cover and would only conceal the faded areas. You should sand the cover and spray high-quality paint to get a more permanent fix. That's the only way you are assured of lasting results.
Can a Strong Adhesive Ensure Vinyl Wrap Sticks to a Hardtop?
Absolutely not. Even though the type of adhesive used matters a lot when wrapping a car, if the surface is textured, there isn't much the adhesive can do.
Therefore, there is no need for you to start looking into different types of adhesives and comparing which would ensure the vinyl wrap sticks to the hardtop.
Is It Worth Vinyl Wrapping a Jeep Hardtop?
When you read through several forums, you may come across varying information about vinyl wraps and hardtops. Some people claim that they were able to wrap their hardtops with vinyl.
But the thing is, this will only work if you have a smooth body hardtop. If it's textured, it will be a waste of money and time because the wrap will not stick. Before proceeding with this project, identify the type of hardtop on your Jeep.