If you are planning on spraying raptor liner over your truck bed, or you already have. There is a huge chance that you have thought about painting over it.
The obvious reason for this could be because you want the bed liner to match the color of the truck. Or you may just find the black color of the raptor liner a bit boring.
Irrespective of your reasons, what you can be assured of is that it is possible to paint over the raptor bed line.
There are some requirements, however. You must give the raptor liner 24 hours to cure before painting over it. If the raptor liner is being installed by a professional they will inform you about this.
The other requirement is that the area being painted must be scuffed thoroughly and cleaned.
Topcoats don't easily bond to raptor liner especially if there are impurities. However, when you scuff and clean the area, the surface of the raptor liner becomes smooth and creates the ideal surface for paint application.
Regarding the time it takes for raptor liner to cure on paint, it may take more than a day, depending on the conditions you are currently exposed to. Therefore, it pays if you can wait at least two or three days before paint application.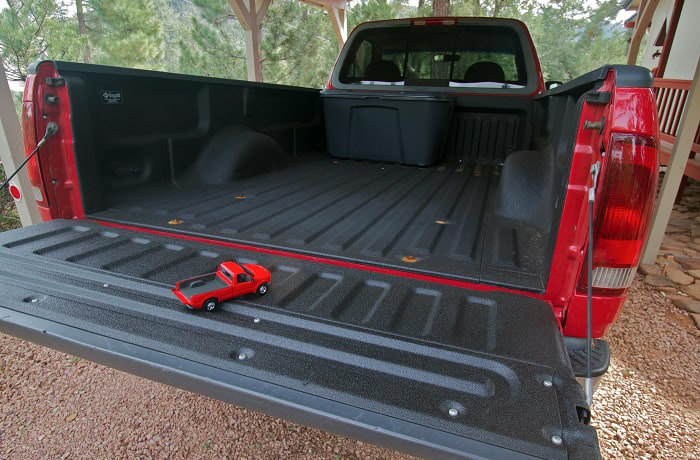 What Types of Paint Go with Raptor Liner?
Now that we have seen it's possible to paint over raptor liner, the other thing that you may be concerned about is what type of paint you should use.
There are many types of paint and not all can hold on to raptor liner. Raptor blends well with mixed acrylic basecoats, 2K acrylic solid color, and urethane-based colors.
Also, raptor line is not compatible with enamel, polyester, and water-based paints. Ensure that you don't use these types of paint.
Is Primer Mandatory When Painting Over Raptor Liner?
Prepping the surface is very essential if you want the paint to look good and hold on for longer on the bed liner.
As you gather the tools for painting over raptor liner, ensure that you have enough for one or two coats of an etch primer.
Before applying primer it is also important that you use 180 grit sandpaper to scuff the area. Scuffing is equally as important when painting over raptor liner.
Can I Opt for Raptor Color Instead?
Painting over raptor liner is an ideal solution for those who already applied this coating on their cars, and unfortunately only got the black coating.
For those who are yet to apply raptor liners, there are many color choices for you to go with. On their official website, Raptor boasts to have a wide range of colors for you to choose from.
This means that instead of painting over raptor liner, you could always choose a color that blends with your car paint or aesthetic needs.
Understandably, you may be worried about how durable these colors are. Raptor Liner colors feature concentrated tint that offers all protective coating benefits.
The colors are also UV resistant, they can therefore withstand excess heat.
Raptor provides its clients the opportunity to choose from either single colors or multiple ones that give your car a customized look. This is perfect for companies or businesses that want to promote their brand.
Is It Possible to Clear Coat Raptor Liner?
It's also okay to clear coat raptor liner. However, if you are doing it to enhance protection then there is no need. The thing is, raptor liner is very strong and durable.
It can withstand the weather elements as well as abuse from carrying cargo. If you clear coat raptor liner, it will wear out real soon and you will have to install it frequently.
The only benefit of applying a clear coat is adding gloss to the raptor liner. And if that's what you are after, go ahead.
But if you are worried about protecting raptor liner, this is a heavy-duty clear coat that can survive a thorough beating.
How Do I Clean Raptor Liner?
We have already covered that cleaning is an essential step in painting over raptor liner. So, how do you go about this step? Cleaning raptor liner is fairly easy because you can use plenty of cleaning agents.
Acetone is a strong cleaner that can get rid of all impurities that are on your bed liner. You can also use car wash shampoo or vinegar.
Since raptor liner being a strong protective coating, you shouldn't be worried about it being eaten away by the likes of acetone or vinegar.
However, don't forget to protect other parts of your car such as the paint from running acetone or other strong cleaners. These will damage car paint.
How Does a Painted Raptor Liner Look Like?
The look of the final finish will heavily depend on the amount of prep work done on the raptor liner. If you took your time to prep the surface by sanding it and smoothening the surface then you will be just fine.
The smoother the texture, the better the paint will look on your raptor liner.
It may look great but rarely will paint outlast raptor liner. Therefore, during the course of your raptor liner lifetime, there is a possibility that you can paint over it more than twice.
How Long Will Paint Last on Raptor Liner?
This will depend on the level of care that is given to the painted raptor liner. In most trucks, the bed liner usually undergoes a lot of abuse. This is why people apply raptor liners in the first place.
Depending on how well the paint job is done, it can last for more than three years. The raptor liner beneath will last for long however because it is more durable than paint.
To ensure the paint lasts for longer, you could always apply touch-up paint in areas where the paint peels off. Taking proper care of the painted raptor bed liner will also contribute to it lasting and looking better for longer.
Can Painting Raptor Liner Affect Its Strength?
We are all aware that the raptor liner is a paint-on protective coating. However, if it is painted over, is it painted over, does the raptor liner become weaker nor stronger?
The answer is neither. Painting over raptor liner only enhances the aesthetic effects. As it is, the raptor liner protective coating is durable and creates a strong barrier on top of the bed liner.
This barrier is resistant to both physical abuse and weather. With this coating on your truck, you don't even have to invest in a cover.
Raptor liners when sprayed on the truck's bed liners, they cure into an ultra-hard coating. For the protective coating to bond to the metal of the truck bed, you should let it cure for a day or two before spraying over it.
Therefore, if you are planning on painting over raptor liner, you need not be concerned about reducing or enhancing the strength of the protective coating.
Whether you paint over the raptor liner or not, it will still protect the bed of the truck against scratches or dents.
It will deaden noise in the back, offer UV protection, and much more. The manufacturers, Upol, recommend that for you to enjoy all these benefits, you must apply at least 18.5 mil thickness.
Tinting vs Painting over Raptor Liner
The other alternative of painting over raptor liner is to tint it. Even though both offer similar results, each does have its pros and cons.
For instance when you compare the ability of how the two stick to the raptor liner, the tint will do a better job. Another difference is that tinting over raptor liner doesn't always give off the right color match.
You should expect the outcome to be a shade lighter. Painting on the other hand guarantees that you will get the color finish you desire.
Should I DIY Paint Over Raptor Liner or Hire a Professional?
This depends on the level of experience and knowledge you have in painting. Painting over raptor liner requires thorough scuffing and cleaning of the protective coating first and then application of paint.
You have to be very careful when choosing the paint color because if you don't, you may not like the final finish.
It's a process that can take a couple of hours, so set aside some time for this project.
The easiest way out involves hiring a professional who will sand the raptor liner on your behalf and through using special skills, they will apply the paint over it.
How Much Paint Do I Need to Paint Over Raptor Liner?
The amount of paint needed depends on the area that is coated using raptor liner. On average, you may need at least a gallon of paint to cover the entire bed liner.
You should buy more, because you may need to apply an extra coat. Ideally, a truck bed liner should get two to three coats of paint.
This only applies when you are using a sprayer. However, if you opt for a brush or roller then you can apply as many as four coats. Always give the first coat more than an hour for it to dry.