Collinite wax products are known to be among the best car waxes on the market. Unlike other brands that engage in vigorous advertising, Collinite's reputation is mostly passed through recommendations by satisfied customers.
Ever since the brand was launched in 1936, Collinite has been consistently producing quality wax. And if you are planning to start using their products, there is a good chance that you are torn between 845 and 915.
These are both good waxes for your car made by Collinite. However, they are not all formulated equally.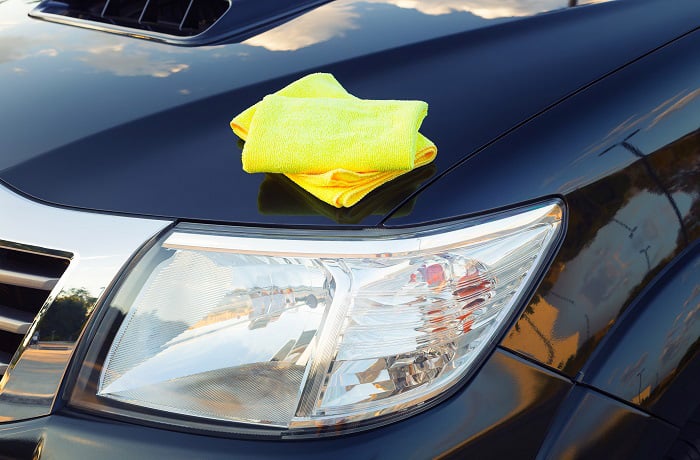 What is Collinite 845?
There is nothing but positive reviews and comments about this product. Promising to offer more than 5 months of protection, this insulator wax is perfect for both garaged and non-garaged cars.
Known for its excellent water-beading capabilities, protection from bugs, salt spray, sun, and pollution, Collinite 845 leaves a high gloss shine.
Unlike carnauba waxes, the 845 is more capable of withstanding UV rays and heat. For more than 4 decades, the 845 has been the go-to wax for professional detailers and car owners.
The Collinite 845 packaging isn't the most aesthetically pleasing but the contents offer impressive results.
The plastic bottle looks a bit old-school and there are no fancy letters or numbers on the label. When you pop the cap, the smell is also not pleasant but it is tolerable.
Even though it doesn't have the sweet scents and fancy packaging most waxes nowadays have, it will get the job done.
The application process is very easy. Just open the cap and squeeze the paste on your applicator pad and spread it on your car. Users love how easy the paste spreads on the car surface.
The mode of application is similar to that of other waxes, spread it with a pad, let it haze, buff it off, and clean the residue with a microfiber towel. 845 wax should be applied when the conditions are cool and dry.
What is Collinite 915?
If you have always been a fan of carnauba waxes, Collinite has got you covered. The Collinite 915 is made using the highest concentration of rare carnauba waxes.
As a result, it gives a deep and glossy shine as well as a darker finish. It offers both durability and value for money. And with this product, your car will always have that showroom finish.
Unlike most carnauba waxes, the 915 lasts exceptionally longer. It's an old-fashioned paste wax that comprises high concentrations of carnauba.
Whether you have the most recent model or you drive a classic, the effects of this wax on your car will be to die for.
It is gentle on paint and the formula is known for its nourishing properties. Please note that the 915 doesn't comprise any cleaners.
Collinite has a thing for simple packages. The 915 also incorporates an old-school design. It comes in a small can. When used on car paint, it neither stains and neither does it mold.
To get the most out of this product, we recommend applying it in a thin coat. You can use your hands or a polisher.
The latter is obviously easier to use and ensures the product is well spread across the surfaces. The 915 requires very little wax to get more coverage.
Another pro tip that may help is damping the applicator pad before using it to apply the wax.
This carnauba wax from Collinite is very popular amongst owners of classics. Considering the benefits it offers, the 915 offers total value for money. It is quite durable, easy to apply, and wipes down without a fuss.
One thing you should avoid doing is applying thick coats of this wax to your car. It will haze and leave a cloudy finish.
As mentioned earlier, the 915 does a perfect job of protecting and enhancing gloss even when only a thin coat is applied.
How Are They Different?
Out of the two, the 845 is easier to use. Not just because it comes in a plastic bottle, but because it spreads effortlessly on car surfaces thus ensuring ease of application. You can therefore apply it even using your hands.
The 915 gives off a better glow. When you compare the final finish when you use both the 845 and the 915, the latter tends to enrich more the color of dark paints. The 845 looks best on brightly colored paints.
During application, you should know that the 845 takes longer to cure than its counterpart the 915. Depending on the one you finally settle on, ensure that you remember this difference.
In terms of durability, from what we have gathered from most user reviews is that the 845 lasts slightly longer than the 915. Therefore, if you are looking for a long-lasting wax, you may have a better chance when you go with choosing the 845.
The Collinite 915 is a more ideal option if you are after looks because of its impressive finish.
How Are They Similar?
Both the Collinite 845 and 915;
Are made from the same brand. In our introduction, we mentioned how reputable this brand really is. They have been around for years and as a result, they have amassed experience in formulating waxes.
Share the same old-school packaging. One thing about this brand is that they aren't into fancy graphics or containers. The 845 comes in a simple bottle and the 915 is stored in a can.
Durability is assured. Even though carnauba waxes don't last longer than insulator wax, the 915 is formulated of pure carnauba and that's why it's quite durable.
Give you value for money.
What's Better about Collinite 845?
There are many benefits of the 845. Starting with the looks, the 845 can give your car a shimmer. And even though the finish doesn't look as great as the 915, it will look better than most ordinary waxes.
The 845 strives to achieve a balance between both protection and aesthetic appeal. That's why it doesn't focus so much on the looks.
Moving over to durability, Collinite the manufacturer claims that this insulator wax can last for 5 months. It obviously won't hold for that long. The much you can get is three to four months.
But all factors considered, that's a lengthy duration, and don't forget that 845 is very easy to apply. So should you notice that the wax is wearing out, you can easily apply another coat.
Overall, the 845 is a quality wax that offers value for money. It's made by a reputable brand, very easy to apply, leaves an impressive finish and most importantly, protects the paint from impurities and weather elements.
The application of Collinite 845 is simple and fast because of its ability to spread easily. This is a product worth buying.
What's Better about the Collinite 915?
If there is one area that the 915 succeeds at is giving your car a rich and deep shine. There are two main reasons why car owners use wax.
One is to offer protection and the other is to enhance the gloss of the paint. If you are the kind of car owner that treasures look over anything else, you will love this product.
Boasting a special formula of rare carnauba wax, this product is keen on quality and durability. It is gentle on both paint and clear coat.
The handcrafted and poured ingredients create the ideal showroom finish that guards the paint against the weather elements and pollution.
Car owners whose vehicles are metallic, navy, black or any other dark colors get to enjoy a high level of gloss from this wax. It doesn't significantly enhance the gloss in brightly colored cars.
So, don't forget that when choosing. Also, do not use the Collinite 915 on non-painted plastic, vinyl, or rubber. The other condition that the 915 has is that it holds on better on car paint when only thin coats are applied.
As small as that tin may look, it can be used to wax more than twenty cars. Therefore, you don't have to be very generous with it.
Who Should Get Collinite 845 and Why?
When it comes to choosing between these two Collinite waxes, it's more a matter of preference because both these products are amazing.
About the 845, you should choose this wax if you prefer a product that is easier to apply, lasts longer, and offers complete protection from UV rays, rain, salt, mud, and other impurities that your vehicle may pick up on the road.
The 845 was specially formulated for average car owners that only need paint protection and a moderate level of gloss on their cars.
Who Should Get Collinite 915 and Why?
The Collinite 915 was formulated for professional detailers as well as car enthusiasts that enjoy turning heads wherever they drive to.
The rich carnauba wax looks amazing on car paint and the showroom finish will definitely make your car stand out at the parking lot or car show.
The 915 doesn't last as long as the 845 but it gives a deeper and better gloss. The level of protection is almost the same and so is the durability.
It's also very easy to apply and it has been around for decades, therefore, it has got a great reputation.