When shopping for wheels, most of us are so caught up with choosing brands that we forget to consider the style. Milled and machined wheels have varying styles.
If you are not careful enough, you may buy machined wheels, thinking they are milled. To ensure you are well aware of the type of wheel that you are about to buy, here is a detailed comparison of milled and machined wheels.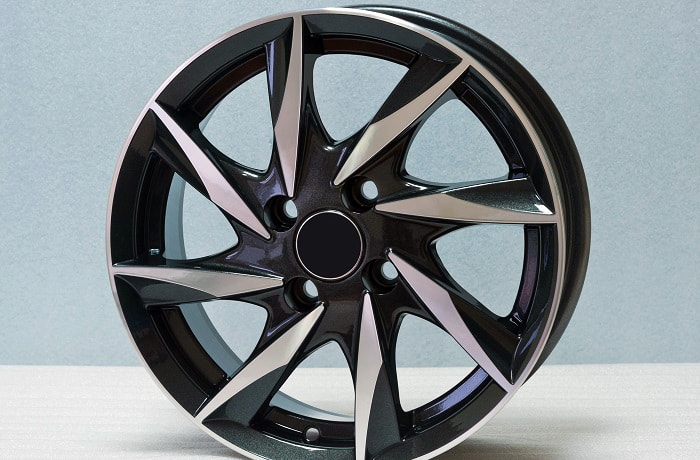 What are Milled Wheels?
Milled wheels aren't as popular as machined wheels, but aesthetic-wise, they look fantastic. A milled wheel is created by cutting the edges of a wheel's face revealing a unique finish.
Milled wheels feature a 3D look that makes them stand out compared to other wheels. Despite their impressive look, a milled finish on wheels isn't the easiest to create. It requires precision and keen attention to detail.
Undoubtedly, milled wheels are an excellent choice for any car. These wheels add elegance and luxury to your vehicle. Thanks to the angled cut finish of milled wheels, your vehicle will have heads turning wherever you go.
Identifying a milled wheel is often very easy. As long as a wheel has a 3D look with an angled cut, that should help you point one out when you are shopping.
Additionally, most wheel vendors will categorize milled wheels from machine wheels. You, therefore, shouldn't struggle to identify one.
It's also worth mentioning that milled wheels will have the logo and name details milled on the surface. This is another way you can identify a milled wheel.
Because of their design, if you want milled wheels to retain their finish for long, you will have to take proper care of them.
When they get damaged, they can be repaired, but they will have to undergo the milling process. This isn't a service that any wheel milling technician can carry out. You will have to find an expert to handle such a job.
What are Machined Wheels?
Machined wheels are created from being spun on a Computer Numeric Control lathe. This lathe strips a slight amount of metal from the surface while polishing and flattening the wheels to give them a superb metallic shine.
The result often resembles the non-labeled side of a compact disc.
Before the machining process begins, these wheels are usually painted a different color so that the final finish can have a contrasting look.
Like milled wheels, machined wheels require a lot of care because they have to be repaired using the same process if they get damaged.
The damaged surface needs to be cut by the Computer Numeric Control lathe. You need to know that machined wheels can only be repaired a certain number of times.
Because it may reach a point whereby there is no more metal to cut. Also, the more metal is cut from a machined wheel, the weaker its structure gets. To be safe, take care of machined wheels and avoid damaging them.
Unlike milled wheels, machined wheels are very popular. Most wheel brands make machined wheels. If you want to identify machined wheels, they will look flat. That's because of the manufacturing process they are exposed to.
When you visit a wheel manufacturer's website, it should be indicated that the wheels are machine-designed. You can also identify them with their bright finish.
There are several advantages of choosing a machined wheel. First, it looks way better than a typical alloy. The finish is unique and will add spice to your car, enabling you to stand out from the crowd.
The only downside is that it will have to undergo the machining process if damaged. But you don't have to worry a lot about these wheels getting damaged.
The likelihood of that happening is very low since they are much stronger than a typical wheel.
How Are They Different?
• Appearance
It can be challenging for a person new to wheels to differentiate between a milled and machined wheel. However, when you are given these two wheels to compare, you will notice some differences.
Milled wheels tend to have an angled cut that gives them more of a 3D look. Machined wheels, due to their manufacturing process, are flat.
That is the crucial difference that distinguishes between a milled and machined wheel.
• Manufacturing Process
These wheels look different because they undergo a different manufacturing process. Machined wheels are made with the help of a computer numeric control lathe.
It is spun on the lathe, which cuts the surface of the metal to reveal a better-looking finish. On the other hand, Milled wheels are cut on the edges to create a 3D look.
• Are Suitable to Different People
There is nothing bad we can say about either milled or machined wheels. Your choice between these two should be guided by your preferences.
Some car owners like the 3D look of milled wheels. Others prefer the flat surface of a machined wheel. At the end of the day, you have to sit back and evaluate both designs before concluding.
• Machined Wheels are More Popular
It's not clear why this is the case, but machined wheels are more popular. Not just among car owners, but most wheel brands make machined wheels than they do milled wheels.
As you are shopping for wheels, you will realize that most you will come across will be machined wheels and not milled wheels.
The popularity of machined wheels gives milled wheels a sense of rareness. You can contemplate whether you should go with the popular or rare option when choosing.
How Are They Similar?
• They All Look Amazing
Despite the difference in design, milled and machined wheels look terrific. When you are asked to choose between these two, it won't be easy to settle on one because they all look great.
This is where personal preferences come into play. If you prefer the 3D look, you can go for milled wheels. However, if you are more into the metallic shine of a machined wheel, you know what to choose.
• Both Should Be Taken Proper Care of
Due to the complex manufacturing process of both wheels, you will need to take proper care of them. To fix damages on a machined or milled wheel, it has to be taken through the manufacturing process.
That doesn't only cost money, but the process is complicated. And if you were to do it severally, you would compromise the wheel's structure, which will make your vehicle unsafe.
Whether you get the machined or milled wheels, please take proper care of them.
• Both Come with a Layer of Clear Coat
As it is mandatory in most wheel finishes, a layer of clear coat is added to both machined and milled wheels.
The role of a clear coat is to protect the wheel from damage when exposed to particular components. It also adds gloss which accentuates both milled and machined finishes.
What's Better about Milled Wheels?
Hands down, the 3D look that milled wheels have makes it one of the most unique wheel styles in the market. As you cruise down the streets, people who pay keen attention to wheels will notice the unique style of your milled rims.
As mentioned earlier, these wheels are rare. Therefore, if you want to draw attention or want your car to stand out from the rest, go for milled wheels.
What's Better about Machined Wheels?
Even though milled wheels are rare, there are plenty of reasons why one may consider machined wheels. First, these wheels have a bright metallic finish.
That is made possible when the wheel layer is painted a contrasting color before it is cut. As mentioned earlier, these wheels feature a finish almost the same as that of a compact disk.
If you are an aesthetic kind of person, these wheels will make your car look better. Secondly, machined wheels are popular.
You can therefore find them in many stores. This wide availability ensures that you can choose from plenty of machined wheel designs.
Who Should Get Milled Wheels and Why?
Milled wheels were created for car owners that have a taste for the rarest things in life. With a set of milled wheels on your car, you will be amazed by the 3D design every time you look at it.
Whenever you walk through a parking lot, you won't find any car with wheels as unique as yours. As long as you take care of them, milled wheels should make your car look pretty and stand out.
Who Should Get Machined Wheels and Why?
You can't compare a machined wheels finish to that of metallic silver paint. It is more unformed and better looking. For these reasons, machined wheels were made for car owners with a keen eye for detail.
If you own a show car, these wheels will add some points to your vehicle. Machined wheels are available in various designs.
Therefore, you are assured of finding something that matches your exact taste. Please take care of machined wheels because they are tough to repair.
Please avoid grinding over the dent and painting the area silver when repairing machined wheels. That only makes your machined wheels look cheap.