They say that choosing between chrome and silver wheels all narrows down to preference. And even though there is some truth to this statement, learning more about what each wheel finish offers can make your decision easier.
Both chrome and silver wheels look great. Some car owners lean towards either for their own reasons. If you are finding it hard to choose which wheel finish is perfect for your car, then this guide should help you out.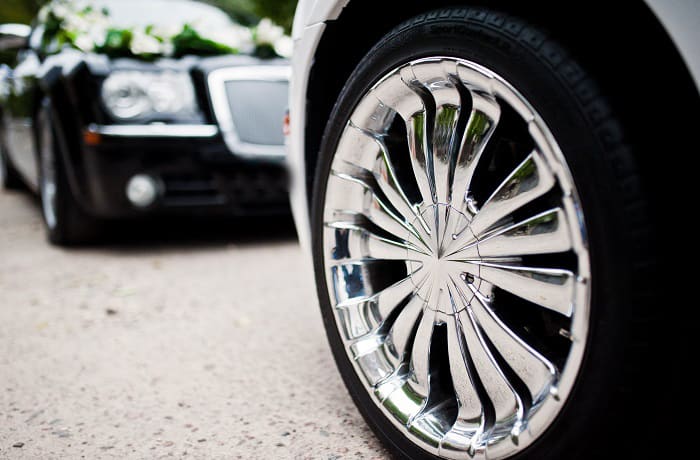 What are Chrome Wheels?
In terms of popularity, chrome wheels come second after the silver ones. A while back, chrome wheels rose in popularity mostly because of how shiny they look, unlike painted ones that look slightly dull.
Today, chrome wheels still remain a popular choice and wherever you go, you can't fail to spot several cars with this fancy set of wheels.
Other than being very easy to maintain, chrome wheels add a sense of elegance and class to your vehicle. Chrome can blend with almost any car color and enhance the aesthetics of your vehicle's exterior.
This type of wheel looks exceptionally great especially if they have an attractive wheel design. These wheels offer luxury as well as style.
What we love most about chrome wheels is that they don't only belong on small cars but you can have them in your trucks as well.
When used on trucks, chrome gives your truck a sophisticated look. And you have got nothing to worry about if you love driving off-road because chrome wheels are very easy to clean.
All you need to get them sparkling once more is some soap and water. As you can see from the above, a set of chrome wheels can be used on a daily drive car as well as one that conquers the off-roads.
SUVs also look great when they have got chrome wheels on them.
You have probably seen some pimped SUVs with chrome wheels and undeniably, they look amazing. A good example is an Escalade with a set of bulging chrome rims. Who wouldn't turn to admire such a beautiful wheel design?
Chrome is a versatile wheel design that looks great on all types of cars, it is easy to maintain and it's still stylish. Therefore, if you have been contemplating getting some chrome rims for your ride, nothing should hold you back.
If you do, remember to always rinse the salt off during winter, this can shorten the lifespan of your wheels if not cleaned.
What are Silver Wheels?
This is the standard finish of all car wheels. Out of 10 cars, more than 6 have got silver wheels. And even though some people might say silver is a bit dull than chrome.
There is a reason why it remains to be the most popular wheel finish. This finish can look perfect on an economy car or even an ultra-luxury vehicle.
Silver provides more contrast and depth, thus allowing viewers to appreciate the design of your wheels.
Unlike the shininess of chrome which steals all the thunder of your wheels, silver lets the design do the talking.
Unlike chrome, silver is available in various finishes. You can opt for the bright diamond-cut finish or something more subtle depending on your personality. Silver wheels look great in all types of cars and models.
Whether you are driving a sports car or an entry-level vehicle, silver specks on your wheels will make it stand out in the parking lot.
There are plenty of things to like about silver wheels. It is stylish, trendy and hides curb rash or scratches exceptionally well. If you are looking for a safe wheel finish choice, you can be assured of not going wrong with silver wheels.
As mentioned earlier, silver is available in various finish designs ranging from the standard that can go with all car models, the machine which evokes a classy rugged look that blends perfectly with big cars such as trucks, and hyper silver that gives your wheels a unique glow.
From so many finish designs, you can easily find the best silver wheels for your car.
How Are They Different?
Chrome pops more than silver painted wheels
This is the biggest difference between these two types of wheel finishes. When you compare these two types of wheels, you will notice that chrome has got that shiny reflection, unlike silver which is bright but not as reflective as chrome.
When you look at chrome, it's almost the same as looking into a mirror. Both finishes look great however when choosing between the two, you have to determine whether the shine factor matters to you.
The added level of bling that chrome offers hides away the design
The bling factor associated with chrome often blocks the beauty of the wheel design. Silver on the other hand is bright enough to offer a slight reflection without taking away the effect of the wheel design.
Silver wheels are the standard option in nearly all car models
Even though chrome is stylish, silver wheels have always been the standard option in all car models. Silver wheels look great in cars of all price ranges.
You will find them in an economy car as well as in a high-end vehicle. This goes to show you that silver wheels are more popular than chrome.
Chrome wheels are a fancier version of silver
There is no middle ground when it comes to chrome wheels. You either love them or hate them. However, what we know for a fact is that chrome wheels are fancier. And if you love flashy accessories, then you should lean more towards chrome.
Chrome requires a lot of care than silver
One of the downsides of chrome is that it is labor-intensive. During winter, you need to be very careful about its maintenance because road salt can pit the chrome.
Many people find that chrome looks a bit tacky
This is a personal opinion. However, many people find chrome a bit tacky and would go for silver instead of chrome.
How Are They Similar?
Both look great depending on your preferences
When it comes to comparing chrome vs silver wheels, without a doubt, it is more a personal choice. This is because these two wheels look amazing.
Chrome and Silver can be installed in all car types and models
Whether you own a saloon car or a truck, chrome and silver wheels will look great when fitted on your car. Both these wheels tend to have this effect.
Either wheel can blend with any car color
Chrome and silver look better in black cars. But they can also look really good in nearly all car colors.
What's Better about Chrome Wheels?
The first benefit of chrome wheels is the classic mirror-reflective style. The bling design that is offered by chrome has been the ideal choice for many drivers in the past years.
Other than their unique finish, chrome wheels are easy to maintain and as long as you wash them regularly, they will continue to look just fine.
Contrary to popular opinion, chrome wheels are highly resistant to rust and the effects of the weather elements. Even though it may flake easily when subjected to a lot of abuse, chrome can last for years.
Chrome wheels also have some drawbacks which include; they add weight to the car and this may affect performance as well as fuel economy.
Unlike silver, chrome flakes off easily when not taken care of. Not all chrome wheel manufacturers offer a lengthy warranty. Confirm that before buying a set of chrome wheels.
What's Better about Silver Wheels?
Silver wheels are available in many finishes. This gives you a lot of options when looking for the perfect finish for your car.
The other benefit of silver wheels is that they look exceptionally well on all cars irrespective of the model or level.
Unlike chrome whose bling takes away all the praise, silver ensures the rim design and pattern is visible. As a result, people can appreciate an impressive wheel design and pattern.
The other advantage of silver is that it's great at hiding road rash. And in terms of care and maintenance, it isn't as sensitive as its counterpart.
Who Should Get Chrome Wheels and Why?
Remember when we talked about how the decision between chrome and silver wheels is influenced by preferences? Well here are reasons why you should get chrome wheels.
Have you always had a keen eye for flashy things? Chrome should then be your number one choice.
Chrome's reflective properties will have you admiring your car every time you see it from the sides. Wherever you drive, you will always make a fashion statement.
Who Should Get Silver Wheels and Why?
Silver wheels were created for those who appreciate rims that are not gaudy. This finish is subtle and elegant. It is not showy and neither is it shouting or excessively bright.
Silver hides scratch marks and road rash, it is easy to maintain and can blend with almost all car colors. If you have a slightly laid-back personality, then your best choice, in this case, would be silver wheels.