Gone are the days when leather was the only go-to material in car upholstery. Today, car buyers have the option of choosing faux leather, cloth, and other unique materials made by specific car brands such as the Toyota Softex.
All these materials have their advantages and disadvantages. And different car owners prefer certain materials over others for a bunch of reasons.
Toyota Softex, when it was first introduced in the auto market, many buyers were reluctant towards buying vehicles with this package.
However, thanks to the braveness of a few buyers, most people came to learn that Toyota Softex is one of the best materials to have in your car's interior. It looks great, has a soft touch, very breathable, and durable.
As great as Toyota Softex is, it also has its disadvantages and that's what we are going to look at in this article.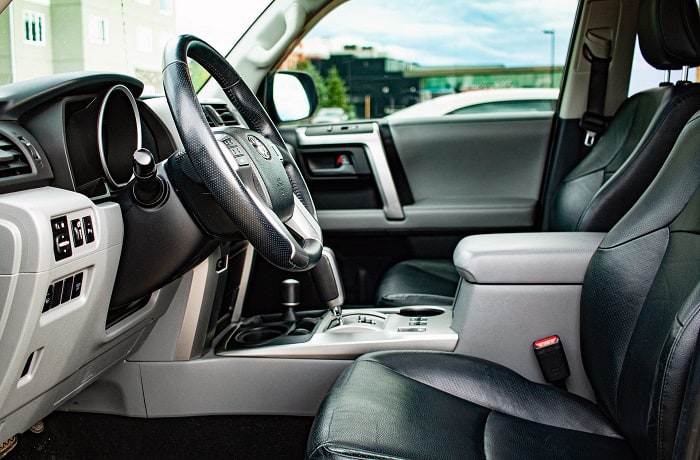 What are the Common Issues Associated with Toyota Softex?
1. It's Not that Luxurious
In this day and era, car buyers aren't just interested in a vehicle's performance. The looks also matter. And even though Toyota isn't popular for making high-end cars, except for their luxury division, Lexus. Their vehicles are quite elegant and sleek.
When coming up with Toyota Softex, luxury wasn't a key factor that was considered by the brand. Don't get me wrong, Softex looks good and comes in various colors.
However, it doesn't have that touch of luxury as is the case with leather. Therefore, if you are a buyer interested in a luxurious interior, Toyota Softex might not be the best material to have in your car.
2. It's Thinner than Other Materials
When it comes to car upholstery, the material used plays a crucial role in determining how the car will look after a couple of years.
A thin upholstery material may be breathable but it won't last long. Most car parts, especially the interior are usually exposed to a lot of friction and movement. For instance, the steering wheel and seats.
A thin material such as Softex is unable to resist wear especially if the car is used regularly. Compared to other materials, Toyota Softex isn't very durable.
Even though Toyota claims that the material is synthesized from quality ingredients. The fact that it is thin makes it a candidate for quick wear.
As funny as this may sound, these are the only problems associated with Toyota Softex. Hands down, this is one of the best upholstery materials to be ever made by car manufacturers. I will tell you more below.
What Do Car Owners Think about Toyota Softex?
As a buyer interested in buying a Toyota car with the Softex package, you had to do some research and find more about this type of upholstery material.
Chances are, you mostly came across positive reviews and advantages. If you were very thorough, you only found a disadvantage or two. And probably that's what has led you to this article.
For anyone who has never touched, felt, or interacted with Toyota Softex, it is understandable that you have doubts about the quality of this material.
And being the smart consumer that you are, there is no way you are going to buy a car whose upholstery material you have no clue about.
To help us learn more about Toyota Softex, let us look at what car owners think about this material. Please note I only compiled the thoughts of drivers who have used Softex upholstering.
Most people who have driven Toyotas with Softex upholstery praise this material for being softer than leather and having a steadier grip.
Of course, leather will always have a better touch. But grip has always been an issue with leather upholstery. People slip easily and that's why it's not used in race cars.
When seated on Softex, your body will always remain firm even when negotiating corners at high speeds.
There is also the maintenance aspect. Softex from Toyota is very easy and affordable to maintain. The fabric can be cleaned easily and it doesn't stain.
Car owners who lead busy lifestyles love how easy it is to maintain such upholstery.
From several user reviews, I did concluded that Toyota Softex also gives a richer look. And this isn't something we see in most economy cars.
For car owners who were fed up with cloth and plastic upholstery, they found relief in Softex which was an upgrade and gave their cars a better impression.
Its touch is as good as leather. Most reviews about Toyota Softex praise its fine touch and how comfortable it is to seat on.
Another popular feature that people love about Toyota Softex is its breathability. A good number of users love how breathable the material is.
Unlike leather where you leave behind lots of sweat, in Softex, you can seat on it for long hours and wake up with a dry back.
What is Toyota Softex?
We may have been talking a lot about the cons of Toyota Softex and what people think of it. However, do you know what it is? Toyota Softex is made from synthetic leather.
It is an excellent alternative for car buyers that are against animal cruelty and want to have an eco-friendly interior that is comfortable and good-looking.
Though synthetic, during manufacture, this material produces fewer emissions to the environment.
This paired alongside the fact that it is free from animal-based products, Toyota Softex is one of the few eco-friendly interior materials you can find in the market.
It's easy to clean, offers high resistance to spills, and is very comfortable to sit on. Toyota Softex looks and even feels like real leather.
Being made with breathable materials, you and your passengers will always feel cool even when long drives in the summer. Toyota Softex requires minimal maintenance and can last for years if not abused.
How Is It Different from Leather?
For starters, Toyota Softex isn't obtained from animal products. It is purely synthesized through eco-friendly processes. The materials used to make it do not absorb UV rays as leather does.
Instead, they repel these rays. And that's why when you seat on Toyota Softex, you will find that it is more breathable than leather.
The materials used to make Softex are designed to make the upholstery easy to maintain. Unlike leather where you have to buy conditioners and spend most of your time cleaning them.
Toyota Softex should be cleaned regularly and you don't need to buy lots of products. It's also more resistant to dirt and costs way less than leather.
On a head-to-head basis, both leather and Toyota Softex have their unique benefits. They are all durable and have a great touch. Your choice of interior upholstery material should be based on your preferences and taste.
What are the Advantages of Toyota Softex?
As mentioned earlier, Toyota Softex does have both advantages and disadvantages. However, for you to make an informed decision, you should pay attention to both the bad and the good.
This is the only way you are going to determine whether Softex is the ideal upholstery material to have in a car. Below are the pros of Toyota Softex;
It's perfect for family cars
Most family cars need to be spacious, comfortable, and easy to maintain. A Softex interior can help you with the last two factors. This material is spill-resistant.
Therefore, no matter what your kids spill on the fabric, you can always clean it easily. Considering how breathable and comfy Softex is, your family will always enjoy rides and even road trips.
Softex is an eco-friendly car interior fabric solution
Did you know that this material produces 85% fewer carbon monoxide emissions? If you also include the fact that it has no animal-based product then it's an eco-friendly material.
It is cooler than both real and artificial leather
For those of you who live in hot areas, you can benefit significantly from a Softex interior. These materials will reflect sun rays, unlike leather that absorbs them.
No matter how hot it is, whenever you step into your car, you will always be welcomed by a cool atmosphere. Also, during long drives, back sweat will no longer be an issue.
Toyota Softex is as strong as leather
Another reason why I would recommend Toyota Softex is that it is as strong as real leather. This means that it is equally as durable and can withstand frequent use and abuse without worrying about wear and tear.
How to Take Care of Your Toyota Softex Upholstery
Even though it requires minimal maintenance, taking proper care of your Softex seats is crucial if you want them to serve you for longer.
If you have finally decided that this is your fabric of choice, then here is how you should take care of it.
Always vacuum your seats thoroughly before cleaning. This ensures thorough removal of dirt build-up.
You can use your ordinary car wash shampoo to clean the seats. Avoid harsh cleaners that may eat through the fabric.
Never soak your Softex with water, not unless it occurs accidentally. Therefore be very careful when cleaning.
After cleaning, always open the doors and allow the Softex to dry. This material dries very fast so this shouldn't take a lot of your time.