It's shocking how people often underestimate the benefits of upgrading to aftermarket racing seats. After some time, you will need to replace your car seats.
The worn-out cushions and squeaky noises produced when you sit on them will be the first warning signs.
Anyway, aftermarket racing seats improve the aesthetics of the interior. They are also designed to snugly hold the driver and passenger when making sharp turns on the track.
Whether you are interested in making your vehicle interior look sportier or you want to sharpen your skills on the track, you need to get your hands on a quality racing seat.
As you were shopping around, did you come across Sparco and Recaro? These two are popular car accessory manufacturers famous for making quality and high-performance racing seats.
This guide will help you determine the better option by comparing these two brands.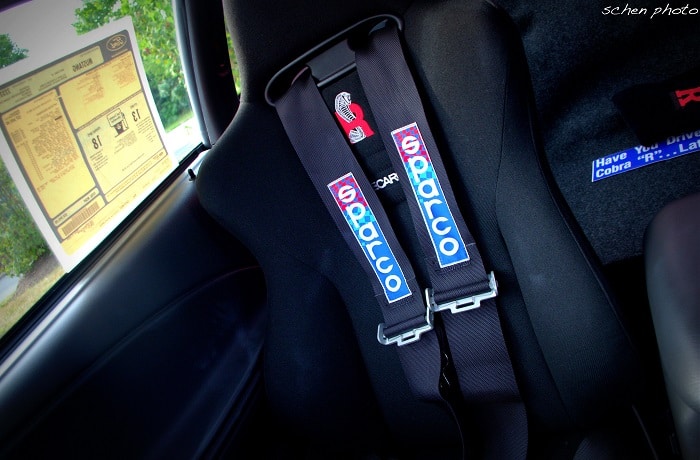 What is Sparco?
On the other hand, Sparco is a relatively reputable company. It's an Italian auto part and accessory company. They make steering wheels, helmets, harnesses, and even seats.
Sparco was founded in 1977, and ever since, they have been making huge strides in the auto world. Their racing seats are a work of art.
Similar to Recaro, Sparco also makes a wide range of racing seats. All these seats are lightweight, durable, and big enough to accommodate most drivers. Sparco seats come with several bolstering to promote stability and safety in an accident.
A good number of Sparco seats are made using their patented QRT. This stands for Quick Resin Technology. It was developed in Italy and was aimed to create a light and durable racing seat shell.
Sparco strives to implement aerospace technologies in automobiles. This is why their seats are so popular.
The seat shells are often wrapped in a flame retardant, impact-absorbing, and non-slip material.
Therefore, you are protected from all dangers that your vehicle may be exposed to. Sparco racing seats are also made using fiberglass. This is why they are so light and have flame-resistant capabilities.
Sparco seats were designed to fit an average-sized motorist, even tall individuals. When shopping for Sparco seats, make sure that you check the dimensions carefully. If you buy a seat that is too big, you may have trouble installing it in your home.
Despite offering better performance than stock seats, Sparco also creates seats that look great. Most seats have a quality finish, and no matter what your tastes and preferences are, you should find a seat that suits your taste.
These seats are available in a wide range of colors from black, red, gray, and blue. They are also made using single and duo-tone styles, which should blend well with any interior.
The fabric is very durable, and it should withstand wear for a reasonably long period.
What is Recaro?
Recaro is a company that specializes in the manufacture of gaming seats, aircraft seats, racing, and children's seats.
Most car owners have interacted with Recaro seats even without their knowledge. That's how well established this company is.
Over the years, Recaro has developed several types of racing seats. We will look at the general features because this isn't a review of a particular Recaro automotive seat.
Make sure that you look carefully at the features of the seat you want to buy before paying for it.
One thing you will appreciate about Recaro seats is the distinctive racing design. Even without trying out their seats, you can conclude that this seat is designed to offer performance and, at the same time, add style to your interior.
Recaro seats contain a wide range of functionalities. For instance, some of their seats can recline. This is a feature that you won't get from most racing seats.
You should also know that Recaro seats often replicate the style of racing seats and add the normal functions of automotive seats. Standard racing seats are built solely for performance on the track.
A typical racing seat may not offer adequate comfort for the average driver, especially for long drives. Recaro tries to balance performance and functionality.
The seats made by Recaro are designed to fit the average motorist. If you are relatively big, you may want to check the measurements first before buying the seat.
The cushioning is much softer than the seats made by other brands. Please note that Recaro seats aren't usually very deep. Therefore they may not be suitable for tall drivers.
You can get these seats in leather, fabric, or vinyl.
You can also choose from different colors such as black, red, grey and blue. The seats are stable, and you can be assured of safety when driving.
Depending on the Recaro seat you are buying, you may enjoy features such as climate control, extended seat cushions, and additional lumbar support.
When shopping for Recaro seats, you will either have to choose sporty performance or premium comfort. Their models are designed to lean on either side.
So you have to be careful when choosing. You can be assured that they are designed to promote healthy spinal alignment.
These seats are lighter, ergonomic, thinner, and look way better than custom car seats.
How Are They Different?
• Recaro Seats are Made Using a Much Better Material
The first difference is in regards to the materials used. On paper, the Recaro seats are made using a better material. The QRT technology is quite impressive and best suits racing seats.
However, the Sparco seats feel really good when you sit on them. You will have to find a local seller that has both, and you can give each a try and see which is more appealing to you.
• Recaro Bests Fits Smaller Motorists, and If You're Big Go for Sparco
It's important to always check the measurements of a seat before buying it. These two companies make seats of varying sizes. Most Sparco racing seats fit large motorists. But if you are small, you should go with Recaro.
This difference is crucial because if you get the wrong size, you will slip when you make a sharp turn. The ideal seat should be made to fit your body proportionally. This guarantees no movement when driving.
• Recaro Seats Cost More than Sparco
Budget is a crucial factor. Sparco seats are more affordable than Recaro seats. When considering the quality of materials used and the number of functions in Recaro seats, the price difference is justified.
Sparco seats appeal more to aesthetics, whereas Recaro racing seats are built for performance and style. If you have a big budget, don't hesitate to go with Recaro.
How Are They Similar?
• Comfort
The amount of comfort offered by these racing seat brands is almost the same. However, you have to make sure you buy a seat that fits you well. When it comes to seats, the size is very important.
If possible, we would recommend visiting a store that sells both and giving each a try. That would help identify which is more comfortable.
• Adequate Support
Back support is vital, especially if you drive for long hours. Whether you go with Recaro or Sparco, you are assured of adequate back support to promote proper spinal alignment.
• Reputable Brands with a Wide Selection
Undeniably, Recaro and Sparco are reputable car accessory brands. Even though car owners may favor one brand over the other, they are equally reputable and sell quality chairs.
You can't go wrong with either option. You have to ensure you get a seat with features that appeal most to you.
What's Better about Sparco Seats?
Sparco racing seats are excellent on the tracks, especially in sharp corners. They are more affordable than Recaro racing seats and can easily fit a large person. It's pretty comfortable and looks terrific.
If you are an average-sized driver, Sparco seats may not hold you in place when you make turns. This is why we advise you to check the dimensions of a seat before buying it.
What's Better about Recaro Seats?
The Recaro seats are made using much better material and easily fit smaller people. This is a racing seat that was made for more than looks. It offers unrivaled performance. It costs more than the Sparco, but it has more features.
The grip offered by this chair is top-notch. Recaro racing seats are very comfortable, and you can drive for hours without hurting your back. Because of how tight this seat is, getting in and out will be a challenge if you are well built.
Who Should Get Sparco Seats and Why?
Car owners that crave a stylish and affordable racing seat should go for Sparco. These seats are comfortable, durable, and look good. They are built for performance and can spice up your car's interior by giving it a sporty vibe.
Who Should Get Recaro Seats and Why?
If you consider yourself tiny and want a racing seat that won't throw you to the passenger's side when you are on the track, go for Recaro seats.
Besides fitting drivers perfectly, these seats are made using quality fabrics. They are stylish, durable, and designed to promote motorists' safety.