Ford has been using a seating material known as ActiveX for the past few years. It resembles leather in so many ways.
It feels like leather and even looks like leather, but it's not. If you are contemplating getting ActiveX in your next Ford car, here is everything you need to know about it.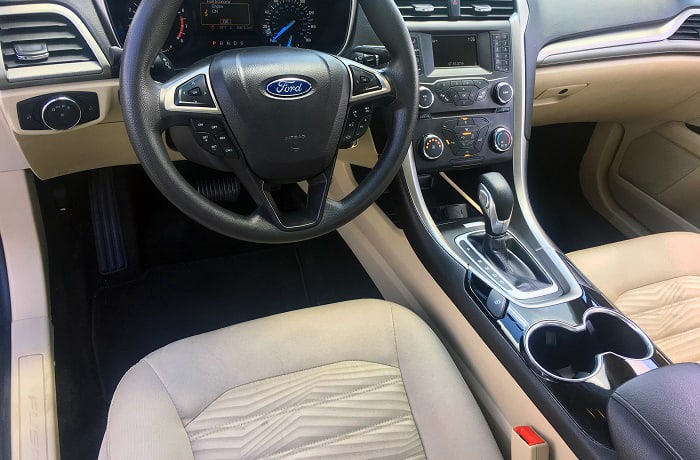 What is ActiveX?
According to Ford, ActiveX is a high-end synthetic seating material. As mentioned earlier, it looks like leather, but it's made from a different material.
ActiveX is stain-resistant, easier to clean, and surprisingly, more durable than leather. You can get it in dune, black, and other colors. It doesn't contain animal-based materials and is very comfortable to sit on.
This material isn't available in all Ford cars. Therefore, you will have to consult with the dealer if ActiveX is available in the model you are interested in buying.
Overall, ActiveX is a great material for one to have in their cars. It looks good. It's comfortable and lasts for longer than most car interior materials.
When coming up with ActiveX, Ford wanted a material that would accommodate the modern-day lifestyle. Its premium and luxurious look is another feature that makes it stand out.
Even though it has been around for a while, ActiveX isn't available in so many color options. Compared to other interior materials such as leather and vinyl, ActiveX isn't available in many colors.
Your choice may therefore be limited. However, the few colors that ActiveX is available in look great and would blend with any car paint.
With this material in your Ford, it can take up severe abuse, and it will take some time before it starts showing signs of wear.
What Is ActiveX Seating Material Made Of?
Ford describes ActiveX as a high-end synthetic material. There have been rumors that it's a spin-off of vinyl. They haven't shared much information about this material.
However, car experts see it simply as vinyl. It's no different from faux leather, only that this material has been improved to be more durable, stain-resistant, and looks more luxurious.
This material is chemically synthesized. Ford has been very open about that. What we do know is that the material is of high quality. From various car owners who have had this material in their vehicles, ActiveX lasts for very long.
It can take up a lot of abuse and will still hold up. Unlike regular vinyl, it doesn't crack easily, nor does it age. To find cars with this material, visit the Ford media website and look for vehicles that come with the ActiveX seating material.
ActiveX Seating Material Vs. Leather
There have been some concerns that ActiveX was introduced to replace leather in Ford cars. To some extent, this may be true because there have been growing complaints from animal rights activists against the use of leather in automobiles.
Both these upholstery materials have their perks. Should you find yourself stuck between choosing these two, here is a comparison of ActiveX seating material versus leather.
Differences
ActiveX is more affordable than leather
If you compare a leather and ActiveX seating material package, you will realize that the latter costs way less. For years, a leather interior has always attracted more cost.
This is because leather is obtained from animals and is associated with luxury. These characteristics give the leather a higher price tag.
Before we move on from affordability, you also need to know that ActiveX is more affordable to maintain. Leather requires special cleaning products, while ActiveX doesn't need special attention.
ActiveX ages more gracefully than leather
Have you ever seen how leather looks like when it's worn out? It looks hideous and can lower the resale value of your car.
On the other hand, ActiveX ages gracefully. First and foremost, it takes very long for ActiveX to age. And when it does, it won't look so terrible.
ActiveX is easier and less costly to repair
If you have ever tried to replace or repair leather seats, you can testify how expensive that was. You don't have to incur such high costs when repairing or replacing it with ActiveX.
The material itself is not costly, and therefore replacing or repairing it shouldn't cost that much.
Leather is more breathable
The only section where leather outshines ActiveX is in regards to breathability. Remember when we said that this material is simply upgraded vinyl?
Well, the problem with this material is that it's not breathable. If you sweat a lot, you may have to play a lot with the air conditioning system. Leather is a highly breathable material compared to ActiveX.
ActiveX doesn't contain animal-based materials
Leather is strictly obtained from animal-based materials. If you want to support animal cruelty campaigns, you should go for ActiveX.
Finally, ActiveX requires minimal maintenance
Never go for a leather car interior if you can't maintain it. Leather upholstery requires regular cleaning and conditioning.
Failure to do this, the material will dry and crack eventually. You don't have to worry about regular maintenance when you choose ActiveX.
This material isn't as sensitive as leather, and therefore you don't need to do all the above. If you lead a busy lifestyle, ActiveX is a better choice.
Similarities
Both;
Aesthetic-wise, both ActiveX and leather look amazing.
Last for a considerably long time
Did you know that your ActiveX and leather upholstery can last for significantly longer? The only difference is that leather needs to be maintained to last long. However, they should both serve you for a while.
Leather may have a softer touch, but both these materials have a soft-like feeling. This improves comfort.
How to Clean ActiveX Seats?
Knowing that ActiveX comprises high-end synthetic materials, you need to use the proper cleaning methods and products. Contrary to popular opinion, vinyl also needs to be cleaned.
Even if ActiveX is resistant to stains, that doesn't mean it shouldn't be cleaned. Regular cleaning ensures these seats look neat and last longer.
Unlike leather, ActiveX doesn't need to be conditioned. And you should keep off harmful chemicals that may eat through the material.
Only use soft sponges and clothes when cleaning ActiveX to avoid scratching it. Also, avoid cleaners that contain abrasives.
You don't need any special cleaning agents. Water and ordinary soap should do the trick. In instances when there are a lot of stains, you may have better luck with ammonia.
Cleaning these seats is simple and quick. Mix soap and water in a bucket. Using a sponge, clean the seats. Ensure that every surface is clean.
Dry them with a wet towel and give the ActiveX some time to dry before sitting on it. Only do this when performing deep cleaning. During regular washes, wiping the ActiveX with a damp cloth is enough.
As important as cleaning is, you should also know how to maintain your ActiveX seats. Here are some maintenance tips;
Whenever you are not using your car for a long time, cover the seats with a dry cloth.
Park your vehicle under a shade. This will help avoid exposing the ActiveX to sunrays which may cause fading of the seats.
Vacuum the seats regularly to remove the buildup of debris and dust.
Always ensure your seats are clean. Get rid of stains as soon as you spot them. This contributes to ensuring the ActiveX looks better for longer. Don't forget to set aside some time to give the seats a deep cleanse every once in a while.
Is ActiveX Seating Material Hot?
The ActiveX seating material changes with outside temperatures. If it's cold, the seat gets cold. When it's hot, the seats can be sweaty.
The biggest drawback of ActiveX seats is that they aren't quite breathable. We have already discussed that when comparing it to leather.
Because this seating material gets hot fast, you need to utilize your car's AC.
This should keep the temperatures inside your cabin cool. However, if you let the outside temperatures dictate you, your back may sweat a lot.
As you consider getting the ActiveX seating material, know that it will get hot. Even though it is slightly breathable, a heavy sweater may find this material uncomfortable to sit on for long drives.
What Do Other Car Owners Think of ActiveX Seating Material?
Before getting a car with this material, you should hear the opinions of other car owners. This information will help you make a more informed decision and gauge the thoughts of other car owners who have sat on ActiveX seats.
After looking up various testimonials online, we unearthed the following opinions about the ActiveX seating material. A good number of car owners think that ActiveX;
• Looks amazing. Some people even find it better than leather.
• Is soft to the touch.
• Has high stain-resistant capabilities.
• Very easy to clean and maintain.
Was this article helpful?